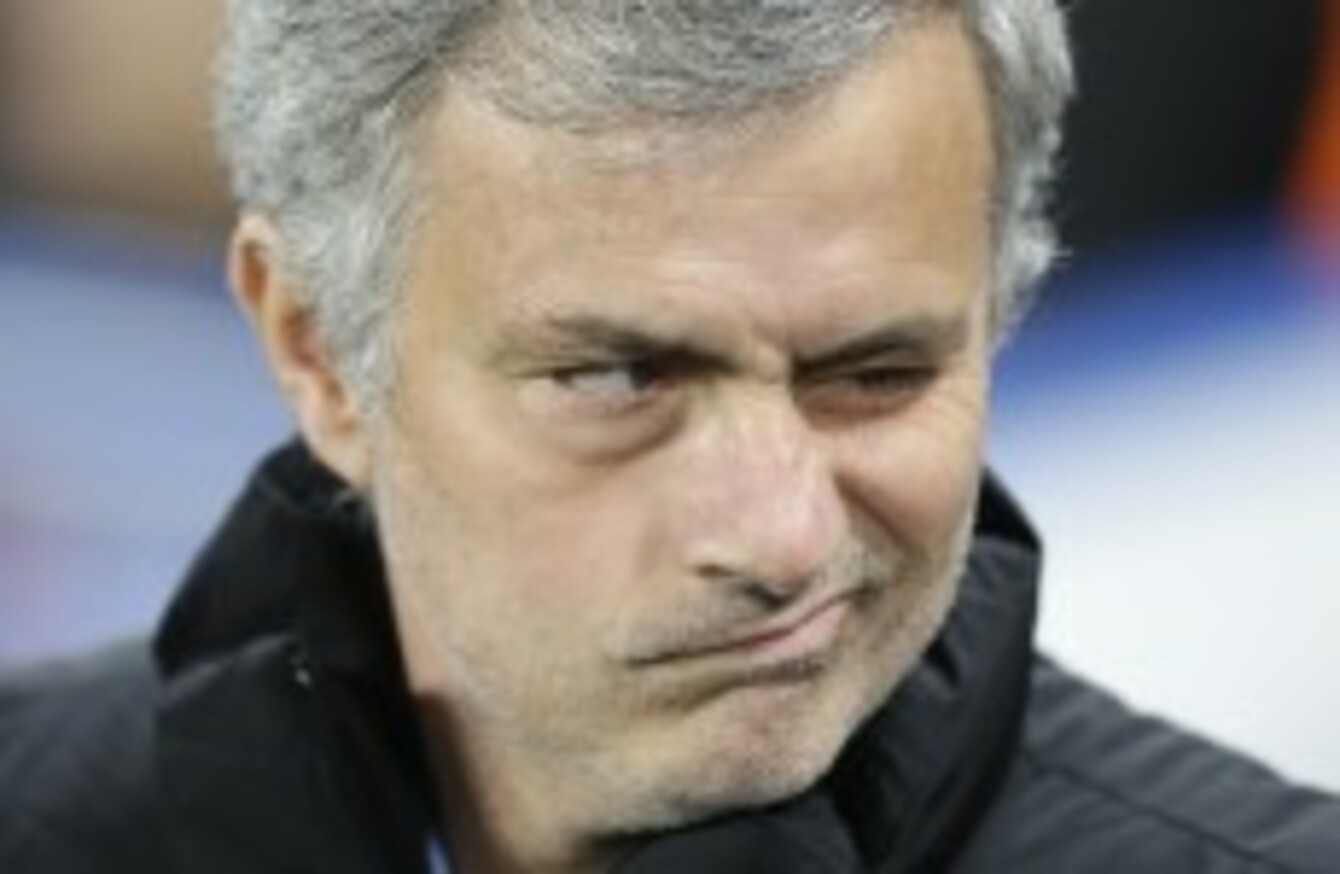 Chelsea manager Jose Mourinho grimaces during last night's match.
Image:
AP
/Press Association Images
Chelsea manager Jose Mourinho grimaces during last night's match.
Image:
AP
/Press Association Images
BRITISH NEWSPAPERS AND pundits rounded on Chelsea and manager Jose Mourinho on Thursday following their Champions League elimination, branding them "a team who will never really be loved".
Chelsea fell to French champions Paris Saint-Germain on away goals following a stormy and ill-tempered 2-2 draw in the second leg of their last 16 tie at Stamford Bridge on Wednesday.
The home side's players came in for strong criticism after they surrounded referee Bjorn Kuipers in the aftermath of a first-half foul on Oscar by Zlatan Ibrahimovic that saw the PSG striker harshly shown a straight red card.
The Daily Mail labelled Chelsea "The Bully Boys", using a photograph to flag up the fact that "NINE players" had encircled the Dutch official and describing their conduct as "deplorable".
Writing in The Daily Telegraph, Henry Winter said "there will be little sorrow for their (Chelsea's) departure outside Stamford Bridge", beneath a headline branding the evening a "night of ignominy".
Former Liverpool defender Jamie Carragher laid the blame at Mourinho's door, accusing the Portuguese of instilling a culture of gamesmanship at the club.
https://vine.co/v/O9hUL5hxjbb
"The worst bit of dirty tricks was from Chelsea, surrounding the referee. The reaction was disgraceful," said the Sky Sports pundit.
"Jose Mourinho could end up being the most successful manager ever with the trophies he goes on to win in his career, but I don't think him and his teams will be ever be loved because of actions like that.
"Does Mourinho care? I don't think he probably cares. I think it's sad."
His fellow pundit Graeme Souness added: "This PSG team is just full of technique, a really good footballing team, and they had to put up with stuff which I find really, really unappealing."
- Premier League 'miles away' -
Prior to the game, Mourinho had accused PSG of playing with unnecessary aggression in the first leg, which finished 1-1, and The Guardian felt the Portuguese's "toxic tone" had influenced Kuipers.
Chelsea's failure to seize the initiative after Ibrahimovic's early dismissal was also criticised, with PSG having continued to boss proceedings despite playing with a numerical disadvantage for an hour and a half.
"Even against 10 men for so much of the game, they were second-best in just about every department," said Oliver Kay in The Times.
Writing for the paper, former Chelsea striker Tony Cascarino said: "We have known for a long time that Jose Mourinho is a master of his own destiny.
"Increasingly, though, he is beginning to look like a master of deception too."
The tabloids stuck the boot in, with The Sun's back page screaming 'Eiffel Shower' and the Daily Mirror branding Mourinho's misfiring players 'Euro Trash'.
"Chelsea got exactly what they deserved: nothing," The Sun added.
Underpinning the headlines was a fear that with Chelsea out and Manchester City and Arsenal on the brink of elimination after first-leg losses to Barcelona and Monaco respectively, England could have no representatives in the quarter-finals for the second time in three years.
"We're supposed to be the richest league in the world with some of the best players," Carragher added. "We are miles away and we're getting kidded."