BEFORE YOU GO and fork out a small fortune on a wetsuit for the triathlete in your life, it's probably wise to find out exactly what he or she plans to do with it – and more importantly, the exact size he or she is.Choosing the correct wetsuit is a minefield and if you get it wrong it not only hampers comfort and performance, but it's actually dangerous.
The42 spoke to Dublin-based sports retailers Base2Race about this and they answered a few of our really stupid questions…
The42: What is the first thing one should look for in a wetsuit?
B2R: "Always ensure the wetsuit is specifically designed for what you want to use it for. There are a lot of different types of wetsuits on the market today, but swimming or triathlon wetsuits are very different, even though it may look very similar."
The42: Is there a difference between wetsuits for triathlon and multi-purpose wetsuits?
B2R: "Yes, absolutely. The main differences are;
"Neoprene: Triathlon neoprene is very supple and flexible, thus giving a very comfortable fit that should fit like a second skin.
"Thickness: Triathlon wetsuits have varying levels of thickness throughout the suit. This helps the swimmer with flexibility, fit, warmth and most importantly, body position.
"Hydrophobicity: This allows the swimmer to slide through the water with ease and ensures the suit is not absorbing water, thus making it heavy and cumbersome."
The42: How important is it to have a wetsuit sized and measured correctly?
B2R: "The sizing is incredibly important. With most wetsuit brands there can be as many as 15 sizes in one type of suit.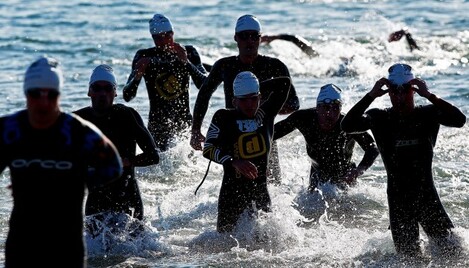 Source: Donall Farmer/INPHO
"This is to ensure the swimmer is getting the best possible fit. If you have an ill-fitting wetsuit, water can flush through causing the swimmer to get very cold and the suit to become very heavy."On the other hand, it can be so restrictive so you'll feel like you're suffocating and immobile. So not having your suit properly fitted is actually dangerous."
The42: Describe the different types; shorties, full suit, etc. and why you should pick one over the other
B2R: "When swimming with the Irish climate a full wetsuit is your only option due to the temperature of the Irish water.
"Shorties would only be recommended for stronger swimmers, due to their lack of buoyancy. But mostly we don't recommend them unless the swimmer is headed for warmer climates."
The42: Do wetsuits offer different levels of buoyancy?
B2R: "Yes and this is due to the different thicknesses of neoprene used in the construction of the wetsuit.
"A smart design will give the swimmer a balanced suit that will help improve the swimmers body position.
"But please note – too much buoyancy in a wetsuit is not always a good thing; a swimmer needs to be balanced at all times."
The42: What would be the recommended baseline price for buying new wetsuits?
B2R: "We used to sell a budget wetsuit but stopped.
"We felt the customer was not getting a high enough quality product for the potential usage. Our ranges start at €300.
"For that investment, you're getting a suit that can be used confidently for any distance swim or triathlon race."
The42: How long do wetsuits last?
B2R: "This is the million dollar question! Usually we would expect customers to get 3-4 years out of them, but this really depends on how well the suit is looked after.
"Most damage is performed when putting on the wetsuit as people tear the outer skin of the suit by either over stretching or catching it with their nails."
The42: Is it true that some water must get into your wetsuit to insulate you?
B2R: "It is not necessary to flush a wetsuit with water but some people feel they get a better fit doing so.
"If a wetsuit is fitted correctly a small amount of water will seep into the suit. In turn, this water is heated by the body, creating more insulation.
"If the wetsuit is allowing water to flow through the suit constantly then the body's core temperature will drop."
Originally published 25 October at 11.15