DONEGAL FOOTBALLER PATRICK McBearty is edging closer to a switch to Australian Rules football after receiving an invitation to attend a second trial next month, according to The Donegal Democrat.
The 18-year-old  from Kilcar was among a group of talented youngsters who travelled to the National Basketball Arena in Tallaght two weeks ago where former Sydney Swans player Tadhg Kennelly, who is an AFL Ambassador, oversaw the training day.
And now Leaving Certificate student McBearty, who played for Donegal in their Allianz National Football League defeat to Laois in Letterkenny recently and is also a member of their U21 panel, has been called back for a week-long camp in London over Easter.
It is not the first time that McBrearty has been targeted as well-known Aussie Rules agent Ricky Nixon was monitoring his progress two years ago.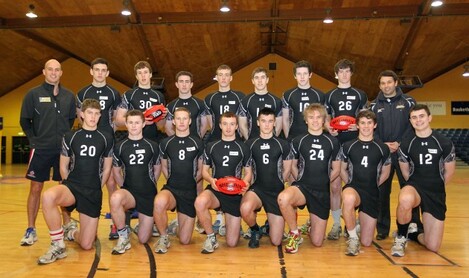 Kennelly, left, with the participants at trials in Tallaght earlier this month. Credit: ©INPHO/Lorraine O'Sullivan