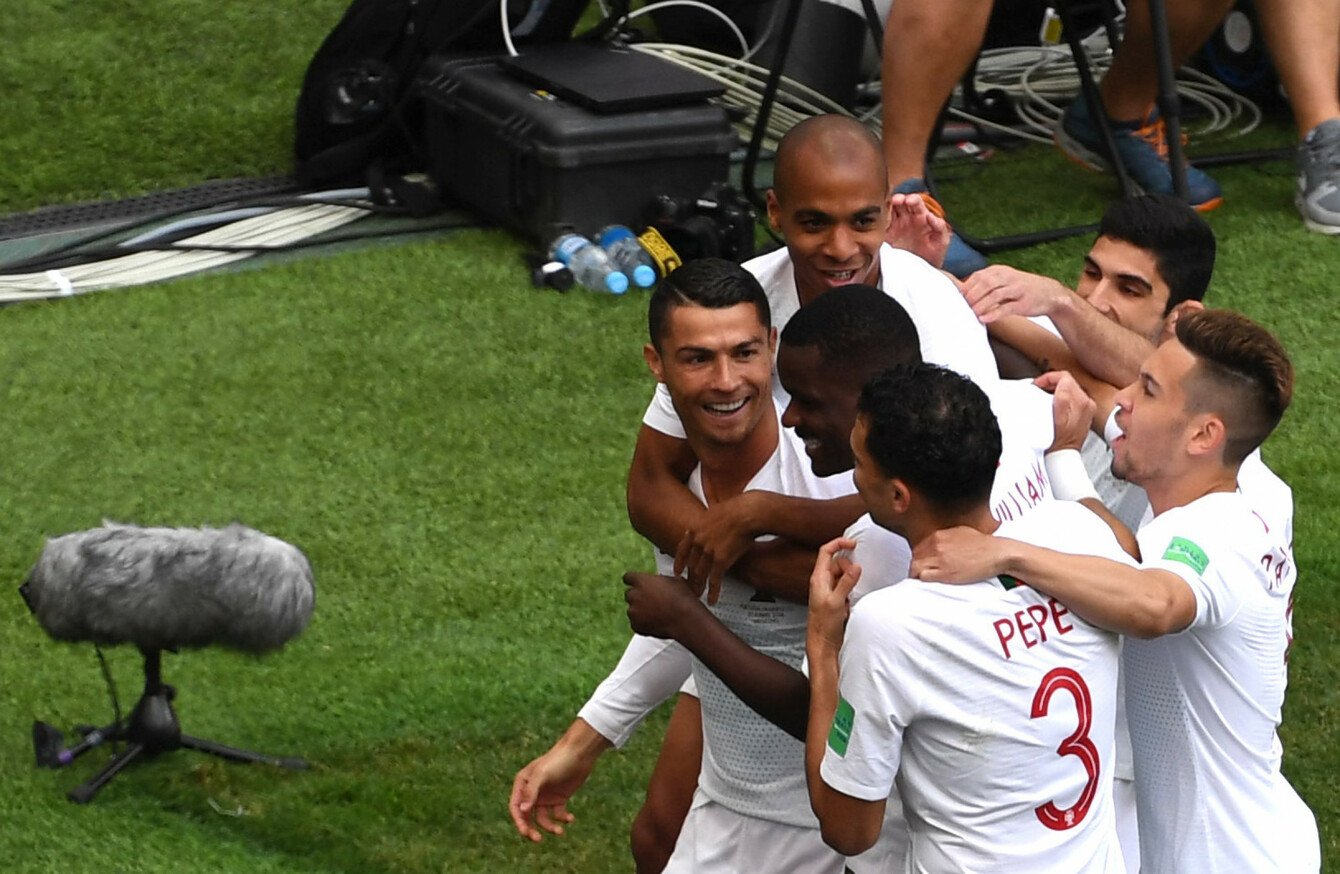 Cristiano Ronaldo (1st L) of Portugal celebrates his scoring with team-mates.
Image: Xinhua News Agency/PA Images
Cristiano Ronaldo (1st L) of Portugal celebrates his scoring with team-mates.
Image: Xinhua News Agency/PA Images
IN ADDITION TO almost 600 career goals in less than 800 appearances and numerous individual accolades, Cristiano Ronaldo has won 26 trophies, including five Champions Leagues, three Premier Leagues, two La Ligas and one European Championship.
There is just one major trophy that has so far eluded him over the course of the 33-year-old's highly decorated career — the World Cup.
Yet Ronaldo looks intent on changing that one glaring absence from his otherwise impeccable CV. Since Russia 2018 has begun, he has looked incredibly sharp, with four goals in two games — including today's bullet header, which ultimately was enough to dump Morocco out of the World Cup — reaffirming his continuing prowess as the best player in the world along with Lionel Messi.
This World Cup has provided an interesting contrast with the Barcelona superstar, but in many ways, their roles are incomparable.
When Messi plays for Argentina, it looks as if he is trying to do everything — in addition to being expected to lead the way in terms of goals, he is often operating as Argentina's main playmaker, attempting to build-up attacks and control play from the middle of the field.
Ronaldo, on the other hand, has a responsibility similar to that which he enjoys at Real Madrid. Unlike Messi, he is happy to go several minutes on the periphery of the game and let others start the attacks, while invariably expertly finishing off any opportunities that arise.
There have been several examples over the years of Ronaldo's unashamedly individualistic tendencies, from his controversial comments after the Champions League final triumph over Liverpool to his insistence on taking the fifth penalty in shootouts and therefore increasing his chances of scoring the all-important winning spot kick potentially at the expense of the team.
And so far this summer, with Messi and Mo Salah both enjoying similarly outstanding seasons at club level, Ronaldo is playing like a man who knows the Ballon d'Or is in the balance.
With four points and only Iran left to play, Portugal will in all likelihood qualify for the tournament's knockout stages. How much further they can progress from there is debatable — a last-16 encounter against Uruguay or Russia would not be easy.
Few critics tipped Ronaldo and co to triumph in the pre-tournament predictions and with good reason. There are at least three or four squads that are markedly stronger overall — while not bad players, it is hard to imagine the likes of Ricardo Quaresma, João Mário, Bruno Alves and Adrien Silva making the final panel for Spain or Germany.
As well as highlighting Ronaldo's individual brilliance once more, the performance against Morocco today underlined the team's limitations.
On the balance of play, the North African outfit deserved at least a point. According to the BBC, they had 55% possession and five more shots than Portugal as well as two extra attempts on target.
Morocco regularly targeted the right-hand side of Portugal's defence and had some joy in exposing this area of weakness. They also were unlucky not to get at least one penalty, when Khalid Boutaib was seemingly impeded by Jose Fonte as the two players attempted to win a header.
Herve Renard's side, however, ultimately lacked that Ronaldo-esque ruthlessness to find an equaliser, but better teams are more likely to punish Portugal for their shortcomings.
That said, the Portuguese are seemingly at their best when they are unfancied and the onus is not on them to win the game. They don't have enough quality throughout the team to destroy sides at this level, but they do have an incredibly well-organised and solid backline, which coupled with Ronaldo, makes them a potent force in international football.
At Euro 2016, they progressed to the knockout stages without winning a single game, stumbling over the line amid draws with Hungary, Iceland and Austria. From there, they beat Croatia 1-0, Poland on penalties, Wales 2-0 and France 1-0.
They may not have the vast talent of other countries, but there are few if any teams in international football who are more accustomed to grinding out victories than Fernando Santos' men. Today was just the latest example of their unattractive-but-efficient approach.
And while a team with arguably only one world-class player winning such an illustrious trophy would be a poor reflection on the overall standard of international football, it certainly does not seem beyond the realms of possibility.
This outcome would almost certainly require Ronaldo to maintain his Maradona-at-'86 levels of brilliance, and for all the incredible goal machine has done so far in the game, inspiring such a triumph would surely be on a par with almost anything he has achieved in the past.
The42 is on Instagram! Tap the button below on your phone to follow us!