"LIKE, EVERYONE HAS problems," says Carl Frampton with a shake of his head.
"Everyone has their own little grievances and stuff. But most of them aren't real problems. Most of it is trivial when you think of what's going on in Kenya and other parts of the world."
The former two-weight world champion has popped into The42 HQ having just four days previously returned from a stint in the poverty-stricken east African nation in aid of Trócaire's Christmas appeal, the harrowing full account of which can be read here.
After some 20 minutes recalling an experience that he maintains he and his wife Christine will remember for a lifetime, the conversation moves on to the more routine fare of boxing.
'The Jackal's mood understandably softens, but while it might pale in comparison to the suffering endured by natives of decrepit areas such as the Mukuru slum, his last outing in the squared circle was scarcely a picnic: Frampton returned from Kenya with emotional scars, sure, but he had departed a heavily bruised figure just over a week after his phonebooth war with rugged Mexican Horacio Garcia.
In retrospect it strikes as borderline maniacal that the Belfast featherweight himself pegged Garcia as his comeback opponent, particularly given he had already shared the ring with the aptly-nicknamed 'Violento' on more than one occasion.
But as is his wont, Frampton revelled in their painstaking slug-fest.
"I did do a bit of sparring with him", recalls the Shore Road featherweight, "but I don't ever remember him being that big! He was massive. Massive.
"I think when he comes over to spar, he comes over on his own from Mexico, comes over for a few quid and doesn't care. He spars, then goes and eats crap – does whatever he wants when he's not sparring. He gets his few quid and then heads home.
"When it's a fight, it's a completely different situation, obviously, and he was ready for it.
"But I think I allowed him to get into the fight more than I should have.
If you look at how the first five rounds went, I was cruising – or at least the first four rounds, anyway. And then I let him back into the fight. And that was my own fault. I wanted to have a bit of a 'fight' with him, you know? The big lump.
"It was a bit of machoism, like. You're saying: 'let me stand here and you're not going to push me about'. Maybe it was the wrong approach, but it made it exciting for the fans, and as long as my hand was raised at the end, that was the most important thing.
BELFAST BARNBURNER: Last Saturday, @RealCFrampton made his homecoming and shared 10 thrilling rounds with Horacio Garcia 👏 #FramptonReborn pic.twitter.com/qpW1QihE9R

— BoxNation (@boxnationtv) November 25, 2017
Frampton's relatively close, but fair unanimous decision victory was his first scrap in his hometown in almost three years.
How the roof remained attached to Belfast's SSE Arena that night will forever remain a mystery, for the noise which greeted his entrance – perpetuated for the duration of a compelling contest – was ear-splitting in its belligerence.
Indeed, speaking to reporters at his post-fight press conference, Frampton proposed that of his six career outings in the same venue, this had been the loudest – quite the feat given some of the famous nights which had preceded it.
He pinpointed one song in particular when making this assertion, but admitted he couldn't quite recall exactly which it was, only that it had reverberated around the arena moments before first bell.
The consensus, however trivial, was that he was referring to Smokie's 1979 classic 'Living Next Door to Alice', which gave 'Sweet Caroline' a run for its money given the fervour with which it was belted out by his hometown faithful as it blared from the speakers.
Frampton sets the record straight in explaining it was a chant instigated purely by his fans which briefly moved him while he prepared for combat, and goes as far as to attribute the firefight which subsequently ensued to the sabre-rattling atmosphere drummed up by the 10,000-capacity crowd.
"I hadn't actually seen 'Who The F Is Alice' until afterwards! I was actually talking about 'Stand Up for the Ulstermen', which was sang when I was in the ring. But I've seen videos of 'Who The F Is Alice' since then, and it seemed pretty noisy, certainly.
"But I just remember I was in the ring and the MC was introducing us, and I was walking – pacing – up and down, and I remember them singing that: 'Stand Up for the Ulstermen.' And Jesus, it was loud.
And people sang it in unison, all over – people from both sides of the community singing it. I remember when I was in there, standing in the ring, it just came into my head: 'this is fucking mental. This is proper noisy, like.'
"I really do think it was the loudest it's ever been in there.
"And I actually think that's what turned it into the fight that it was. That's what happens, isn't it? That's just human nature. When there's atmosphere like that, it makes you want to 'fight' that bit more, if you know what I mean.
"They're on my back, and it's like they're pushing me forward all the time. So yeah, I blame the atmosphere for me standing up to fight!" he laughs.
100% going Belfast when Frampton fights there again. That atmosphere is crazy 👏🏽👏🏽

— Jonathan (@jonnyescott) November 18, 2017
Frampton was critical of his own performance in the fight's aftermath, describing it as "mediocre", but maintains 10 electrifying rounds versus Garcia sufficed in ridding the ring rust accrued during an 11-month period of inactivity during which was further plagued by external turbulence.
Imbued by new partnerships since his acrimonious departure from Barry McGuigan's Cyclone Promotions – off limits during this interview due to ongoing litigation – 'The Jackal' remains adamant that his best may yet be in front of him.
Such new leases of life can be capricious, of course, not least in a sport with such a predilection for sapping souls.
And as such, it's difficult not to ponder as to whether his much-publicised recent renaissance might have seen Frampton apply more pressure on himself for his comeback scrap than was necessary, or as to whether he contemplated the possibility that his 'rebirth' might have been a mirage.
After all, mere months previously, he had found himself – per his own admission – eagerly anticipating his own eventual retirement.
"Nah, that never really crossed my mind, to be honest. The last few months since I linked up with MTK, Frank [Warren], BT Sport and Jamie Moore in the gym have been the most I've enjoyed boxing as a professional – literally since I turned pro in 2009.
Sometimes, throughout my career, I'd wake up and go: 'fuck. Another day of training. Jesus, I can't wait for the weekend to get home and see the kids.' Now, I wake up, have a cup of coffee and I look forward to getting to the gym. And that's not me just saying this to you for the sake of fuckin'…media, or whatever. I'm being honest.
"I'm honestly enjoying boxing right now, so I never thought I was going to hang the gloves up. At all.
"And I don't really know why that is", Frampton continues, "This is my sport, you know? I've been doing it since I was a kid. And it's a hard sport – it's a slog at times. I don't know.
"There's a real camaraderie in the gym: good lads, good craic. We train hard and take the piss out of each other. It's good fun to be around.
"We've got a guy called Nigel Travis who was in the corner with Jamie that night – without a doubt the maddest person I've ever met in my life. Like, maniac! But would do anything for you. Great guy, and great fun as well.
I'm just not thinking about the end anymore. Obviously, I'm 30: I'm no spring chicken. But there was a time when I was counting down the days to retirement. I had this idea in my head: 'When I'm 32, if I haven't had my last fight, I'll have one more and I'll hang it up. That's it done.'
"But now, as long as I can go on, and I'm enjoying it, and I'm doing well and not on the slide, I'll hang around. I have a few years left. Two years, three years, four years, five years – who knows?
"But that retirement age of 32 is something I'm just not thinking about anymore."
You can't take the boy out of Belfast: Frampton is set to fight at least twice more at home next year Source: Presseye/Matt Mackey/INPHO
It's easy to forget that the January fight which acted as catalyst to Frampton's career nosediving for the best part of year was a razor-thin, majority-decision defeat to a bona fide world class operator in Leo Santa Cruz, whom the Northern Irishman had bested by a similar margin just six months prior.
In truth, a victory would likely have changed little with regard to the fall-out which followed, but it would have at least curtailed much of the festering self-doubt as Frampton contended with being bested for the first and only time as a professional fighter.
The subsequent 'dark days' to which he has referred throughout the intervening months began near instantaneously following Jimmy Lennon Jr's reading of the judges' scorecards on that night in Vegas, an emotional Jackal – cognisant that he had under-performed by his own elite standards – graciously acknowledging Santa Cruz's superiority in front of the boxing world.
But the bitter pill has long since been digested, now, and though the word 'former' still packs its own punch, Frampton can afford a wry smile while dissecting what was another fight-of-the-year-calibre contest between two fistic soulmates.
"I think he won the fight fair and square, and I said that straight after.
"After the fight, before I watched it back, I felt like Santa Cruz beat me on the night.
"But watching it back – and I've only watched it once, by the way – I had it a little bit closer than I had it in the ring on the night.
When the scores were called out… I think – did someone have it a draw, yeah? That was… I mean, I heard that and I just felt, 'Jesus, that's just wrong.' You know?
"It didn't feel like a draw!" he chuckles. "I still think, having watched it back, that Santa Cruz won the fight fair and square.
"But that was me in an under-par performance. It was a bad start, I was chasing a fight, and he out-smarted me. He boxed like I never believed he could box: at times he was up on his toes and moving around the ring. I never thought he could do that. He out-foxed us on the night.
"If you want to take anything out of it, it sets it up nicely for the next one. It's one each now, so it kind of makes the third one inevitable. It has to happen. Surely it has to happen."
Surely.
Santa Cruz believes so, too – so much so that he slid into Frampton's Twitter DMs some six weeks after their rematch, relaying to the man from whom he reclaimed the WBA World featherweight strap how keen he was for the pair to throw down in a decider.
There may have been some Mexican courage involved on the part of 'El Terremoto', not that a fighter of his ilk would need to source such pluck through artificial means.
He has since publicly expressed a willingness to fight Frampton in Belfast as he had previously promised – this time doing so while almost certainly sober – but for now, he's unlikely to deviate from best laid plans to trade leather with compatriot Abner Mares.
"I haven't spoken with him since we exchanged a couple of messages on Twitter," Frampton says.
I think he was drunk, but I don't know for sure. See, what happened was when he sent me the message, it was out of the blue. Like, I had sent him a message weeks before it and he hadn't responded. All of a sudden I get this message from him, and I'm trying to work it out in my head, like, 'what time is it in LA? I think he must be on the drink!'
"We had a wee chat. Nah, it was good. Leo's a good guy, you know? He's not a bad guy at all.
"And he's brave. He's getting a wee bit of stick about not keeping to his word and fighting me in Belfast, but I think it really is more down to his dad [Jose Santa Cruz's Visa problems], really, than himself.
"He'd fight anyone, that guy.
I think that third Santa Cruz fight is a serious possibility for next year. And people may say 'you're talking out your arse', but I think with the backing of BT – I mean, you see what they're doing with Champions League in the football – there's more a chance now than there's ever been for me to fight him, and not just in the States, but him coming over to this side.
"Money talks," Frampton continues. "Leo gets well paid to fight…well, I don't want to say no-marks, but people like Chris Avalos who I knocked out a couple of years ago. He gets well paid to fight those sort of guys, so to fight me in Belfast, you'll need to dig deep into the pockets.
"And I think BT might do that, you know. BT and Frank [Warren].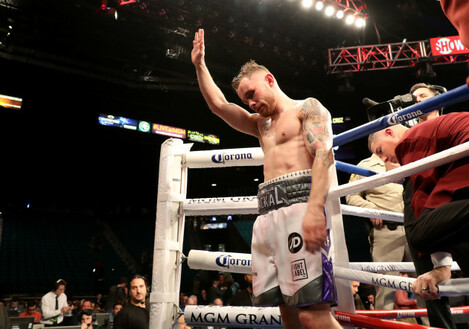 A dejected Frampton apologises to traveling fans following his sole career defeat to Leo Santa Cruz Source: Presseye/William Cherry/INPHO
Given Santa Cruz-Mares II is tentatively scheduled for spring, a Santa Cruz-Frampton rubber match will have to wait until next summer at the earliest.
Be part
of the team
Access exclusive podcasts, interviews and analysis with a monthly or annual membership.
Become a Member
Whether it's Santa Cruz or the winner of a prospective Lee Selby-Josh Warrington clash or someone else altogether, though, Frampton will fulfil his childhood dream of headlining at Windsor Park in what will be his second fight of 2018.
He'll first return in March or April, likely in his hometown once more: this sequence of Belfast fights was one of the factors which swayed him in the direction of Frank Warren as opposed to his former promoter Eddie Hearn, whom Frampton acknowledges made an offer to which he gave some genuine consideration.
Former pound-for-pound contender Nonito 'The Filipino Flash' Donaire [38-4, 24 KOs] has gloves and is willing to travel, and should Frampton fail to secure a title shot before Windsor, he perceives the stylish veteran as an ideal opponent versus which to test himself ahead of a potentially career-biggest night.
@RealCFrampton Heard our teams have been talking. Cldn't make this fight b4 bt now no obstacles stand in the way. Greatest respect 4 u as a fighter.C U in the ring wherever U want the fight 2b.#philippines #boxing #boxer #gloves #fight #lasvegas #combatsports #UnitedKingdom pic.twitter.com/4FqcXuE4bQ

— Nonito Donaire (@filipinoflash) November 28, 2017
"Yeah, it's a realistic possibility," Frampton says of a showdown with the 35-year-old Pinoy. "Potentially, that's a good fight.
"Well, look, I want to fight for world titles. If a world title shot comes up, I'll take it. But if not, then Nonito Donaire is a very good opponent to get me ready for a world title.
"Donaire's a good fighter, someone who I like and respect. He can punch, has good skills, and is a four-weight world champion, I think. Four-weight? Three-weight? Four-weight? [Four-weight].
"Four-weight, aye. So that would be a good backup if a world title doesn't come."
Donaire, like current holder Frampton, is a RING Magazine Fighter Of The Year (2012), and like Frampton, he too had the equivalent award – similarly prestigious – bestowed upon him by the Boxing Writer's Association of America (BWAA).
Given the week that's in it, as two pound-for-pound big guns in Vasyl Lomachenko and Guillermo Rigondeaux face battle tonight in New York, I remind Frampton of a conversation we had on 16 March of this year in the same city.
The night before Michael Conlan's professional debut further downtown, The Jackal stood off-stage in a ballroom in lower Manhattan, hands in pockets, a sizable plaque peeking out from behind his heels.
He had just been anointed the best fighter on the planet by the BWAA, but in truth cut a completely uncomfortable figure: he had accepted the award less than three months after suffering defeat to Santa Cruz, and caught both Irish-boxing.com's Joe O'Neill and I off guard with a rather candid admission.
"I'm obviously very proud", he told us, "but some of these boys – Vasyl Lomachenko? This guy is a much better fighter than me! You know what I mean?"
It was jarring, especially considering just four days prior to his rematch with Santa Cruz, the then-WBA World featherweight champ had spoken of his desire to face Vasyl Lomachenko up at super-feather once the price was right.
I ask him if his gloom-ridden concession was brought about solely by the demoralisation of having been trumped – albeit barely – by Santa Cruz.
It's subsequently laid plain that Frampton is indeed 'back.'
"Yeah… Maybe," he replies. "Maybe. I was just coming off my first loss. It's interesting. I haven't thought about that, actually.
"But I think that boxing's a game when you need to have confidence, and actually, it needs to be sky-high.
"Lomachenko, if you want to pick a name out… I would fight him. I would fight anyone. This is a business, and the dough has to be right."
"And obviously when I say 'I'd fight anyone', people might read this and be like, 'oh, what about [Guillermo] Rigondeaux?' But I'm not going to fight anyone for crap money. Not Rigondeaux, not anyone.
"The TV stations don't like him because he's not 'exciting' – he's not blood-and-guts. And to be honest, he's exciting for me: as a boxing purist, I like watching him. But he's not what people want to see.
I would certainly fight Rigo. I would certainly fight Lomachenko. I'd love to test myself against these boys, but if you'd want to pick one of them two, you'd pick Rigo, because I think it's an easier fight than a Lomachenko fight.
"Well, no, 'easier' is definitely the wrong word – it's an extremely hard fight! But Lomachenko is a more difficult fight.
I love watching Lomachenko. I watched an hour of him shadow-boxing on YouTube. I've never watched anyone shadow-boxing before. He's an enigma. Unreal, he is.
"But if Rigondeaux wins – oh, that's a fight. Again, people might think I'm talking out of my arse, but if Rigo wins, I'll absolutely fight him – I'd be happy to.
"Like, he keeps talking about me – well, not him, but someone else: his translator on Twitter keeps talking about me! And then denies it when people call him out and say, 'this isn't you, Rigo.' He's there: 'No, it is.'
"If he beats Lomachenko he becomes a huge name, and obviously then, the reward becomes a lot bigger.
"And then I'd be happy to fight him.
I'd be happy to fight Rigo anyway, truthfully, but look, this is a business at the end of the day. In any other job, if your boss said to you, 'I'm going to give you a much harder job, but I'm going to cut your wages in half', you'd tell them to piss off. You know what I mean?
Watching. Yes. All of them with the excepción of the only Irish Ducker in the history of Ireland. Frampton. But even he is a good boxer

— Guillermo Rigondeaux (@RigoElChacal305) October 5, 2017
It's far from inconceivable that 'El Chacal' will shock his Ukrainian counterpart in tonight's feverishly anticipated bout – the first between two double Olympic gold medalists in professional boxing history.
He's more than willing to touch down in Belfast for a showdown with Frampton, whom he's accused of dodging him for three years.
Indeed, Rigo has history on either side of the Irish border: the Cuban icon won his first amateur World Championships on Frampton's turf in 2001, and while managed by Cork man Gary Hyde in the pro ranks retained his WBA Interim world title with a first-round annihilation of Limerick's Willie Casey at Dublin's Citywest Hotel a decade later.
Taking place mid-recession, the latter would mark the end of an era for professional boxing in the Republic: RTÉ withdrew its involvement with the paid ranks until as recently as March when they broadcast delayed highlights of Michael Conlan's Madison Square Garden debut, and have not screened a live pro fight since Casey's deflating 2011 defeat.
Boxing on the island as a whole is now in rude health once more, however, with two world champions in Ryan Burnett and Katie Taylor, and over 40 fighters having turned professional in 2017 alone. It's also set to return to terrestrial television next March.
"It's probably the best it's ever been," says Frampton.
"I've said that a number of times when people talk about how good boxing is in Ireland, in Northern Ireland – I've said in years gone by: 'this is the best it's ever been.'
"And then the following year I say the same thing, and so on.
"But you look at it now, and people want to turn pro. They see what we're doing now, and they want to get on it."
One of those 40-odd up-and-comers who turned professional this year was Monaghan light-welterweight Aaron McKenna, who aged just 18, signed with Oscar De La Hoya's Golden Boy Promotions in the autumn – in doing so becoming Ireland's youngest pro as well as the youngest fighter in Golden Boy's stable.
'The Silencer' from Monaghan debuts in Las Vegas tonight.
"Unreal," Frampton gushes. "Unreal. That was unheard of, an 18-year-old going out to America.
See, the Americans appreciate the support that's over here: they see it with me, they see it with guys like Mick Conlan – you've got Top Rank backing Mick and they're expecting him to a big star, which I personally believe he will be.
"And you have Golden Boy picking up this kid McKenna. I had never heard of the kid, to be totally honest, and I don't mean that to sound disrespectful – he's a young guy.
"But Golden Boy have taken a punt on him, so he must be a serious talent. They're obviously keen to get involved in the Irish market, if you like. Fair play to the kid.
"And [Jason] Quigley's flying it as well with Golden Boy."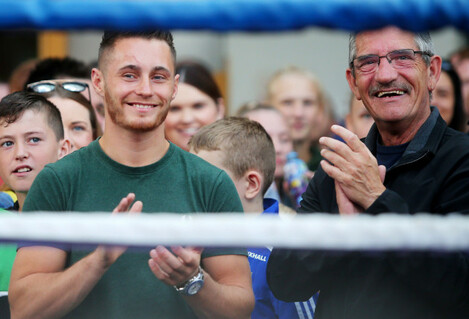 Unified bantamweight world champion Ryan Burnett attends a Frampton open workout in their native Belfast Source: Presseye/Jonathan Porter/INPHO
Frampton, arguably the greatest professional boxer ever to hail from these shores, admits he hopes to lead the way as his chosen craft continues to blossom here in 2018.
It's then put to him in half-jest that, during the week, Andy Lee didn't have him top of the pile when composing his Irish pound-for-pound top three on Off The Ball's new morning show on Facebook, opting instead for unified bantamweight world champion and stablemate Ryan Burnett.
Burnett's fellow Belfast man takes it on the chin, as expected: "Oh, did he? After Burnett, was I? Ah, I'd expect that."
Lee, to his credit, has championed Frampton for some time, particularly in the Republic where recognition hasn't always been so forthcoming – a gesture which hasn't escaped Frampton's attention.
But does the Ulsterman agree with his Munster counterpart's assessment?
"I like Andy. Andy's a good guy, good fighter, and he's someone I respect.
"But… Burnett… Good fighter. Very, very good fighter. And he beat your man with the name that nobody can pronounce [Zhanat Zhakiyanov] in a good fight, a unification fight…"
Reticent to offend his old pal Burnett, Frampton's analysis is punctuated by moments of deliberation, his voice eventually lowered to whisper-level volume.
"But… I think… I think with the people I've beat, and winning world titles in two divisions, and me still boxing – I'm still a boxer, like…" he laughs.
"Ah, fuck, I don't want to sound like I've a big head here…
"But I'd say if I was doing that list, I'd have put myself ahead of Burnett."
All's fair in love and war, and for Carl Frampton, boxing finally consists of both.
The42 has just published its first book, Behind The Lines, a collection of some of the year's best sports stories. Pick up your copy in Eason's, or order it here today (€10):