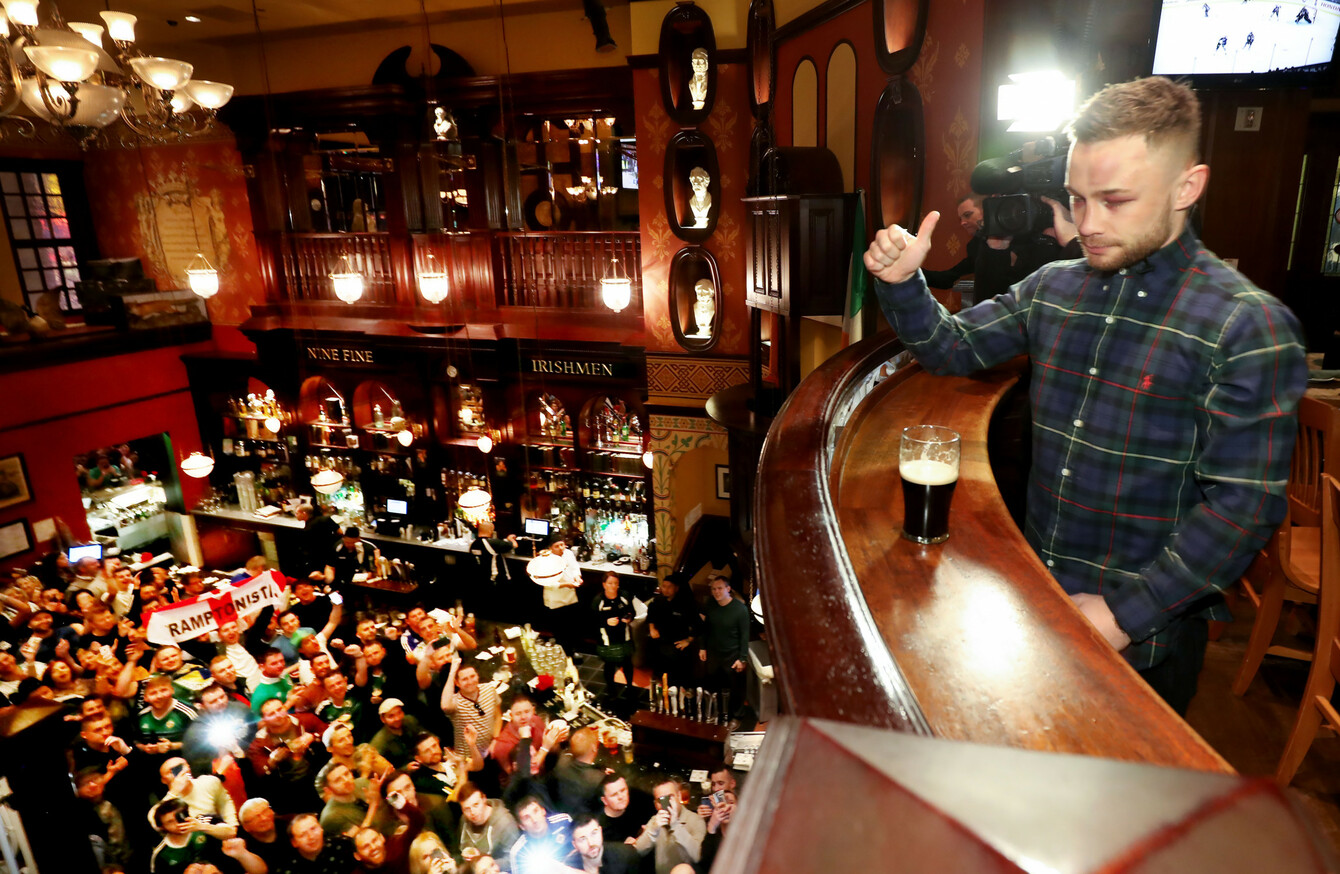 Image: Presseye/William Cherry/INPHO
Image: Presseye/William Cherry/INPHO
CARL FRAMPTON STOOD off-stage in a ballroom in lower Manhattan, hands in pockets, a sizable plaque peeking out from behind his heels.
It was 16 March 2017, the night before Michael Conlan's professional boxing debut further downtown, and 'The Jackal' had just been anointed the best fighter on the planet for the previous calendar year by the Boxing Writer's Association of America – one of his precarious craft's most prestigious accolades.
Frampton just wanted to go home.
"To be nominated with so many great fighters…
"You know what? I don't know," Frampton said with a shake of his head, glancing toward sheeny brown shoes which had been purchased especially for the occasion.
"I'm obviously very proud, but some of these boys – Vasyl Lomachenko? This guy is a much better
fighter than me! You know what I mean?"
It was a candid admission made through a rueful smile, and one which I initially accredited to the free bar only for Frampton to clarify that, despite this being his night of nights, he'd stayed "on the water" for the evening.
But such a declaration was made all the more jarring given that less than two months prior, Frampton had been calling for a fight with the Ukrainian sensation while preparing for his rematch with astral nemesis Leo Santa Cruz.
Before slipping off into the New York night with McGuigans Barry and Shane in tow, The Jackal confirmed that he was to head home to Belfast before his fellow city man Mick Conlan's Madison Square Garden bow the following night.
He missed his wife and kids, he said, before adding that he had "taken the piss" with the amount of time spent away from them over the previous 12 months.
Boxing is an obstreperous old sport at the best of times, but for all its chicanery and chance-arsery, its fatal flaw, like its greatest strength, is rooted in individualism: any fighter can convince themselves that they're the best in the world until somebody proves that they're not.
The latter realisation can shatter worlds.
Some never recover once that bubble is pierced by the fearsome fists of an adversary; it often manifests itself as an unforeseen confrontation with mortality, a sudden cognisance that a life of perpetual sacrifice may, in the end, have been spent in vein.
It was chilling – if utterly unsurprising – to see Frampton reference "tough, dark days" in a poignant Sunday Life column the week before his subsequently cancelled bout with Andres Gutierrez in July.
The former two-weight world champion wrote of how he 'felt like a failure' following a razor-thin defeat to Santa Cruz in that January rematch, crediting his wife, Christine, for retrieving him from the acutely purgatorial mindspace into which a multitude of felled fighters have fallen.
Intrinsic to Frampton's post-defeat depression was a misguided perception that he'd in some way betrayed the 5,000-or-so-strong Jackal Army which had traversed the Atlantic to watch their man defend his WBA World featherweight title. Forever a man of his people, Frampton was suffering the slings and arrows of yet another oddity unique to combat athletes.
Of course, in reality, what Frampton's people witnessed was another balls-to-the-wall encounter between two born leather tradesmen. They returned to these parts a world champion lighter than they had departed, sure, but they did so content in the knowledge that their boy had left nothing but blood, sweat and tears in the ring.
There won't have been one travelling supporter who considered it money or time wasted.
Allowing for all of this, the last-minute cancellation of his homecoming bout with Gutierrez and, perhaps more pertinently, the will-they-won't-they omnishambles regarding ticket refunds, will have been intolerable for the Belfast boxer.
Frampton's intention to curtail one of the most effective Irish sporting partnerships with the McGuigans doubtless manifested itself prior to the Mexican's freak TKO defeat to Armitage Shanks; the weigh-in which preceded 'Jaguarcito's shower slip in a Belfast hotel was about as telling, in retrospect, as Frampton's resignation from his position as director at Cyclone Promotions a week beforehand.
As January's better half Leo Santa Cruz said of his compeer the Monday following Frampton's botched ring return on home soil:
It just shows that maybe, I don't know, there was some problems with him and they distracted him, or I don't know what. I know Frampton is a really responsible guy, you know? He works hard and everything. It had to be something big why he didn't make weight.
Truth be told, even prior to the feverish speculation regarding a split from Cyclone, the lead up to his clash with Gutierrez had spawned whispers within Irish boxing that Frampton's preparation had been far from optimal.
Paraphrasing the great Marvin Hagler, his trainer Shane McGuigan said of his early-camp mindset: 'It's hard to get up and run at 5am when you're wearing silk pyjamas.'
It's a soundbite which doesn't allude merely to wealth, but to personal fulfillment.
Having for a year promised his fans a dream world-title homecoming at Windsor Park, and promoters Cyclone insisting in conjunction that such a landmark event would come to fruition, The Jackal departed his wife and children for training in London as was the norm, but for a non-title scrap in Belfast's SSE Arena, and versus an opponent in Gutierrez who – with the greatest respect to the affable Mexican – only the most exhaustive of boxing observers would have been aware of.
A prestigious and highly lucrative world title unification bout with Wales' Lee Selby had gone the way of Windsor by virtue of Frampton's dethroning in January, and 2017 – a swing year for the Shore Road fighter at 30 – had been rendered almost a write-off.
The nature of that Vegas reversal in January, too, will have festered; simply put, Leo Santa Cruz's father and trainer, Jose, out-thought his counterpart in Shane McGuigan. His son subsequently out-fought Frampton, and inflicted upon him what amounted to no more than a tactical loss.
Both before and during the fight, there were miscalculations made by McGuigan – an indisputably proficient coach who will enjoy countless better days as his own career progresses. But for his friend and flagship fighter, that defeat – Frampton's first – was utterly debilitating, demoting him from champion status to that of challenger, derailing many a grandstand plan at a career juncture in which he could ill-afford such disquiet.
"With someone of that standard you get a few small things wrong and you've lost the fight," Barry McGuigan told me of the Santa Cruz rematch, this on the Wednesday before the mare's nest that was Frampton-Gutierrez.
Carl can regain his form and win the World Title again, I'm absolutely sure of it, but Carl has got to believe it himself. At this stage in his career so much of it is about your desire to get back what you've lost, and believing that you can do it again is essential.
McGuigan also admitted that Frampton's preparation, the last three weeks aside, had been a slog.
Perhaps such realism from a manager who had so potently championed his prodigy for years prior should have sounded alarms in my own mind; this, for a manager of McGuigan's savvy, was a break from his wont, but easily attributable to the general weirdness Frampton and team had exuded since that Santa Cruz rematch defeat, the sense of collective discomfort – even harking back to the Fighter of the Year awards in New York – noticeable if not glaring.
The Clones Cyclone would have known, of course, that there was a storm brewing; this was 26 July, and unbeknown to the public, Frampton had resigned as a director from his company on the 21st.
Exactly a month later, amidst incessant speculation, Frampton ripped the plaster off.
August 21, 2017
Someone recently wrote of 'The Jackal' that when he climbs through the ropes, the people of Belfast unite.
While the well-meaning sentiment surely rings true, I disagree with the idea of politicising him at all, given his sheer disregard for the kind of bollocksology he bypassed en route to the pinnacle of his sport.
Frampton's belligerent shunning of religious or political pissing contests is such that he's as likely to walk into a local café sporting an Antrim GAA jersey as he is a Northern Ireland tracksuit top. He couldn't give a fiddler's.
It's predominantly for these reasons he remains the beating heart of his hometown, whatever your creed – a unifying force, absolutely, but through a fundamental rejection of parochialism as opposed to a conscientious tip-toeing of the line.
A couple of years ago, a VICE journalist messaged me enquiring as to the religious background of Frampton and his wife, Christine, detailing a square-peg-circle-hole attempt to draw parallels between Frampton's then-burgeoning story and that of his manager, Barry McGuigan.
My less-than-mature response consisted of two words, neither great. In retrospect, 'lazy journalism' might have sufficed, but I couldn't contend with the prospect of someone disingenuously framing Frampton's career to fit a narrative that never was; his is a story that has always been about boxing, and always will be.
Hey boy, anymore talk like that and you'll get this around the coupon pic.twitter.com/5pQ1iCF0pJ

— Carl Frampton MBE (@RealCFrampton) April 6, 2017
But while intertwining their personal backgrounds would have been a stretch, we now find ourselves at a juncture in which one resemblance between the lives of Frampton and McGuigan might become particularly conspicuous.
In spite of his public cutting of ties with the man who, even allowing for 'The Jackal's elite talent, accentuated his rise to the top, Frampton is still contracted to McGuigan.
The British Boxing Board of Control [BBBC] say they're still in possession of a document which dictates that, at the very least, McGuigan is still technically Frampton's manager. It's also believed that Frampton is bound to a separate promotional contract with Cyclone, to which the BBBC would not necessarily be privy.
In any case, it would appear Frampton is not quite yet a "free agent" as he so claims.
This, of course, isn't McGuigan's first dispute of its kind, only during his torturous fallout with father figure Barney Eastwood in the mid-80s, and the costly court cases which followed years later, he was the man on the other side of the ropes.
The minutiae in both situations may well be worlds apart, for all we know, but the hope on this occasion is that there remains sufficient, residual respect between all parties for the affair to reach its conclusion swiftly and quietly, however unlikely.
Of all the pugilistic parallels that could have been drawn between them – think unadulterated boxing ability, think transcendence and hero status in the North, think the WBA World featherweight belt that both fighters threw over their respective shoulders a full three decades apart – a managerial breakup seemed the least likely to manifest itself.
But as implausible as it might be that Frampton and McGuigan will part ways with little more than a handshake, it's equally improbable that the former will allow for red tape to keep him out of the ring for long; Frampton's return to the gym under new trainer Jamie Moore is statement enough, while an announcement regarding a new promoter is due in the coming weeks.
With Al Haymon continuing to manage affairs Stateside, it's likely to come down to one of two names on this side of the water: Eddie Hearn, who recently suggested he and Frampton had "unfinished business" following their own promotional break-up in 2012, or Frank Warren, to whom Barry McGuigan defected for two fights after his own split with Barney Eastwood in 1986.
With Frampton now one of the most sought-after names in world boxing, the offers will need to be substantial. Equally imperative for any prospective suitor is the ability to deliver upon a fight in Windsor between April and September next year, which likely won't be an issue for rivals Hearn and Warren, with both having overseen a multitude of stadium shows throughout their respective careers.
Great to have linked up with my new trainer @JamieMoore777. The start of a new chapter in my career pic.twitter.com/qlVrBvWCf8

— Carl Frampton MBE (@RealCFrampton) September 6, 2017
There are potentially intriguing dynamics to either, though the prospect of Frampton returning to Sky Sports, with whom Hearn and his Matchroom Promotions work closely, is particularly tantalising given the UK broadcaster's proficiency in putting casual sports fans' bums in seats, be it in an arena or on the couch.
Since a tedious Sky Sports Box Office outing versus home fighter Scott Quigg in February of last year (a watershed, world-class victory despite its aesthetically unstimulating execution), Frampton has twice proved himself a truly special fighter in two breathtaking Rock-'em-Sock-'em wars with Santa Cruz.
And so with one of the great Irish sports partnerships having reached its conclusion, a greater shame still would be for one of the most triumphant Irish sporting careers to slip the radar of latent followers as it approaches a potentially spectacular final strait.
An icon in Belfast and Northern Ireland with the murals to boot, Frampton's status south of the border remains one composed more of curiosity than mainstream familiarity.
Much of the discourse in the lead-up to that Vegas redo with Santa Cruz, down south at least, regarded his supposed anonymity in the Republic, and as to whether Frampton garners sufficient appreciation in these parts for his globetrotting achievements.
It's a complex oddity, if not for the reasons that might immediately spring to mind.
"I don't think it's just because I'm from the North," Frampton mused in the Big Apple back in March. "The lads in the south have been great, and given me lots of exposure.
"But RTÉ haven't really been involved in professional boxing – they kind of got out after Bernard Dunne. They're back in with Mick [Conlan] now, obviously, and the exposure Mick's going to get off the back of that is huge.
But I don't feel that I'm under-appreciated. What UTV and BBC Northern Ireland do for me is unbelievable. I'm super appreciated there, and just not as much in the south. But I still think I'm appreciated [in the south].
In his brief assessment, Frampton touched upon most of the key issues which contribute to his relative anonymity in these parts: for starters, he's not particularly arsed.
He's right, too, about RTÉ: professional boxing south of the border was booted to the curb by the State broadcaster in 2011 for budgetary reasons, and is yet to return in a live capacity. Conlan, as alluded to by his fellow Belfast fighter, offered highlights of his first two professional bouts to RTÉ free-of-charge; keen for his fights to reach the Irish masses, he had negotiated the clause into his promotional contract when he inked with Top Rank this time last year.
Three years after RTÉ's cuts, Andy Lee, a former Olympian from well south of the border – Limerick, to be precise – became the first Irish fighter since the great Jimmy McLarnin in 1934 to win a world title on U.S. soil (Frampton would become the second in July of last year), and amongst the only mainstream recognition he received was a seven-minute slot in the bowels of The Late Late Show.
Fittingly, then, during an April 2015 appearance on Second Captains Live, broadcast on the same network, it was reigning WBO World middleweight champion Lee who placed the new IBF World super-bantamweight king Frampton on 'The Good Wall' – a mythical pantheon of all-Irish sporting greats.
His decision, however trivial, was met with incredulity; Irish Twitter was awash with 'WTFs', while the Second Captains studio played host to an uncomfortable silence punctuated only by the scratching of chins.
But this was classic Andy Lee, which is to say it was classy Andy Lee; he noted at the time that this was a preemptive choice, predicting Frampton would over time emerge as the greatest Irish boxer there ever was.
A veteran of the struggle for credibility in his homeland, Lee was prepared to go down swinging rather than pass up the opportunity to plug his pugilistic pal during what were his own 15 minutes.
Two years on from being removed from Second Captains' Good Wall at the first opportunity, and two world title belts later, Frampton will feature on news bulletins aplenty as his fights near, and the response to his contribution in RTÉ's Two Shades of Green documentary, which profiled Euro 2016 from the perspective of fans from either side of the border, garnered widespread acclaim.
Even if you were to cast the mind back to Barclays Centre, Brooklyn, on 30 July last year, the opening exchanges of Frampton's first bout with Santa Cruz were conducted to a thunderous chorus of 'Olé Olé' – a stadium anthem not typically initiated by members of the North's Green and White Army, though they surely added oomph to a spine-tingling rendition.
For all its preposterous flaws, one of the few upsides to boxing in the modern age is that the bandwagon never truly pulls away; the Carl Frampton omnibus can be binge-watched on YouTube ahead of the new season, which is tentatively scheduled to pick up from its recent plot-twist some time before Christmas.
There's no time like the present to clamber aboard the Jackal Express, as the Belfast everyman's enthralling journey edges closer to its finale; Windsor Park, Lee Selby and a trilogy fight with Leo Santa Cruz all beckon, but in three years time, or even perhaps sooner, Frampton's gloves will be gathering dust as he and his family reap the rewards of his perilous endeavours.
The likely lad from Belfast will have one last crack at it, career in his own hands, and then depart his craft as one of the greatest sportspeople ever to grace these shores. He'll rightly take his place on many a Good Wall, then, and you'd hope no one will bat an eyelid.
Perhaps only then will the plaque hidden behind his heels in that New York ballroom adorn his own wall.
The42 is on Instagram! Tap the button below on your phone to follow us!