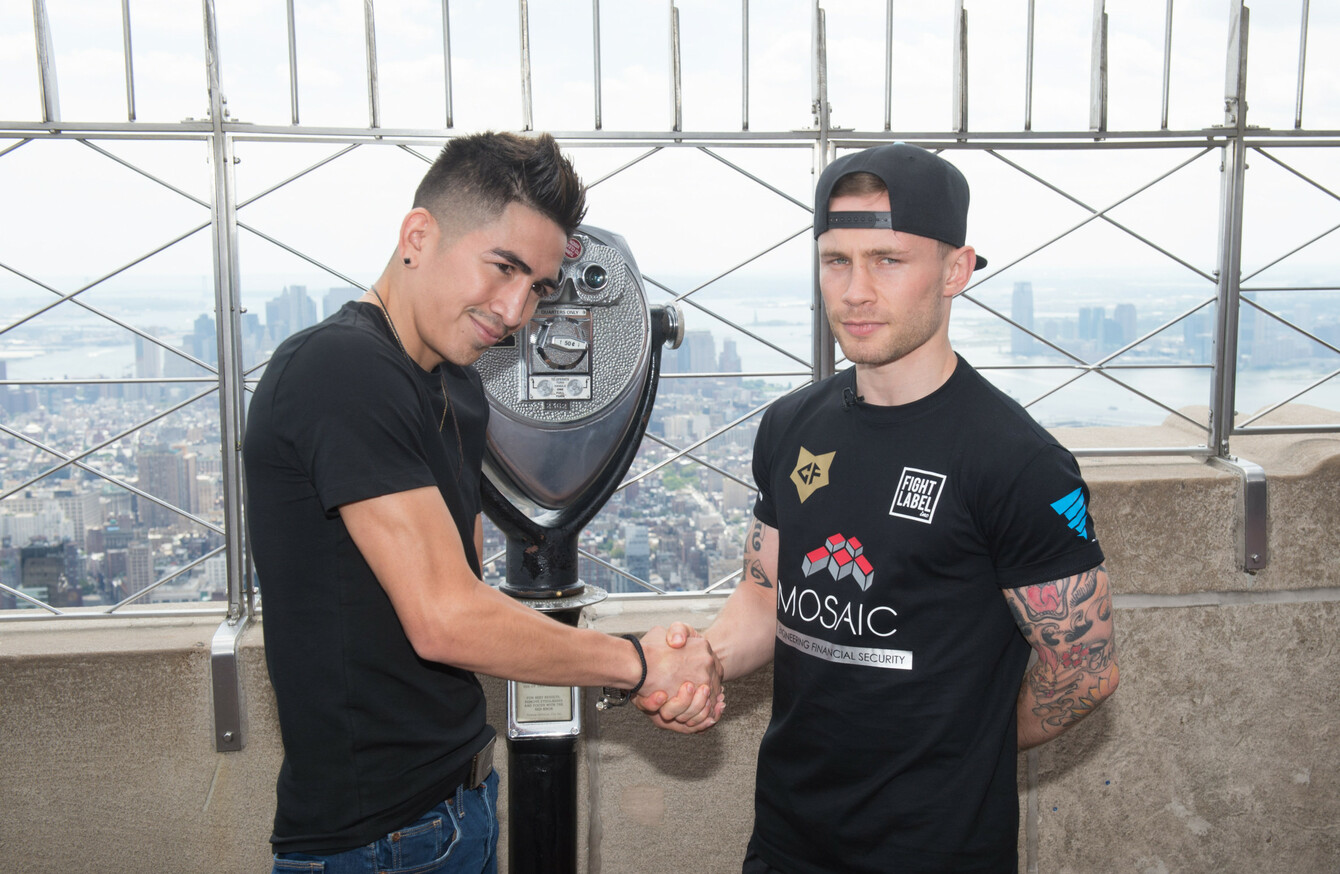 Image: Zuma Press/PA Images
Image: Zuma Press/PA Images
WBA WORLD FEATHERWEIGHT champion Leo Santa Cruz has reiterated his desire to fight friendly rival Carl Frampton for a third time, and says he's willing to travel to fight 'The Jackal' in his Belfast back yard.
The three-weight world champion suffered his sole career defeat to Frampton in Brooklyn last summer before avenging it during their January rematch in Las Vegas, regaining his title with a razor-thin majority decision victory.
In an interview with Villainfy Media, Santa Cruz adressed the fallout from Frampton's scheduled bout last Saturday, the lead-up to which saw his former adversary miss weight by one pound and his opponent Andres Gutierrez suffer a freak accident in the shower – the latter incident causing the card to be cancelled 24 hours before first bell.
"It would have been disappointing," said 'El Terremoto'. "I was surprised when I heard he didn't make weight, 'cause he moved up from 122 [lbs] to 126, and him not making weight – it just shows that maybe, I don't know, there was some problems with him and they distracted him, or I don't know what.
"If it would have been me, it would have had to have been something big so that I wouldn't make weight. Maybe he missed a little bit of training, maybe some kind of family problem, I don't know what was wrong with him but maybe it had to be something big so that he couldn't make weight.
"I wouldn't have cancelled, it's just one pound. There would have been no difference right there, same thing. I would still have gone through with the fight and everything. That's a big fight, and just for one pound, it don't really matter for me.
I know Frampton is a really responsible guy, you know, he works hard and everything. It had to be something big why he didn't make weight.
Santa Cruz also shed some light on the Twitter Direct Messages conversation with Frampton to which the latter alluded in June; Frampton revealed on BBC Radio 5 Live that he had asked Santa Cruz to join him for a drink after their Vegas rematch only for Santa Cruz to pick up their conversation six weeks later, out of the blue, calling for a trilogy fight.
"Oh, yeah, I did," Santa Cruz said of their private conversation. "After when I fought him here in Vegas, he invited me for a drink, but I was already on my way to LA.
"Aw, man, if I wasn't home early I would have loved to take a drink with him. He's a great guy, great person. But I said, 'next time we meet each other, I'll take that drink with you. After our third fight, we'll take it after and maybe we could thank God', because you know he's a really great guy.
We had a conversation and I said, 'Hey, if it was up to me, I would go over there [to Belfast] and fight with you. We make great fights, and you're a great guy.'
The 28-year-old champion then doubled down on his willingness to traverse the Atlantic for a rubber match, reiterating that the main obstacle in the fight coming to fruition on Irish soil is the fact that his beloved father and trainer, José, who recently overcame cancer, is currently unable to travel to Europe.
"I would love to go over there, but it's not just up to me, it's up to my team, my promoter. And also my dad, he can't travel right now because he doesn't have a Visa.
Probably we're going to fix that first, and then why not? I would love to go over there.
First, Santa Cruz will defend the title he regained from Frampton back in January, likely in another rematch – this with fellow Mexican-Californian Abner Mares. That fight is tentatively scheduled to take place on 7 October, and with Frampton keen to return to the ring himself before Christmas, next summer is the likely landing spot for Santa Cruz-Frampton III.