LIKE MANY OF his contemporaries, Carl Frampton is a fighter bred very much by circumstance.
An upbringing in 1980s Belfast commanded a battling spirit from his generation and while for many it led down a tumultuous path of civil unrest, Frampton opted for the road less travelled and that has made all the difference.
There seems almost a fated irony, then, that he was reared in the shadow of the infamous Duncairn Gardens wall that divides the Antrim Road's loyalist and republican strongholds.
After all, Frampton has spent the best part of his life tearing down such sectarian boundaries. The Tiger's Bay man's recent marriage to childhood sweetheart Christine Dorrian, a native of Poleglass in the west of the city, is testament to that in and of itself.
But likewise his boxing career has served to unite feuding communities on a much larger scale.
Comparisons to the sprightly super-bantamweight contender and grizzled champion emeritus Manny Pacquiao are admittedly premature on a strictly boxing level, but the social standings of the pair in their respective homelands are not so dissimilar. The latter, these days as renowned for his political endeavours as his pugilistic ones, has long since been a lightning rod for unity in the often fractious metropolises of the Philippines.
Frampton has followed suit in this regard, playing the role of cross-community conciliator in a manner not seen on this island since the heady days of one Barry McGuigan. If parallels between Frampton and Pacquiao may be something of a stretch, those between the two Ulstermen are a dime a dozen.
Like McGuigan before him Frampton's boxing career has, by dint of turbulent social factors outside of his control, assumed significance far beyond that of the average prize-fighter. The almost innate kinship they share in this regard makes it fitting that the Clones Cyclone has these days assumed the role of Frampton's promotional manager.
As far as offering guidance to his protégé about the chutes and ladders of marrying one's responsibilities in the ring with those hoisted upon him outside of it, it's hard to think of somebody more suitable for the job than the Monaghan man.
Be part
of the team
Access exclusive podcasts, interviews and analysis with a monthly or annual membership.
Become a Member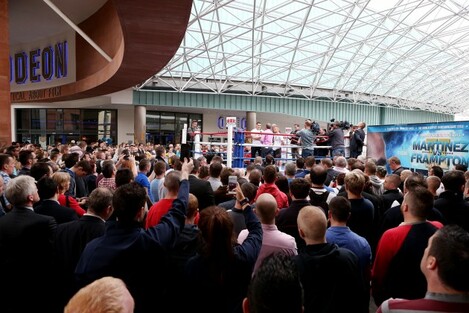 Frampton had a public workout in Belfast's Victoria Square on Wednesday. Source: Presseye/Matt Mackey/INPHO
With that being said, the man dubbed 'The Jackal' very much ploughs his own furrow when it comes to ensuring that it's his boxing which truly steals the headlines.
And while memories of Barry's barmy night in 1985 are entirely second-hand for the 27-year-old, he will have a chance to create some rather more tangible ones when he bids to win a World title of his own on Saturday night.
Buttressed by a stellar amateur career, Frampton's acquirement of domestic and European honours during five subsequent years in the paid ranks has manoeuvred him firmly into the hunt for the division's top prize.
His unbeaten 18-fight journey up the rungs of the professional ladder could be described as measured, but he will be forgiven if his efforts are rather less so when he steps into the ring with defending champion Kiko Martinez come fight night.
Martinez is a man already all too familiar to boxing fans in these parts, on one hand for his 86-second annihilation of former Irish titlist Bernard Dunne in 2007, but more pointedly for his loss to Frampton in their first meeting last year.
The home crowd will be understandably confident that their man can repeat the dose in the rematch, but those in the challenger's camp are unlikely to dismiss the heavy-handed Spaniard's chances of a successful revenge mission. A demolition of touted IBF kingpin Jonathan Romero by the 30-year-old since his first trip to Belfast should ensure as much.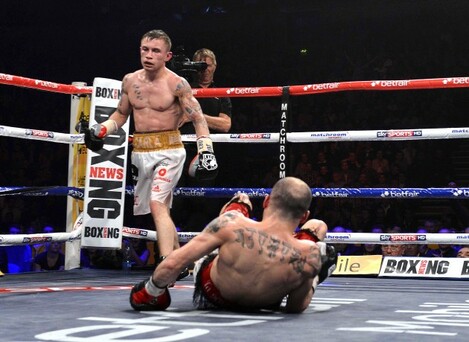 Frampton has knocked out Martinez before - in February 2013. Source: ©Russell Pritchard/Presseye
Platitudes and due diligence aside, however, Frampton emits the air of a man who will not be denied. A chance to fulfil his date with destiny on home soil is one that was not afforded to the likes of Wayne McCullough or the erstwhile McGuigan, nor is it one that he intends to let slip.
Michael Parkinson once said that the relevance of sport in everyday life is its irrelevance to everyday life, meaning that sport's value lies in the escapism it offers people from the true travails of reality.
The political posturing and religious brinkmanship so often associated with Belfast will be left very much at the door come Saturday night, and as Carl Frampton steps out in front of a 16,000-strong crowd at the historic Titanic Quarter, the boy from the Bay will be fighting not only for a belt, but for a city uniquely united in his name.