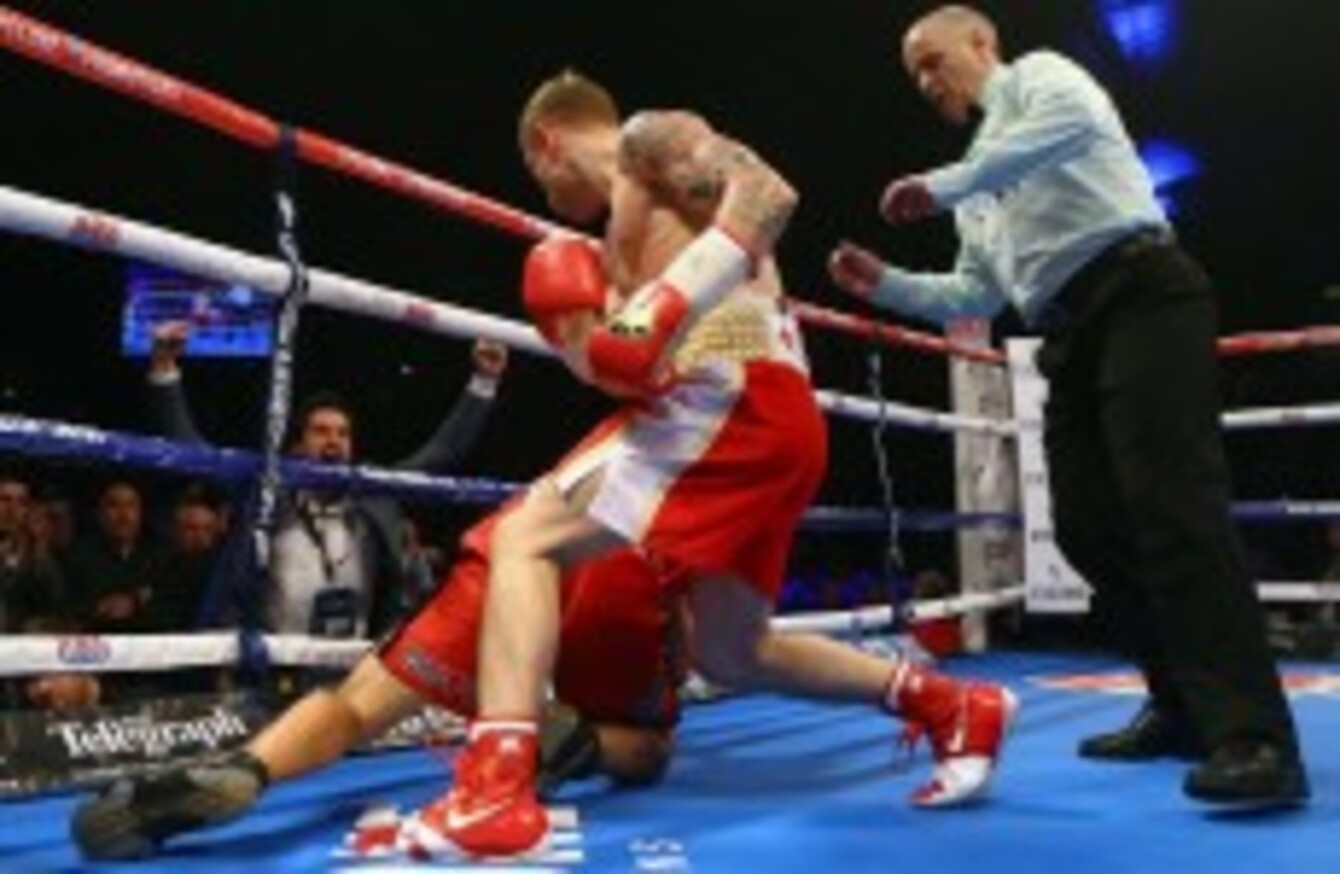 Image: William Cherry
Image: William Cherry
BELFAST HAS KNOWN for a long time that they have a special talent but tonight, Carl Frampton promised to deliver a statement that would leave the rest of the boxing world in no doubt.
Despite Hugo Cazares' protestations that something had been lost in translation when this fight was waved off in the second round, Frampton did just that.
A jarring left hook caught Cazares cleanly and with veteran referee Victor Loughlin counting in his face, the Mexican rose to his haunches but no further.
It added a slightly confused footnote to this, the 18th win of Frampton's unbeaten career, but the pride of Tiger's Bay didn't mind.
"He say anything he wants, that he misread the count, but he didn't want to get up," Frampton said.
He can now set his sights on bigger and better things as the mandatory challenger to WBC Super-Bantamweight champion Leo Santa Cruz.
That fight could happen in Belfast later this year and if the crowd that turned the sold-out Odyssey Arena into a coliseum tonight is anything to go by, the champ better bring a pair of ear plugs.
It was appropriate that Jackie Wilson's Motown classic '(Your Love Keeps Lifting Me) Higher and Higher' blared as Frampton bounded down to the ring, the hint of a smile on his face. A crowd like this is priceless and in the first round, their reaction made each shot sound like a scoring one.
Frampton was a picture of concentration in the cauldron of noise showing his opponent, nine years his senior, all due respect without any deference as he controlled the ring on his own turf.
A win for Cazares would have set him up for the 16th world title fight of career and the veteran showed his guile, taking some of the sting out of the fight early in the second round when he played up a leg injury that forced the referee to order a temporary halt.
He landed some clean shots too and for a fleeting moment, it looked like Frampton would be in this for the long haul.
Whether or not Cazares had the stamina to force a real contest against a man rocketing to the top of world boxing will never be known. Frampton's knockout left was clean and powerful and even though his opponent might protest that he was getting up, the record will show his first knockout defeat since 1999.
Be part
of the team
Access exclusive podcasts, interviews and analysis with a monthly or annual membership.
Become a Member
Take nothing away from the winner though, nor from his supporting cast who made sure that they did not miss their opportunity to share the spotlight.
The only disappointment was the absence of Ricky Hatton's protege Ryan Burnett after the 21-year-old was forced to withdraw on medical grounds.
That curtailed the undercard — and Dungiven's Eamonn O'Kane made it even shorter when he finished the main supporting bout with a first-round knockout of Alvaro Gaona.
Winning Prizefighter is not to be sniffed at but O'Kane will have to bump that down his career CV to make room for the WBC International Silver middleweight title he added to his IBF Inter-contintental strap.
Gaona strutted to the ring but the Mexican was flat on his back within two and a half minutes. He dropped his guard to swing a right, and when O'Kane dodged before countering with a walloping right hook of his own, there was no getting up.
It was almost as if the echoes of Stephen Ormond's equally emphatic finish a half-hour earlier were still reverberating around the Odyssey. On a night laced with Belfast's brightest, the Dubliner also left his mark with devastating finish that ensured he took his WBO European lightweight belt back down the M1.
Ormond started the evening ranked eighth in the world by the WBO and he did his title aspirations no harm with a fifth-round win over Spain's Karim El Ouazghari.
El Ouazghari was sent sprawling by a huge right and as he struggled to regain his balance, Ormond followed up with another right to end the fight there and then.
Earlier on the card, Jamie Conlan impressed as he knocked out Benjamin Smoes inside seven rounds to claim the vacant WBO European super-flyweight title.
Conlan's right eye was cut in a clash of heads in the second round but that early scare never caused him any trouble and he responded to take control in the middle rounds.
Smoes tired quickly and the writing was on the wall for the Belgian when he was knocked down late in the sixth, allowing Conlan to finish the fight with another crunching right and stretch his professional record to 11-0.
Marc McCullough took care of his evening's work without too much difficulty. He stopped Elemir Rafael — a late replacement for Andrei Isaeu — in the third round.
And former Irish amateur champion Conrad Cummings won his second fight as a pro, stopping Zahari Mutafchiev in the third of their six-round contest.
RESULTS
Carl Frampton beat Hugo Cazares (KO 2, 1:38)
Eamonn O'Kane beat Alvaro Gaona (KO 1, 2:42)
Stephen Ormond beat Karim El Ouazghari (RSC 5, 2:09)
Marc McCullough beat Elemir Rafael (RSC 3, 0:59)
Jamie Conlan beat Benjamin Smoes (TKO 7, 0:23)
Conrad Cummings beat Zahari Mutafchiev (RSC 3)