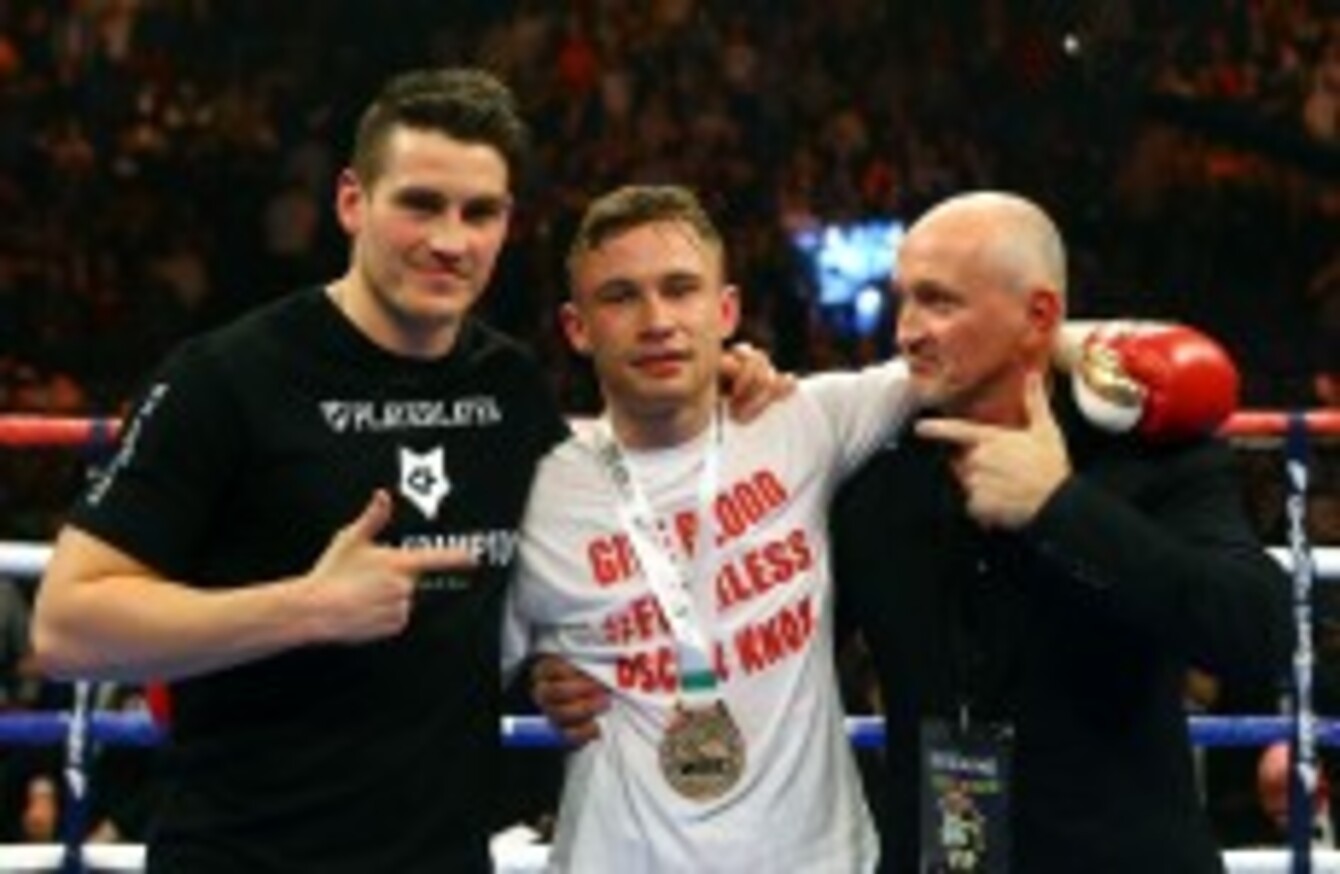 Frampton celebrates last night with trainer Shane McGuigan, left, and manager Barry McGuigan.
Image: William Cherry
Frampton celebrates last night with trainer Shane McGuigan, left, and manager Barry McGuigan.
Image: William Cherry
CARL FRAMPTON IS ready to fight Leo Santa Cruz in his own back yard if that's what it takes to make his world title dream come true.
Negotiations will begin shortly for a WBC Super-Bantamweight showdown after Frampton sealed his shot with a thunderous KO of Hugo Cazares in their final eliminator.
Manager Barry McGuigan is hopeful that they can tempt the champ to Belfast where they will have the same raucous support that turned the Odyssey Arena into an ear-popping cauldron last night.
The Odyssey's 9,000 capacity is likely to be too small though and rugby stadium Ravenhill and the Balmoral Showgrounds are among the other home venues on the shortlist.
Frampton, who stretched his record to 18 fights without defeat last night, is ready to travel if he has to.
Although he hails from Michoacan, Mexico, most of Santa Cruz's biggest wins have come on Golden Boy promotions in America.
"We're going to have some long hard negotiations with Golden Boy," McGuigan said. "They're very excited about the possibility.
"They apologised that they couldn't come to Belfast for the fight which we were slightly disappointed about but I suppose if Carl had landed that punch and knocked him out in front of them, they might have been dissuaded.
"They want the fight. I think Leo Santa Cruz is a real credible champion. He doesn't blow smoke.
I think he really wants to fight Frampton and I think this is going to be the best fight in the Super-Bantamweight division because of the contrast in styles.
"My concern would be that he would be on the undercard of Mayweather or someone else, and that you guys [the media] would have to travel and the fans would have to travel but we've reached that stage in his career. All these fights are very, very important.
"Carl's willing to travel. It doesn't matter if it's East Coast, West Coast, Texas. It doesn't matter."
One possible stumbling block is the date. Santa Cruz had a mandatory defence against Cristian Mijares last month and afterwards indicated that he has no plans to fight again until September or October.
That is too long a wait for Frampton who was in action for less than five minutes last night before he felled Cazares midway through the second round.
He wants to fight again in the summer and if Santa Cruz insists on an autumn date for their showdown, there may be an option to fight another opponent in America and build up his profile stateside.
Frampton said: "Santa Cruz said he wanted to wait until September or October to fight but I saw a tweet where he said he was back in the gym. If he's back in the gym, maybe he has changed his mind and he'll want to get back in the summer time.
"If he's talking about September or October, I'd like to squeeze one in in the middle.
I've always dreamed of fighting in America. It wouldn't be a bad idea at all to fight out there [before Santa Cruz], to get on a big bill and get involved with the atmosphere.
"I don't think anything in America is ever going to be as loud as here at home but it would be good to see how they do things. It's all about building a fanbase as well, let the Yanks have a look at me too."