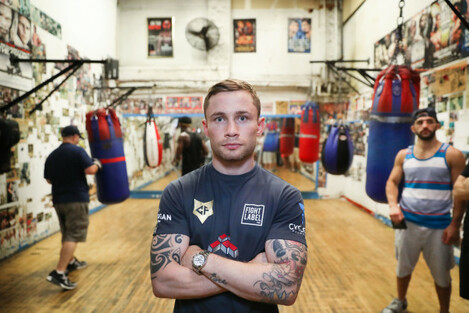 Frampton: targeting two-weight glory against Santa Cruz on Saturday night. Source: Presseye/William Cherry/INPHO
ROBERT KIYOSAKI ONCE said that "you shouldn't waste a good mistake, you should learn from it."
As he re-fixed his gaze on the skylights of El Paso's Haskins Arena, Carl Frampton could be forgiven if his thoughts erred rather more towards the reflexive than the reflective.
After all, that inauspicious night in July of last year marked not only the Belfast man's maiden trek across the Atlantic but also his first trip to the canvas, Frampton caught unceremoniously cold in the clammy Texas heat.
Despite twice being rocked and dropped by local upstart Alejandro Gonzalez, the Jackal managed to navigate those choppy waters with his unbeaten record intact and his super-bantamweight title in tow.
Exactly one year on, however, he remains wholly resigned to the reality that a third strike could well have spelled 'out'.
"There was a wee bit of a relaxed atmosphere before I fought Gonzalez. I took it a bit for granted," Frampton reflects.
"I thought it was going to be easy. The heat wasn't great either and I boxed in the afternoon so there was a smaller window to recover from the weight cut. I felt like I was constantly dehydrated and I found myself gorging on water. It was a disaster, probably the worst week I've ever had in boxing."
It's likely to have come as little surprise, then, that his reputation had waned somewhat following his stateside bow, a reality not helped by the fact that long-time antagonist Scott Quigg was busy making waves on the other side of the Atlantic on the same night. Quigg's two-round tonking of former Frampton foe, Kiko Martinez, was not only a coming out party for the Lancashire man, but a stark preface to events in Texas.
It was a pendulum swing foreseen by few, least of all the oddsmakers. A fight that once had been pegged as a Frampton procession tilted ever more towards 'pick-em' territory by the time the pair's unification was belatedly penned in late 2015.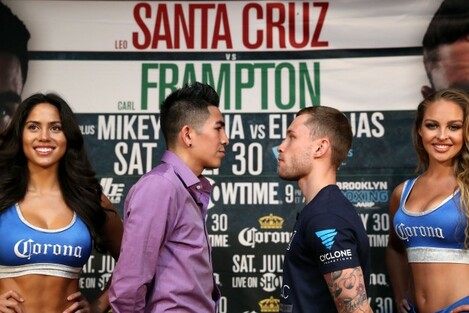 Frampton and Santa Cruz stand toe-to-toe at Thursday's press conference. Source: Presseye/William Cherry/INPHO
While Quigg's rising seemed destined to burst Frampton's dams in the eyes of many, it was the Tiger's Bay man who would ultimately claim the favourite's tag as he stepped through the ropes at the Manchester Arena, his opponent's hometown advantage seeming to matter little come the final shake-up.
The pervading notion that Frampton's urbane skill would best Quigg's boundless will was duly borne out, the 29-year-old's cultured boxing steering him to a split decision win.
"I couldn't believe the 115-113 card (for Quigg) – I don't know what that judge was watching," mused Frampton of the narrow margin.
"I think he needs to have a good hard look at himself, but I got my hand raised at the end of the fight and that is the main thing."
Onwards and upwards
Despite their own grievances surrounding scoring, the discontent emanating from the Quigg camp amounted more to muted muttering than clamorous indignation. Calls for a rematch were thus false-starters for the most part, Frampton's strategist-in-chief among those keen to assign any such talk firmly to the back-burner.
"We need to step it up another level now and Leo Santa Cruz is the obvious fight," Barry McGuigan remarked as the dust settled.
Unlike Scott, Santa Cruz will let go, he's not afraid to commit. He's a volume puncher, he walks you down, and that would be a fabulous money fight.
Luckily for the Monaghan man, those in the Mexican's camp were inclined to agree.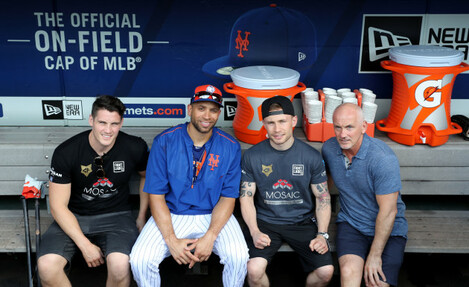 Frampton, trainer Shane McGuigan (far left) and manager Barry McGuigan (far right) met New York Mets first baseman James Loney during a visit to Citi Field. Source: Presseye/William Cherry/INPHO
Though not quite in the Frampton/Quigg bracket of belatedness, talk of this match-up was hardly new to the agenda.
SEE SPORT
DIFFERENTLY
Get closer to the stories that matter with exclusive analysis, insight and debate in The42 Membership.
Become a Member
Frampton and Santa Cruz had long since contrived to pass like ships in the super-bantamweight night, the latter's trip to 126lbs for last year's Latino derby with Abner Mares ultimately putting paid to any talk of a unification clash between the pair. Frampton's decision to bridge that same four-pound gap in the wake of the Quigg clash reopened the door for a Santa Cruz set-to; the prospect of snaring the latter's WBA title was enough to entice Frampton into the featherweight fold.
"Moving up to 126lbs just makes sense all-round at this point in my career," said Frampton. "I'm a big puncher but I found myself losing power on the way down to 122lbs. I feel like a different animal now."
In many ways, his opponent is something of reference point for Frampton in the weight stakes. Santa Cruz's move for the Mares match-up was his third in as many years, and each vault in mass has marked a corresponding vault in class for the Mexican, his showings at featherweight somewhere close to his career best.
And while his spindly physique and 70-inch reach suggest Santa Cruz may not be long for these pastures either, the glut of commercial possibilities still at play should put notions of four-division domination on ice for the time being.
I'm comfortable at 126lbs. I want to get this win against Frampton and then unify against Gary Russell Jr, Lee Selby or any of the champions. When my body is ready we'll move up in weight to seek another world title.
"When I first started boxing all I ever thought about was being a world champion one time. Then after I got there I started pushing my goals. If I continue to keep learning and improve as a fighter, I could go all the way up to 140lbs."
Frampton remains arguably the most lucrative dance partner available to Santa Cruz across the board, however, and the east coast's sizeable Irish contingent is sure to ensure that the Barclays Center box-office will be just as busy as the boxers this week.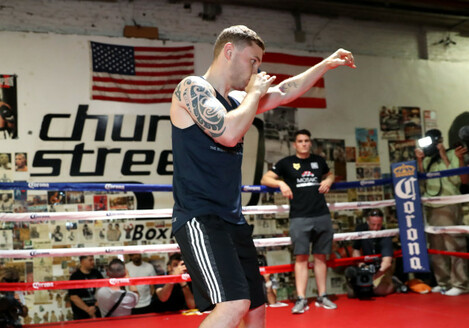 Frampton held an open training session at Church Street Boxing Club earlier this week. Source: Presseye/William Cherry/INPHO
The History Boys
A sold-out crowd at the Brooklyn venue should secure a career-best purse for Santa Cruz at least, but could also go some way to fastening his in-ring credentials. Indeed, despite racking up a record of 32-not-out in the pro ranks, this will be the first time he's faced a fellow undefeated fighter.
Frampton, for his part, is no stranger to such a dynamic. One need look no further than his latest battle for confirmation in that respect. February's fight with Quigg was another instance where somebody's "O" had to go, after all.
The boy from the Bay did enough to keep his on that occasion, and while he is mooted as the betting underdog this time around, he'll have designs on doing likewise come Saturday night.
"This is the fight I wanted, and I'm 100% confident that the belt will be coming home to Belfast," Frampton said. "Santa Cruz is a strong, aggressive, undefeated champion, but his style is made for me. Myself and my team have been chasing this fight for a long, long time, and that's because we know we have the tools to beat Leo.
The stakes couldn't be higher as far as I'm concerned. Leo has the belt that my manager, Barry McGuigan, held 30 years ago, and it's fitting that I will have the chance to recapture it.
All ears: Frampton and McGuigan listen as Santa Cruz addresses the media. Source: Presseye/William Cherry/INPHO
Having become the first Irish fighter in history to unify a division during his last bout, historical wrinkles are nothing new to the narrative as far as Frampton is concerned.
The fact that no boxer from this island has tallied titles in multiple weight classes since Steve Collins stepped up to conquer Chris Eubank in 1996 is unlikely to be lost on him, however. That another of Simple Minds' Belfast children, Wayne McCullough, fell so agonisingly short in the intervening years should ensure as much.
Given the gravity of both the stakes at play and the task at hand, it's unsurprising that little is being left to chance.
"Things were wrong last year but this time we came out four weeks earlier, I'm going into the fight as the underdog and so things have to be different."
"I'm a man on a mission. This is a chance to put my name down in history and become a two-weight world champion from Ireland. This fight is huge for me because I really want to create a legacy. I know how people talk, and I think people will be talking about this for a very long time.
I want people to remember me as a great fighter, that's all I've ever wanted.
Carl Frampton vs Leo Santa Cruz will be live on BoxNation this Saturday from 2am.
The42 is on Snapchat! Tap the button below on your phone to add!