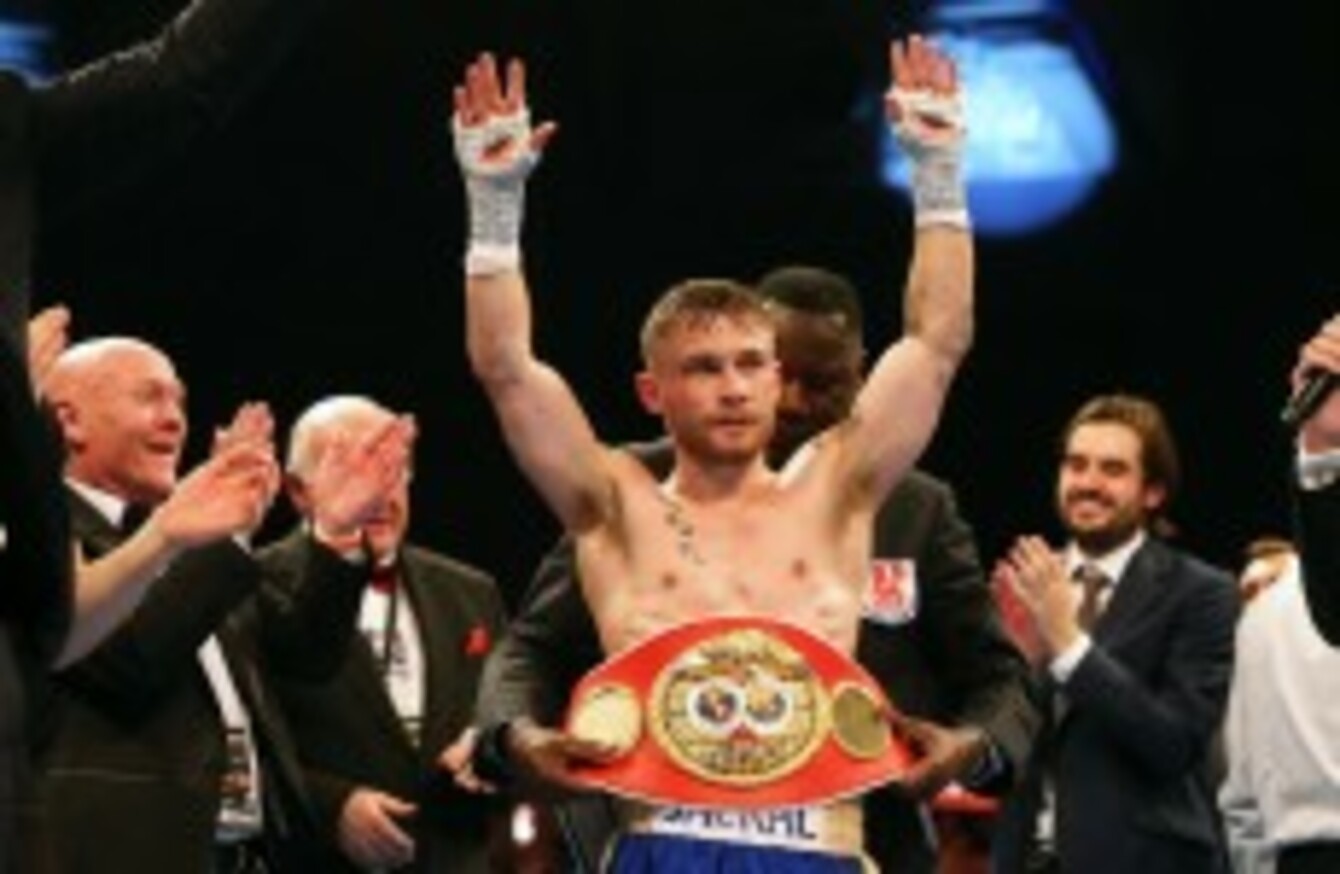 Belfast's IBF super-bantamweight champion Carl Frampton pictured following his most recent fight with Chris Avalos.
Image: Presseye/Matt Mackey/INPHO
Belfast's IBF super-bantamweight champion Carl Frampton pictured following his most recent fight with Chris Avalos.
Image: Presseye/Matt Mackey/INPHO
WHEN CARL FRAMPTON is asked about the possibility of Britain's Scott Quigg following his lead and linking up with reputed American boxing adviser/manager Al Haymon, his response is rather dismissive.
"He wants guys that sell tickets and who are big names," Frampton says.
The Belfast native's camp have recently become embroiled in a dispute with Quigg and his associates over the details surrounding a potential fight. Frampton and his team want 60% of the fight earnings, whereas his prospective opponent is hoping for a 50:50 split.
"The situation with Quigg is that he's outpricing himself," Frampton explains. "He thinks he's worth more than he is. I was told by my mother growing up never to sell myself short, so I'm not going to sell myself short to Scott Quigg or Eddie Hearn.
"I think the Guillermo Rigondeaux fight is a good possibility. There are rumours that he might be linking up with Al Haymon. If he does, then of course the fight would be easy to arrange. I admire Rigondeaux and his style, and I think I'm the only man in the super bantamweight division that can beat him. And I'm ready to take that fight when it comes."
Frampton's manager, the legendary Barry McGuigan, echoes his fighter's sentiments.
"Scott Quigg has got the regular title. Although he's a champion, he's never headlined a show. I really respect the guy, although he thinks I don't. I just want to set the record straight — there's no question he's a decent fighter, but he's never fought the level of opposition Carl has fought. The real champion in the WBA is Rigondeaux.
"When [Barry] Hearn took it upon himself to ask because of his relationship with [IBF chairman] Lindsey Tucker, he went behind our back and Lindsey kicked him into touch and told him 'no,' because [Quigg's title] is not a valuable title and it's not a recognised title.
"So we don't want the WBA regular title. We're interested in the fight, but not that title. Rigondeaux's title is a different matter. If we're going to Manchester, we're putting Carl's credibility on the line and going into Quigg's home town."
Furthermore, McGuigan says that the decision to link up with Haymon, who has links with a number of top fighters including Floyd Mayweather, and has been dubbed 'the most powerful man in boxing,' was a no-brainer.
"There isn't any bigger than Al Haymon at the moment. He is the go-to guy. Carl is a superstar in Europe, but when your career is dead and buried, all they remember is the stuff you've done stateside. So it's a very important decision to come and try to make a name for ourselves stateside.
"There are, at the last count, 27 million people of Irish descent on the east coast of America, so we want to get into that market. We need to get as many people on our side as possible."
(Frampton and McGuigan have been working together for a number of years)
Be part
of the team
Access exclusive podcasts, interviews and analysis with a monthly or annual membership.
Become a Member
McGuigan adds that breaking America should not be a problem for a fighter whose style is so easy on the eye.
"Carl Frampton is one of the best Irish fighters that there's ever been… He's chronologically 28, but physiologically, he's only a young man, because of his style — he doesn't take a lot of punishment, he can box going back and going forward, and he's got a great style of fighting.
"I think the Americans are going to love him. Obviously, 18 July is where we make our first impression, and I believe it's going to be a big impression. I really believe that Carl has the personality, the fighting style and the charisma to make it work over here, and I believe we're on the threshold of some very big things."
And while Frampton may dream of competing against fighters of the calibre of Rigondeaux, he admits he cannot afford to underestimate his opponent next weekend in El Paso, Texas – Alejandro Gonzalez.
Frampton, who is already in El Paso training with his team, insists he won't overlook Saturday's bout.
"I just think about the fighter in front of me and that's Alejandro Gonzalez. He's the only guy I've been thinking about for the last 14 weeks of training camp. And that's the way it'll remain until the fight.
"I'm not too sure where my next fight will be, but my next fight could be in the UK and Ireland somewhere, then we'd be looking to go to New York on St Patrick's Day. I think that's where my American fan base will be – mainly on the East Coast. And I think they'll appreciate my style."
Like his last fight, Frampton's upcoming bout will be shown on terrestrial TV — something he feels is extremely important.
"I'm pretty well known in the UK and Ireland, but in the United States, unless you're a die-hard boxing fan, you won't know who Carl Frampton is. It's giving me the chance for a lot of exposure.
"Boxing has been kind of deprived, it's a working-class sport, and a lot of people are not getting to see it because it's been hidden away on satellite channels for so long. So this is great for me, for boxing and for Cyclone Promotions — to have one of their fighters showcased on both sides of the Atlantic."
And does Frampton find he gets recognised more often following his ITV appearance last February?
"I get recognised a little bit," he says. "Obviously back home in Belfast, it's big. And obviously, it's hard to go anywhere without someone asking for a photograph or wanting to shake your hand, which I don't mind at all — I enjoy people's company, I enjoy chatting to them. In London, since the last fight, people are approaching me a bit more, but I can still go fairly unrecognised in London.
"The last time I fought, Match of the Day and other stuff was on at the same time, so we're expecting to get millions of viewing figures [next weekend] and when you do that, a lot of people are going to recognise you.
"I think ITV were over the moon with [the ratings for my last fight] — if they weren't happy, I don't think they'd be coming back again."