Joe Callaghan reports from Las Vegas
CARL FRAMPTON HAS promised to turn it on as the volume was significantly turned up in Las Vegas, with his army of supporters beginning their steady invasion on Wednesday.
Upwards of 5,000 Frampton fans are expected at the MGM Grand Garden Arena on Saturday night to see the 29-year-old defend his WBA featherweight crown against Leo Santa Cruz, the vaunted Mexican he stripped the belt from in Brooklyn last summer.
Should the Irish support hit that kind of number, it would be a trans-Atlantic invasion not seen on the Strip for a visiting fighter since Ricky Hatton's Vegas heyday.
As he made his official fight-week arrival in front of a frenzied throng, the Jackal insisted the biggest stage of his life and swelling numbers will bring out the very best of him.
"I love it, I love being on the big stage," said Frampton. "We've spoken about it before, if I'm sparring behind closed doors and no one is watching, sometimes I'm not so good but if five or six people come into the gym, I turn it on, so what's it going to be like when the travelling support hits Vegas?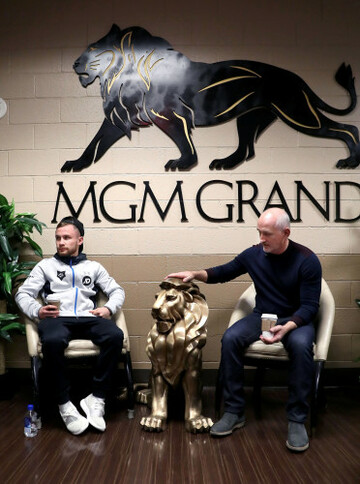 Source: Presseye/William Cherry/INPHO
"You know there's a good support already, we're expecting plenty more. It's going to be an unreal atmosphere, almost reminiscent of…I'm not sure if anyone will ever do what Ricky Hatton done but if I keep doing what I'm doing, who knows?
"I've got huge support and I'm picking up fans in the States. If I keep doing what I'm doing, and keep putting in the performances against big fighters, the fan base is only going to get bigger."
With the invasion in mind, Richard Schaefer — CEO of Ringstar Sports, promoting Saturday's card — revealed on Wednesday that he met with MGM Grand management this week to ensure the casino's bars are prepared for the coming influx, having been promoter of Hatton's fight with Floyd Mayweather when the venue ran dry.
From the defending champion's point of view, the sea of green only adds to his motivation to defend his belt at the first time of asking.
That's the motivation," he said as he pointed out at the crowd. "I've a few things I use as motivation. My family is one of them but the travelling support and the people back home, this is incredible. I promise I'm going to put everything I have into ensuring that we all go home happy."
Source: Presseye/William Cherry/INPHO
Frampton rolled into Vegas not just as reigning featherweight king but as the undisputed fighter of the past 12 months, having racked up a raft of end-of-year honours from the most prestigious outlets in the sport. But it would be foolish to expect any of the accolades to go to his head.
"I think people who change, it's all an act almost," he said. "I feel like I'm the same person I was when I turned pro with Barry. Maybe a little bit more confident, but nothing much has changed. My family wouldn't allow it to change. I'd be quickly told to catch myself on if I got too big for my boots."
Barry McGuigan is joint promoter of Saturday's Showtime-Sky Sports card and is relishing the heat of fight-week here in the city where he surrendered the same WBA belt to another Cruz – Steve – three decades ago.
As Frampton's manager, he has continually preached patience as rungs on the ladder were climbed.
Now here at the summit, he's expecting his protege to deliver as he has continually done on his way to a perfect record of 23 from 23.
"We're approaching the biggest fight of his life," McGuigan Sr said. "There's a lot of pressure on him, but he loves it.
"All these accolades he's had, normally that would diminish someone, but he rises up. He's a show off, he loves it. He's a tremendous fighter when the pressure is on, he loves it."
– First published 00.05
The42 is on Instagram! Tap the button below on your phone to follow us!