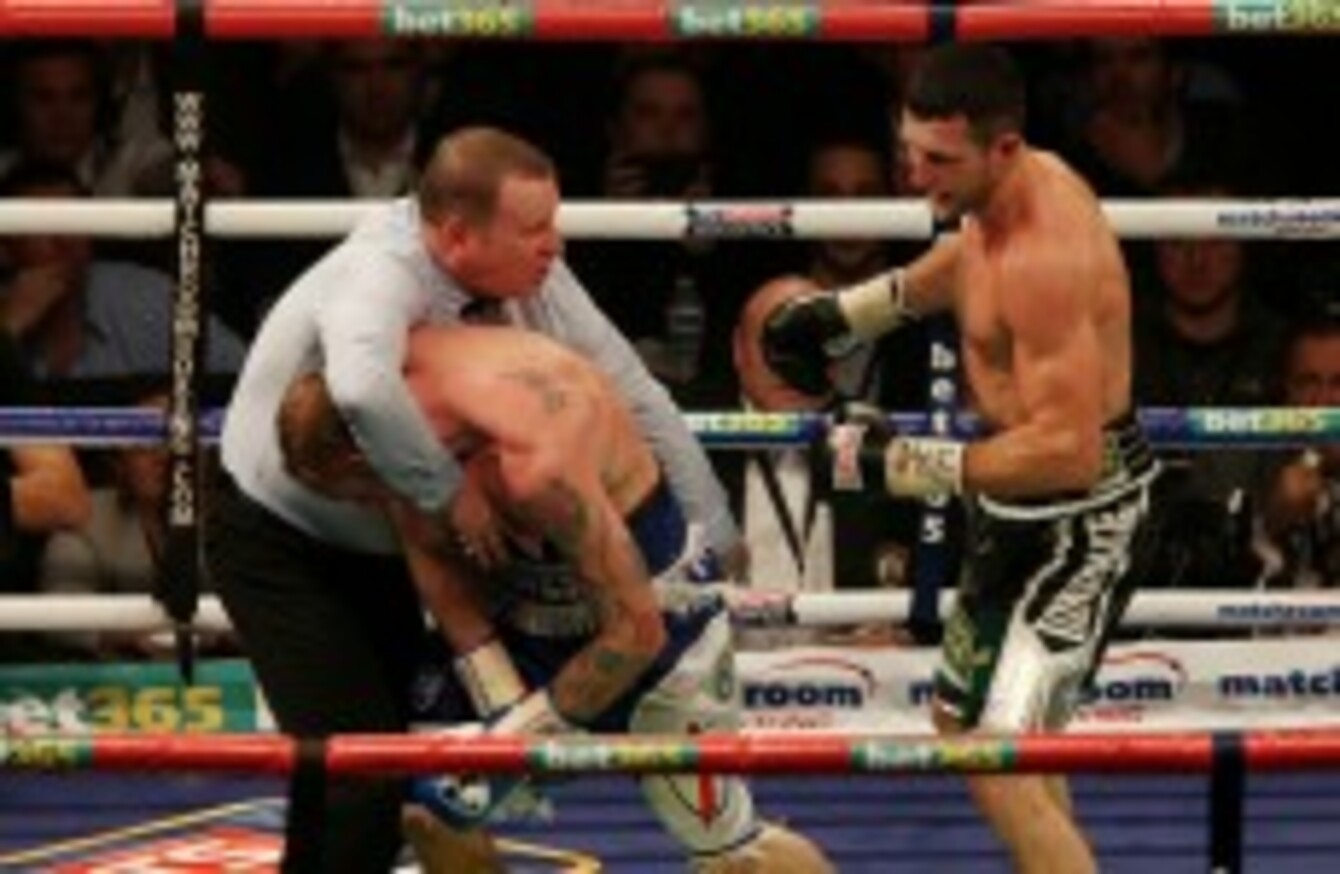 Referee Howard Foster stops Groves in the ninth round.
Image: Peter Byrne/PA Wire/Press Association Images
Referee Howard Foster stops Groves in the ninth round.
Image: Peter Byrne/PA Wire/Press Association Images
WORLD SUPER MIDDLEWEIGHT champion Carl Froch said he would consider a rematch with George Groves after what the beaten challenger called an "unjust" stoppage in a dramatic all-British bout in Manchester.
Groves, defying all predictions, sent Froch to the canvas in the first round and appeared to be well ahead on points when referee Howard Foster stopped him on his feet in the ninth round of a scheduled 12 on Saturday.
As a result, Froch retained his International Boxing Federation (IBF) and World Boxing Association (WBA) titles.
Foster's controversial decision was met by boos from the crowd and afterwards Groves insisted he was fit to carry on.
"I feel it was an unjust stoppage," the 25-year-old Londoner told a news conference on Sunday. "I don't think it should have been a stoppage. The shots weren't landing clean.
"He (Froch) rushed and may have knocked me off balance. But I wasn't as hurt as he was in many of the rounds.
"It's a bitter pill to swallow. This is boxing and Carl Froch was in trouble from the first round," Groves added.
"In the ninth round he was really emptying his tank but I was happy for him to do that because he wasn't landing clean shots.
"The ref made the wrong decision and there's no way it should have been stopped. My legs were under me.
"Of course I would have survived the next round. I would love a rematch and it's down to his (Froch's) pride."
Froch, 11 years older than his fellow Englishman, was floored by a big right hand from Groves in the first round and was grateful to hear the bell before slumping on to his stool.
There were more rocky moments for Froch and Groves appeared to be heading for a points victory when he started to stagger about the ring in the ninth round.
Froch was adamant Foster had rescued Groves from an inevitable knockout, and possibly a career-threatening blow, but added he would be open to a rematch.
Credit: Dave Thompson/PA Wire/Press Association Images
"It was a tough fight but I broke him down in rounds seven and eight and stopped him in the ninth," Froch, also speaking at the news conference, said.
"I got off to a slow start and he's tough, but he's not that tough because he got stopped.
"You don't want to see a kid get knocked unconscious cold and carried out on a stretcher," Froch explained.
The ref looked into the fighter's eyes and made an experienced, educated decision. If the fight had gone on he (Groves) would have got knocked out. He could have been badly hurt and his career would be over at 25.
"I think Howard Foster made the right decision. He could see what I was seeing and his (Groves's) eyes were gone. The ref saved George Groves's career because he's a very good fighter and he can come again."
As for facing Groves again, Froch, from Nottingham, central England, said: "I'm in a position where I don't have to give anyone a rematch. George Groves was mandatory for the IBF title and he got stopped on his feet.
"I will fight anybody if it makes sense and people want to see it."
Promoter Eddie Hearn was confident the two Britons would meet again next year, with Froch's world titles once more at stake.
"I'm sure it will happen again and it will be the next fight for Carl Froch," Hearn said.
"Fights are made through demand and I can't see any other demand out there other than for Froch-Groves."
Watch highlights and the stoppage:

Credit: Eden Hazard