WHILE WATCHING RUGBY all day every day may seem like the dream job for some people, it would certainly be a nightmare for others.
'Watching' rugby doesn't even come close to describing the job of performance analysts like Cathal Garvey anyway.
Garvey alongside Michael Cheika in the Wallabies' coaches' box.
A large portion of their working life consists of carefully tracking through games, chopping clips into a nearly limitless range of categories and then compiling that footage into formats that are accessible and understandable for players and coaches.
Hours after hours of footage, multiple replays of the same game to pick out every little detail. One of those tiny moments highlighted in the analysis might prove to be the difference between winning and losing.
Analysts truly have to love the game, and perhaps be obsessed by it.
"I think you need to be very motivated," says Limerick man Garvey, the Wallabies' performance analyst. "Because watching a lot of rugby, if you didn't love it, you wouldn't last too long. I guess it is an obsession for analysts."
The Wallabies kick off their four-Test tour of the Northern Hemisphere today against Wales in Cardiff, before visits to Scotland, France and Ireland. Garvey will hope his analysis work can play some part in a series of victories for the Australians.
Rugby has almost always been a major part of Garvey's life. While he is working at the elite level of the game now alongside the likes of Michael Cheika, Stephen Larkham and Mick Byrne, his beginnings were a little more humble.
Garvey grew up in The Hermitage, an estate in Corbally, where he befriended Barry Murphy, the ex-Munster player who is now a musician with the successful Hermitage Green.
"I'm not musically talented so I didn't get the invite," jokes Garvey.
Himself and best friend Murphy joined UL Bohemians at the age of eight and played all the way through the age grades alongside each other, while they also won a Munster Schools Junior Cup with St. Munchin's in 1998.
Garvey, an out-half or fullback, played two years for the Munster U21s alongside the likes of Tomás O'Leary and Denis Fogarty.
"I loved playing the game and doing something a little bit different, going off script a bit," says Garvey. "I just loved the fluidity of the game. That's what I love working with Australia as well; they like to play ball that way."
Barry Murphy is one of Garvey's closest friends. Source: Morgan Treacy/INPHO
There was an AIL Division 2 title with Bohs in 2005, when Garvey remembers standing under a barrage of Johnny Sexton bombs at Lansdowne Road in the victorious final.
Garvey moved to Dublin in 2007 and a year later, having already had five knee operations, broke his neck while making a tackle in a game for Wanderers. Playing career over.
A computer engineering graduate from UL, Garvey had worked as a software engineer and business analyst before emigrating to Australia in 2011. The Australian Rugby Union was advertising for a business analysis role when he arrived – "right place, right time."
One aspect of the role was to present data analysis to the ARU's management committee, which Ewen McKenzie was part of, and the Wallabies coach was so impressed with those interactions that he asked Garvey to join the national team set-up in July 2014.
"I was very surprised at the start, but who wouldn't take the opportunity? I said I'd give it a go and I was in the deep end, loved every minute of it and still do. It's a dream job, for sure. I'm amazingly lucky."
McKenzie – "a gentleman," according to Garvey – was gone later that year, paving the way for the arrival of Cheika, who has been a huge influence on the Irishman.
"He's a great man manager and a really inspirational guy, for staff and players," says Garvey of Cheika. "He's the best person I've ever worked for, I'd say.
"He's given me real confidence and autonomy in the role to drive forward and when he picks his staff he knows that they're all internally motivated to keep getting better. He gives you that freedom to decide on things and do your job, he doesn't micro manage."
Alongside those strengths as a motivator, Garvey continues to be impressed by Cheika's freakish ability to memorise games based on one viewing.
"He sees the game like no one I've ever come across, in that he watches the game in the coaches' box and I'd go back another five times to do my analysis, but he knows all of that already. It blew me away.
"We'd be in the middle of a team meeting and he'd say, 'Will you bring up that time, fifth phase off lineout where we switched back inside?' I'm like 'Oh…' and the players are looking at you and you can't think of that specific moment. It's incredible.
"Years and years playing and coaching the game and he just knows it, everything about it in every area."
Garvey's work as performance analyst revolves around carrying out team analysis, individual analysis, researching of opposition trends, individual opposition profiling, game reviews, game previews, as well as filming and cutting training.
He is also alongside Cheika during the Wallabies' matches, regularly flashing up on screen with his head buried in a laptop, providing the coaching staff with in-game analysis.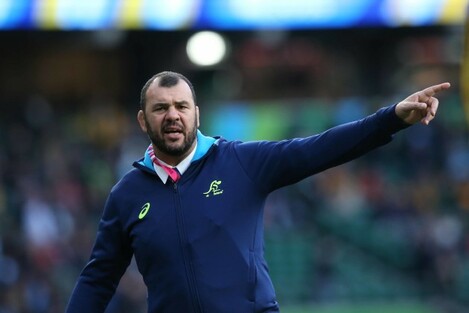 Cheika has had a big influence on Garvey. Source: Billy Stickland/INPHO
"The job is all about enabling the coaches to do the best job possible and making sure everybody has got all the information available to them."
While on tour or in camp, the Wallabies like everyone in the squad to do their analysis in the team analysis room, where they have 10 Macbooks – they moved to Sportscode's analysis software this year – laid out in a library format, with a big screen set up too.
Garvey and fellow Wallabies analyst Damon Edmonds – formerly with the Fiji national team – have utilised drones to capture higher-quality footage of training with more detailed angles.
The advent of an intern programme has also added to the national team's analysis resources, and underlined Cheika's appreciation of the value of analysis.
When the players are out of camp playing Super Rugby, Garvey and the Wallabies use the excellent Hudl platform to push out information to the players so they don't return to the national set-up with a lack of knowledge on Australia's shape and plays.

Garvey's preparation for a tour like the current one in Europe will have involved far more focus on the individual players the Wallabies are going to face than would generally be the case.
"I'll do a lot more player analysis for the guys in November because the coaches won't be as familiar with them," he explains. "Generally, with the Rugby Championship, the guys know the players pretty well so you're looking more at the trends you see in the opposition team's game.
That opposition analysis is always an important task in any Wallabies camp.
"That starts with a statistical analysis and then I'll dive into the video to back up those trends to see if I'm right or wrong in what I'm thinking," explains Garvey. "I put together a presentation for the coaches and they hone in on a few areas of that and then give less information to the players.
"Generally, it's around what the opposition are doing off set-piece, any strengths or weaknesses in defence, where linebreaks occur, strengths in attack and try-scoring trends, big ball carriers, any jackals in their team, looking at any outliers as well."
Even when the Wallabies have finished their tour or Rugby Championship campaign, the analysis work continues.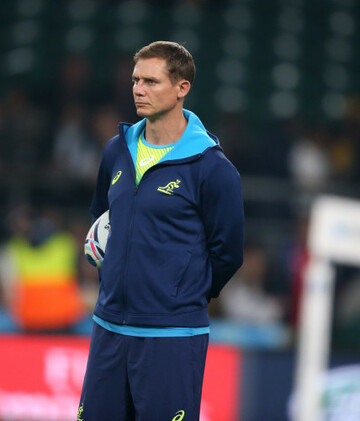 Stephen Larkham is the Wallabies' impressive attack coach. Source: Billy Stickland/INPHO
"The off-season is very, very busy," says Garvey. "During Super Rugby we're coding 50 or 60 players of national interest that we're always looking at to see what their skills are like, trying to improve that in the off-season.
"We watch a lot of rugby and it's just busy non-stop all year round, in different ways. You just use your time as best possible to get as much as you can get done."
Garvey is modest about his place in the Wallabies' set-up, pointing to the coaches as the men who can make the biggest difference to the players.
He has enjoyed working with the "very clever and technical" attack coach Larkham, a legendary former out-half who still has a fine eye for identifying opposition weaknesses.
"I work very closely with him and I've learned a lot," says Garvey. "The opportunities he sees from looking at a defence, stuff like that, I'm just trying to soak it all up."
Former All Blacks coach Mick Byrne has been an intriguing addition for the Wallabies this year and, again, Garvey views his arrival as a chance to learn.
"He's brought a lot of knowledge and data science around body movement and really honed in on a few areas of our game.
"We work closely with him to make sure we're capturing the skills of all the players so that he can do his one-on-one reviews and improve everyone individually. He's very impressive and his knowledge of the game has been incredible. He's seen it all."
Innovating is an important part of Garvey's work, as he attempts to ensure the Wallabies' performance analysis stays ahead of the pack.
Given his background, it's not surprising that data analytics interests him. While the Wallabies are understandably very footage-focused in their dealings with the players, Garvey is keen to keep drilling deep into data.
"We do lots of different projects in different areas of the game. Sometimes you don't find anything useful, but you still go through the process. Other times you find something very interesting. It's a simple game but it's complex too.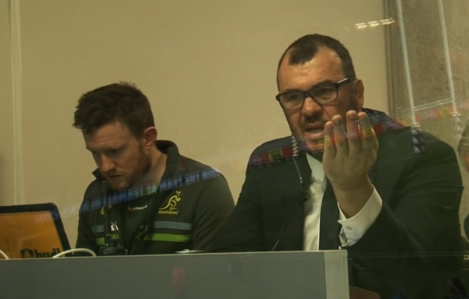 Garvey working alongside Chieka.
"The more you get into it, lineouts for example, the more complex they become and the same with all different areas of it. The job is never done."
That last sentence perhaps sums up why Garvey ascended immediately to Test level in his first job in this profession. His insatiable thirst to progress would appear to be one of the major reasons he is at home at the highest level of the game.
"I just want to always get better and better," says Garvey. "I see so much potential and so many things I can do that I'm not doing right now. I'm very driven that way and want to do the best job possible to help the players and coaches.
"I want to drive for a better work pathway for analysts in Australia as well. It's still a young area, sports analysis, and it's just going to get better and better. I love the area I'm in, I couldn't be happier."
The42 is on Snapchat! Tap the button below on your phone to add!