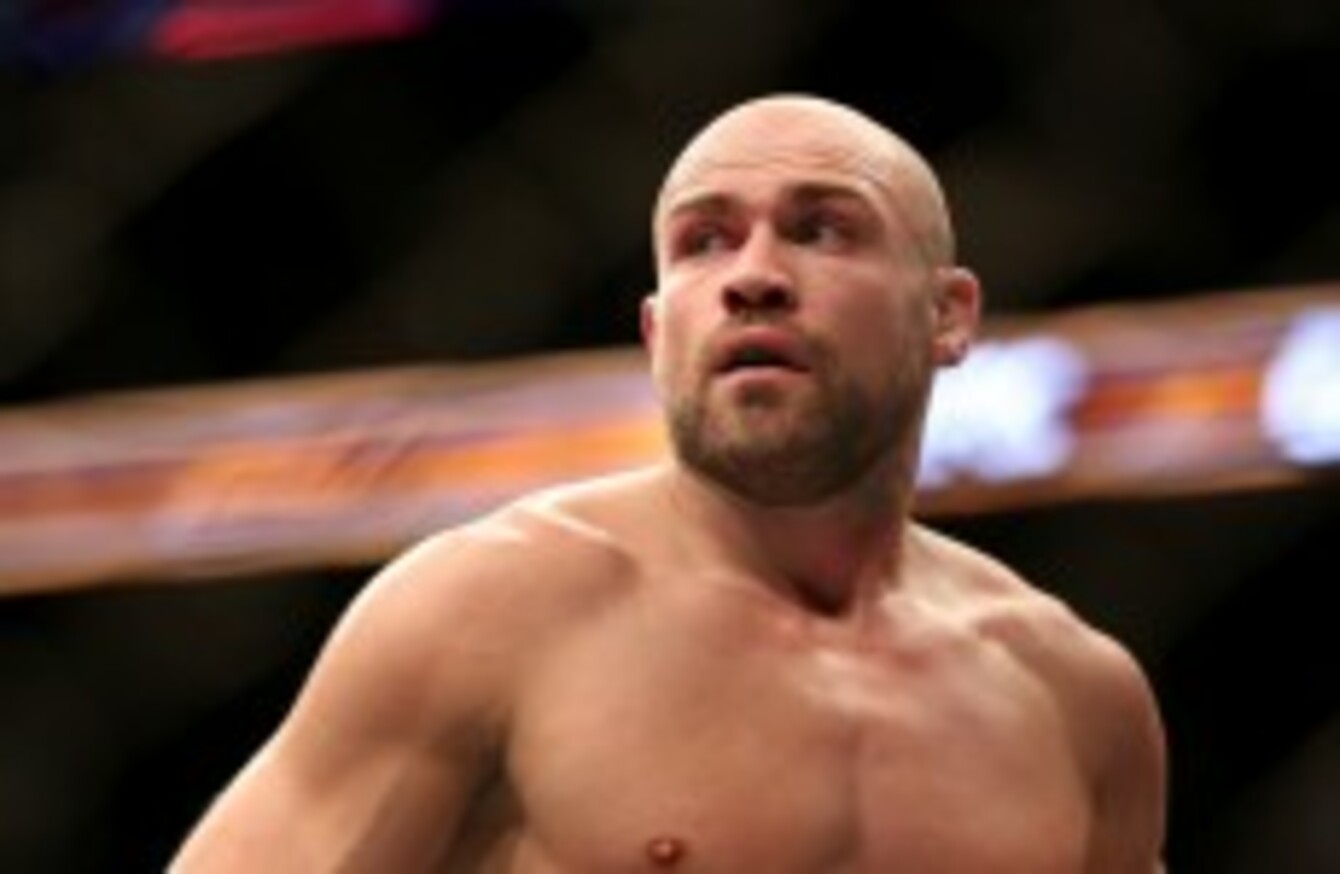 Cathal Pendred
Cathal Pendred
THE TIMING OF this fight couldn't be much better for Cathal Pendred.
He's in need of a win. More importantly, however, he's desperate for a good performance — something he has yet to deliver in the UFC.
The 28-year-old welterweight faces Tom Breese at UFC Fight Night 76 at Dublin's 3Arena a week on Saturday. The fight takes place in Pendred's hometown, which has been the scene of arguably his three most memorable victories to date.
While vying for an Ultimate Fighting Championship contract, Pendred overcame UFC veterans David Bielkheden and Che Mills at The Helix. After finally making it to MMA's premier organisation, he recorded an extraordinary come-from-behind victory against Mike King in his UFC debut at the 3Arena in July of last year.
It was the first of four UFC wins for Pendred, but that stint hasn't been as unblemished as his record might suggest. The Straight Blast Gym representative has been heavily criticised following some unconvincing displays which haven't done his ability justice.
An undefeated run of 12 fights in total finally came to an end this past July when two of the three judges at UFC 189 in Las Vegas determined that he lost his contest with John Howard. It was a first defeat in five UFC outings for Pendred, but the outlook in the eyes of the fans isn't as positive as it should be for a fighter with a 4-1 record in the octagon.
His bout against Breese in 11 days provides an opportunity to show those who weren't familiar with him prior to his move to the UFC that they've yet to see the best of Cathal Pendred — the Cathal Pendred who dictates the pace and grinds his opponents down, while simultaneously entertaining the audience.
"I've always done well at home, I've never lost in Dublin," Pendred told The42. "I think it brings out the best in me and people can expect that in this fight. I'm looking forward to that too because I've fallen below my own standards in the UFC. There's only been one loss out of five but it's not all about that. I want to perform, I want to turn heads and send a message out to the other fighters in the welterweight division that I mean business.
"Coming off a loss meant that I wasn't going to get the big-name opponent that I was hoping for in Dublin. Had I won in Vegas it would have been five wins in less than a year and I think I would have been guaranteed a big name next. I took the risk, it didn't pay off, but this is the best-case scenario otherwise.
"He [Tom Breese] is an unbeaten guy who's on the rise, but I'm looking forward to putting a stop to him. I think he's the perfect opponent for me. The fact that he's unbeaten and being the first person to beat him will be added shine on to the victory. There's a bit of hype behind him and he'll be a tough challenge, but I'm excited about that. This fight will put me back to where I want to be."
The risk Pendred refers to relates to his bout against Howard, which Pendred accepted on just two weeks' notice. But he offers no excuses for the loss. The performance wasn't worthy of a victory. And the fight was there for the taking too. Howard's performance was only marginally less lacklustre. Pendred still hasn't been stopped by an opponent in five years but he's keen for there to be more to his reputation than merely being regarded as a man who can withstand a punch.
Pendred: "I was a shadow of myself in that last fight. I'm known for pushing the pace and pressuring my opponents but I was so flat that night; going through the motions. And that's not me, that's not who I want to be. That's not going to take me any further in my career so I have to ensure that version of me never shows up again. When the best version of me shows up I know I'm unstoppable.
"Not that I want to rely on it but people have seen in my previous fights that you can't put me away. No matter how bad things can get, I'll keep coming forward. But I never once pushed it in that fight and that's the most disappointing thing. The most bitter part of it to swallow is that I feel I was better than the guy but just didn't show up."
After suffering the first loss of his career last year, Paddy Holohan — Pendred's team-mate at SBG — spoke of how tasting defeat for the first time helped him to truly appreciate the value of victory. Prior to losing to Howard, Pendred had been unbeaten since 2010, but he insists that a loss isn't what was required to spark him into life.
"I would never say I needed to lose and I hope I never need to lose. You just have to take it in your stride. I've actually taken it better than I did when I lost earlier in my career. Back then I was absolutely devastated and thought my life in MMA was over. I suppose I've grown as a person, an athlete, a competitor," Pendred said.
"I have to fix the things that went wrong. I know I was a shadow of the fighter I am. I feel like I have been in many of my recent performances and it's just about figuring that out. It was tough to take the loss and people have asked me did I regret taking the fight on two weeks' notice. My answer to that is no, I didn't. I'd never regret a chance I took, I'd only regret a chance I didn't take.
"It was such a good opportunity for me, a chance to win five fights in less than a year which nobody in the UFC currently had done in their first year. It was also on the biggest card of the year along with my team-mates. I would have been stupid not to take that opportunity. But I've learned from it and moved on, and I definitely don't want to feel that again."
What are they
really like?
Rare insights on sport's biggest names from the writers who know them best. Listen to Behind the Lines podcast.
Become a Member
Tom Breese, his next opponent, has had just one fight in the UFC so far. But in spite of his relative lack of experience in the octagon, the Englishman is eager to face Pendred — something he articulated earlier this year before the pair were eventually matched up. Indeed, Breese is just one of several fighters to have called Pendred out, but the Irishman understands why.
Pendred: "I wasn't surprised [Breese] wanted this fight. I haven't looked great in my previous performances and I understand that my competitors won't be looking at them and thinking that I'm someone to be worrying about. I had a lot of people calling me out because of that. So I can completely understand where he's coming from but I think he's made a grave mistake in coming to Dublin and wanting this fight.
"I always have that never-say-die attitude but when you put me in front of 10,000 Irish fans, that just increases even more. I feel unstoppable in there and I think he's bitten off more than he can chew with this fight. I think he has a good future in this game but he's going to have to rebound from a loss after fighting me."
Cathal Pendred has his limitations but he has acknowledged that they need to be addressed. His striking has been a weakness and it prompted him to recently express a desire to try his hand at professional boxing. Pendred admits that several areas need to be rectified but he's been putting in the work in order to ensure that he doesn't continue to under-perform.
"I've identified many reasons why I think that has been the case. I'm not going to sit here and list them out because it'll sound like I'm just making excuses and that's not the way I am. I just want to go out there and put on a dominant and impressive performance that'll turn heads. That's my main focus but I've definitely made changes. I feel like I have many more improvements to make as well. I'll just keep evolving and I'll eventually get to where I want to be."
There's a lot on the line for Cathal Pendred at UFC Dublin, with some observers of the opinion that another defeat could leave him at risk of being released by the UFC. Cutting loose a fighter with a 4-2 record would be harsh, but with more fighters and divisions on their books than ever before, the organisation has become ruthless when it comes to trimming its roster.
In spite of the views of his most fervent detractors, Cathal Pendred belongs in the UFC. He showed that by dominating on the European circuit against the very best fighters on the edges of the organisation. But the form that saw Pendred defeat a wide array of top opponents — BJJ black belts (Bruno Carvalho and David Bielkheden), an elite judoka (Gael Grimaud), a high-level striker (Che Mills) — en route to the UFC hasn't joined him there just yet. If it doesn't arrive soon, he may run out of opportunities.
The raw materials are at his disposal, now he must put them to use. Pendred knows that the time for talking about his potential has passed. A week on Saturday he'll aim to make a statement with actions, not words.
Dublin would be a fitting venue for it… again.