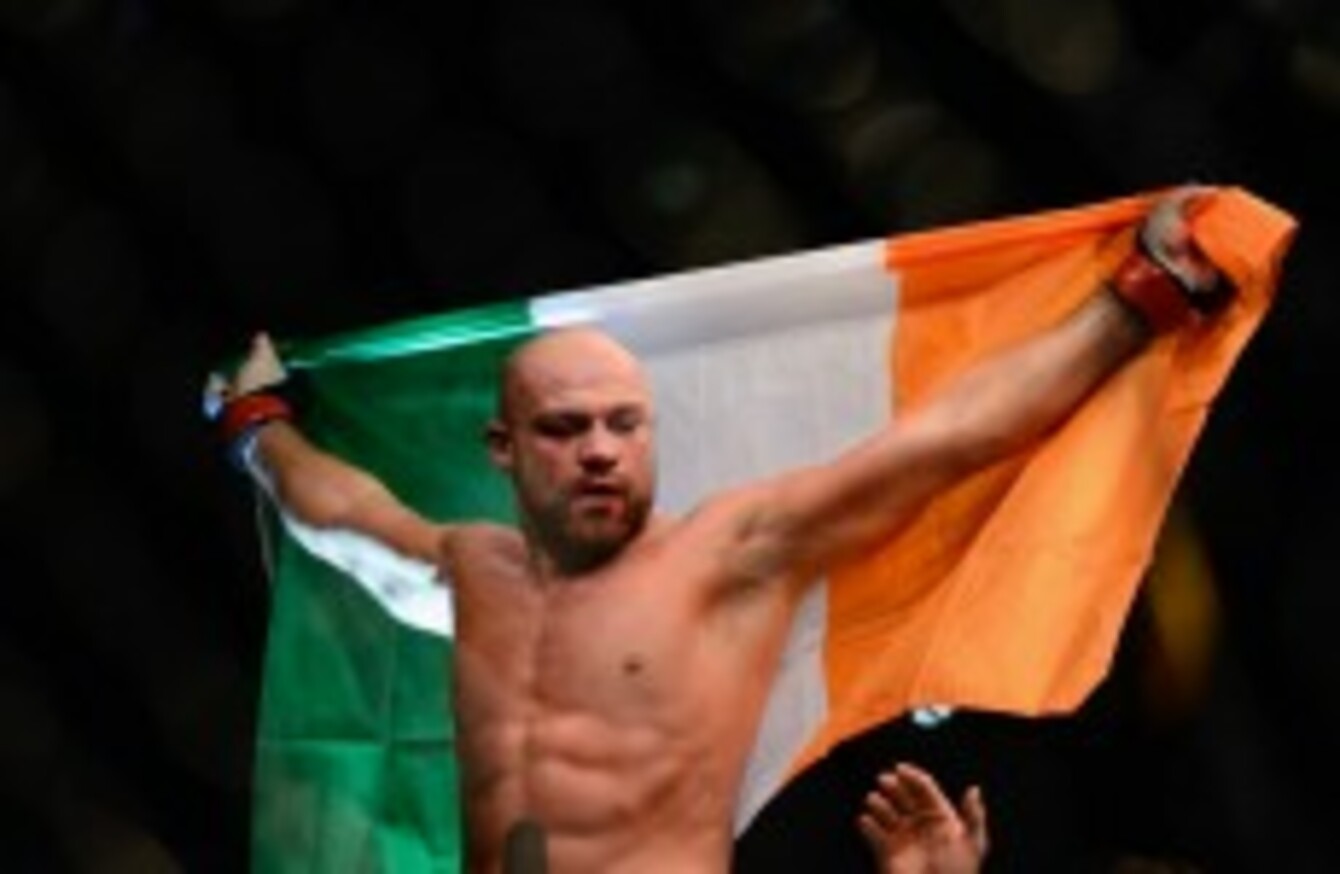 Cathal Pendred's second UFC fight will be at welterweight.
Image: Rodrigo Romos/INPHO
Cathal Pendred's second UFC fight will be at welterweight.
Image: Rodrigo Romos/INPHO
RENAN BARAO'S LATE withdrawal from his bantamweight title fight with champion TJ Dillashaw at UFC 177 last week served as a poignant reminder that there is so much more to Mixed Martial Arts than just stepping in the cage and throwing down.
Barao has always struggled to make the 135lbs weight limit but, like so many other fighters do, he deprived his body of fluids during the week of a fight in a bid to drop sufficient mass from his frame. This is done so one can be big for their weight class, and possibly enjoy a size or strength advantage over an opponent.
But, as Barao found out, it comes at cost. Prior to the weigh-in, which takes place 24 hours before a fight, he became ill and was unable to compete for a chance at regaining his title.
Before going into the Ultimate Fighter house last year, Cathal Pendred was put in the rather unique position of moving up a weight class. A natural welterweight, 'the Punisher' fought as a middleweight for the first time in his career and would again when defeating Mike King at UFC Fight Night 46 in the O2 Arena in July.
Now established on the UFC roster, he will return to welterweight, which has the benefit of not taking on guys far bigger than he, but also means he has to make 77kg as supposed to 84kg. However, such is his attention to the minutia in his preparation, he says the transition will be a seamless one.
"I've spent years at welterweight; I'm OCD about my weight cut. I studied science in college and that's the way I approach my weight cut; the scientific method.
"I document it at all times and keep a journal. The first thing I do when I wake up is go take a piss, weigh myself and then write it down. I'm ahead of schedule already."
Pendred may have not fought at welterweight since June of 2013, but says the only augmentation he's had to make is a slight change in how he eats.
"The only difference for me is diet. I have to be a lot stricter and disciplined about it. I don't eat bad carbs when I have a fight coming up, but I can have some good carbs like sweet potato and brown rice. I would have had those a fair bit coming up to the Mike King fight, but I won't have that now.
"This fight I'm purely on meat, green vegetables, nuts and that's it. I use a service called Fighter Food that I've worked with for about a year and a half now. A chef cooks all my meals for six days of the week and they're there ready to go."
Like so many top level athletes, strength and conditioning training plays a pivotal role in Pendred's regiment, which is tailored specifically by the Irish Strength and Training Institute to suit his needs. Mixed Martial Arts requires a fine balance between explosive bursts and prolonged engagements.
"I work mainly on endurance, because I don't look to get too much stronger than I already am. I'm not down in the Irish Strength and Conditioning Institute every week trying to bench a kilo more than I did before.
"I don't do too many conventional weights either. These guys come up with stuff for me to do that suits my sport. I have to be nimble, so if I do weights like a rugby player, I'll get a lot stiffer. What they have me doing is a lot of body weight stuff, so things like chin-ups, dips and push-ups.
"I also do a lot of strongman training, which is pushing and pulling sleds and hitting tyres (with a sledgehammer). The reason for that is that it's like a cardio work out on top of getting the most out of my muscles.
"You have to train for what you're looking for in your sport. It's weird, because in Mixed Martial Arts, it's kind of like a sprint but at the same time it's kind of like a jog, and you have to try and get both in.
"You have to be able to go three or five, five minute rounds and you have to be able to keep that up, but at the same time if you're throwing shots or going for a takedown they have to be snappy; like a sprinter exploding from a box."
Going back to a weight class where he established himself as one Europe's elite fighters was always his intention, but he says his ability to compete at middleweight served as a great confidence boost.
On October 4th, in Stockholm, he'll fight as a UFC welterweight for the first time, when he takes on Russia's Gasan Umalatov.
There are several parallels between the two; similar records, grappling heavy styles and they even kind of look alike. Pendred says his all round game will be too much for Umalatov, and that he feels liberated after getting that all-important first UFC win under his belt. Now it's time to establish himself as a serious contender.
"I feel like I'm going home. Welterweight is where I made a name for myself, it's where I got to the top of the sport in Europe and it's where I believe my future is. There is a massive confidence going back there, because I went up to middleweight just to get my foot in the door with the UFC, and I've done that now.
"I believe I'm better than him (Umalatov) everywhere. I know he's a good grappler, with a lot of submission wins but if you go through his record with a fine tooth comb, you'll see he hasn't fought the level of guys I have-that's where the big difference is.
"Now I've been there before and that always makes it easier. I'm back down to welterweight, I feel extremely confident and that the stars have aligned for me to put on an impressive performance and announce myself to the UFC welterweight division, which is exactly what I'm going to do."