AS WE HEAD towards the summer months, and the busy period in the running season, those of you who have been putting in the hard work and commitment over the past number of months want to ensure that you arrive at the start line feeling strong and ready to run your best.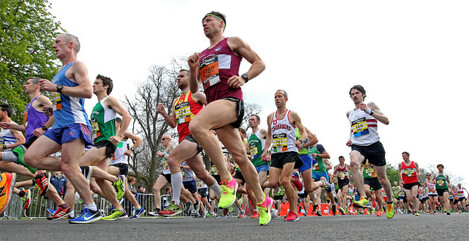 The 2018 Great Ireland Run takes place this Sunday. Source: Donall Farmer/INPHO
Success comes from getting the little things right. Race week isn't the time to try new shoes, new food, new gear or anything else you haven't used before.
Ahead of this weekend's Garmin Great Ireland Run in the Phoenix Park, Catherina McKiernan outlines her pre-race tips to keep you on track in the days and hours leading up to the event.
The days leading up to the race
Nutrition is important because that's what fuels you. With the correct nutritional balance, you will get to the starting line feeling strong and fresh.
Choose familiar foods that have worked well for you before in training or racing and don't make any drastic changes, because what you put into your body before a race can significantly affect your performance.
Eat normal amounts, it isn't an endurance race so you don't need to carb load. Stick to what you know works best for you.
Carbohydrates increase glycogen, which our muscles use for energy. I suggest that you have carbohydrates with some fish and vegetables.
Don't eat red meat two days prior to the race as it takes as long as 48 hours to digest, and avoid overeating as this can make you feel bloated and sluggish.
I would always have my main meal in the middle of the day. If you leave it until the evening time, it's too late for your body to metabolise the carbohydrates and get the fuel to the muscles.
Make sure you are well hydrated going into the race and in the days leading up to the race take on some extra water (but don't drink too much water during the morning of the race itself).
The week of the race you should cut back on your training significantly to allow the body to recover from all the miles you did in preparation. Don't run the day before the race.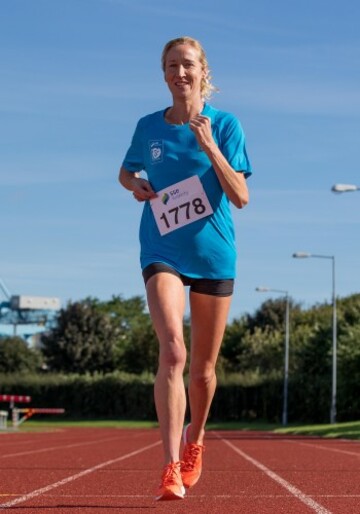 Source: Morgan Treacy/INPHO
You won't lose any conditioning and will actually do yourself a big favour because your body will be rested and raring to go. Go for a walk instead to get some fresh air and stretch your body.
The day before the race
Getting adequate sleep is always very important for endurance performance, but even more so before a race. Sometimes it can be difficult to sleep the night beforehand, but don't panic.
As long as you are lying down and relaxing, that's sufficient. Read a book or listen to relaxing music to keep your mind calm. I heard recently that kiwis can help you sleep, so maybe this is something worth trying out.
Be part
of the team
Access exclusive podcasts, interviews and analysis with a monthly or annual membership.
Become a Member
A great tip is to take time the day before to get all your gear together, so that you don't have to think very much on race morning.
The day of the race
It is better if you get up early on the morning of the race because optimal performance is not possible within a couple of hours of waking up. I always liked to wake up at least three or four hours before a race, so that my body wakes up sufficiently.
Having breakfast before racing is crucial to ensure you have enough energy to get you to the finish line. In general, your pre-race meal should consist of complex carbohydrates which will provide optional fuel for your body to burn, and a little bit of protein will help you feel full for longer.
What works well for me is fruit, porridge and scrambled egg. Make sure you give yourself sufficient time to digest breakfast — I never eat anything within three to three and a half hours before a race. Again this is something you will have practiced in training to see what works best for you.
Relax and avoid spending any unnecessary time on your feet. Set a goal for a perfect race and another as a backup in case it is just not your day. If something makes your first goal impossible halfway through the race, you will need another goal to motivate you to the finish line.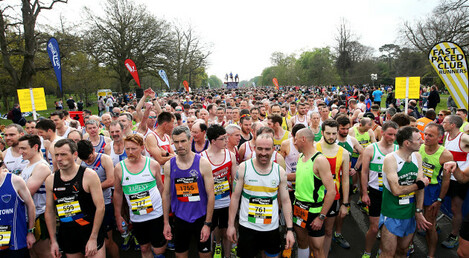 Entries remain open online until this Thursday. Source: Donall Farmer/INPHO
The race
Don't get carried away with the atmosphere at the start of the race. Careful pacing is the key to a good race, no matter the distance.
If you go out faster than your goal pace, your body will go into oxygen debt, and it will have a difficult time recovering. Try to keep an even pace throughout and save some energy for the final stretch to the finish.
There will be a stage during the race where your body is going to feel tired. I always say to people, don't focus in on the discomfort. If you let negative thoughts enter your mind, you are not doing yourself any favours because your brain often gives into fatigue much earlier than your muscle do.
Repeating a few positive 'mantras' can give you the mental edge when it comes to negative thoughts and will help you get that little extra out of yourself. Think of all the hard work and commitment you put into preparing for this event and don't let your mind ruin on it. Sense and feel where you are holding tension in your body, relax and smile.
And don't forget 'Pain is temporary, pride is forever'. Have a great run, enjoy the great day out in the Phoenix Park and be thankful that you are able to challenge yourself.
Catherina McKiernan is a multi world cross-county medallist and Olympian and winner of the Berlin, London and Amsterdam marathons. She is the brand ambassador for Sunday's Garmin Great Ireland Run which takes place in the Phoenix Park and offers events for all fitness levels 10k, 5k as well as junior events. 
Entries remain open online until Thursday 12 April at 5pm. 
The42 is on Instagram! Tap the button below on your phone to follow us!