ISAIAH THOMAS SCORED a career-high 53 points and dedicated the effort to his late sister as the Boston Celtics defeated the Washington Wizards 129-119 in a second-round NBA playoff game Tuesday.
Thomas scored 20 points in the fourth quarter and nine more in a game-closing 15-2 over-time run that gave the host Celtics a 2-0 lead in the best-of-seven Eastern Conference series, which shifts to Washington for game three on Thursday.
Thomas attended his sister Chyna's funeral Saturday after she died in a car accident and has also had to overcome having had a tooth knocked out in a game-one victory Sunday.
"My sister, everything I do is for her, and she's watching over me," Thomas said.
On what would have been his sister's 23rd birthday, Thomas connected on 18-of-33 shots from the floor and 12-of-13 from the free throw line.
"The least I can do is go out there and play for her," Thomas said. "There was no way I couldn't play on her birthday. I wanted to win for her."
He did more than that, eclipsing his former career-best 52 points in a regular-season victory over Miami this season and his former playoff best of 42 last year against Atlanta.
In Oakland, California, Stephen Curry scored 22 points while Draymond Green and Kevin Durant each added 17 points and Klay Thompson had 15 as the Warriors showed no rust from a week off after a first-round sweep.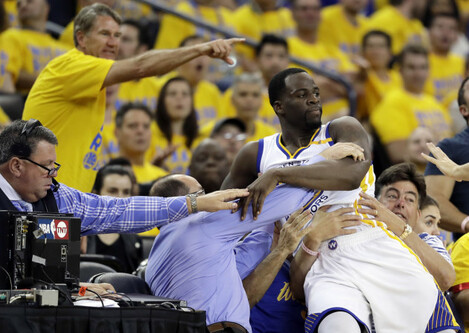 Source: Marcio Jose Sanchez
"Seven days can get a little bit tough," Green said. "We were a little beat up. It was good we got our guys healed up. We came out and showed good rhythm."
The Warriors scored the first nine points and would surge ahead 58-46 at half-time. Curry scored 16 first-half points while Durant and Thompson each added 10.
Utah stayed within 84-73 entering the fourth quarter, but the Warriors opened it with a 8-0 run as the Jazz missed their first six shots of the final period and Golden State pulled away to stay.
The Warriors were coached by assistant Mike Brown as Steve Kerr remained sidelined by complications following back surgery.