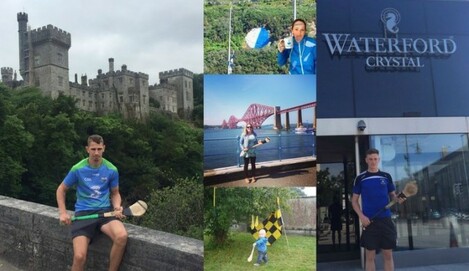 Source: Centra
WHEN IT COMES to GAA fans, it doesn't matter if your local landmark is Ayers Rock or the Blarney Stone.
Even people from the same county have different symbols for home. For someone like Maurice Shanahan, who was born in the shadow of Lismore Castle, the 12th century home of the Duke of Devonshire was a natural choice.
But for his fellow Déise Austin Gleeson, Waterford Crystal was the location he chose for his Landmark Challenge photo.
Elsewhere, Niamh Ni Dohnaile was pictured beside the Forth Rail Bridge in Edinburgh while Siobhan Walsh's son is see in front of the Magic Hurling Tree in Co. Kilkenny.
But for them all, not matter where they are, having a hurley in hand makes it feel like home.
Do you have a picture or video of yourself with a hurley in front of your local landmark?
If so, there's still time to upload your Centra Live Well Landmark Challenge video or photo before 26 June using #LiveWell and you could win the chance to bring someone home for an All-Ireland senior hurling championship match with thanks to Centra and their #LiveWell campaign.