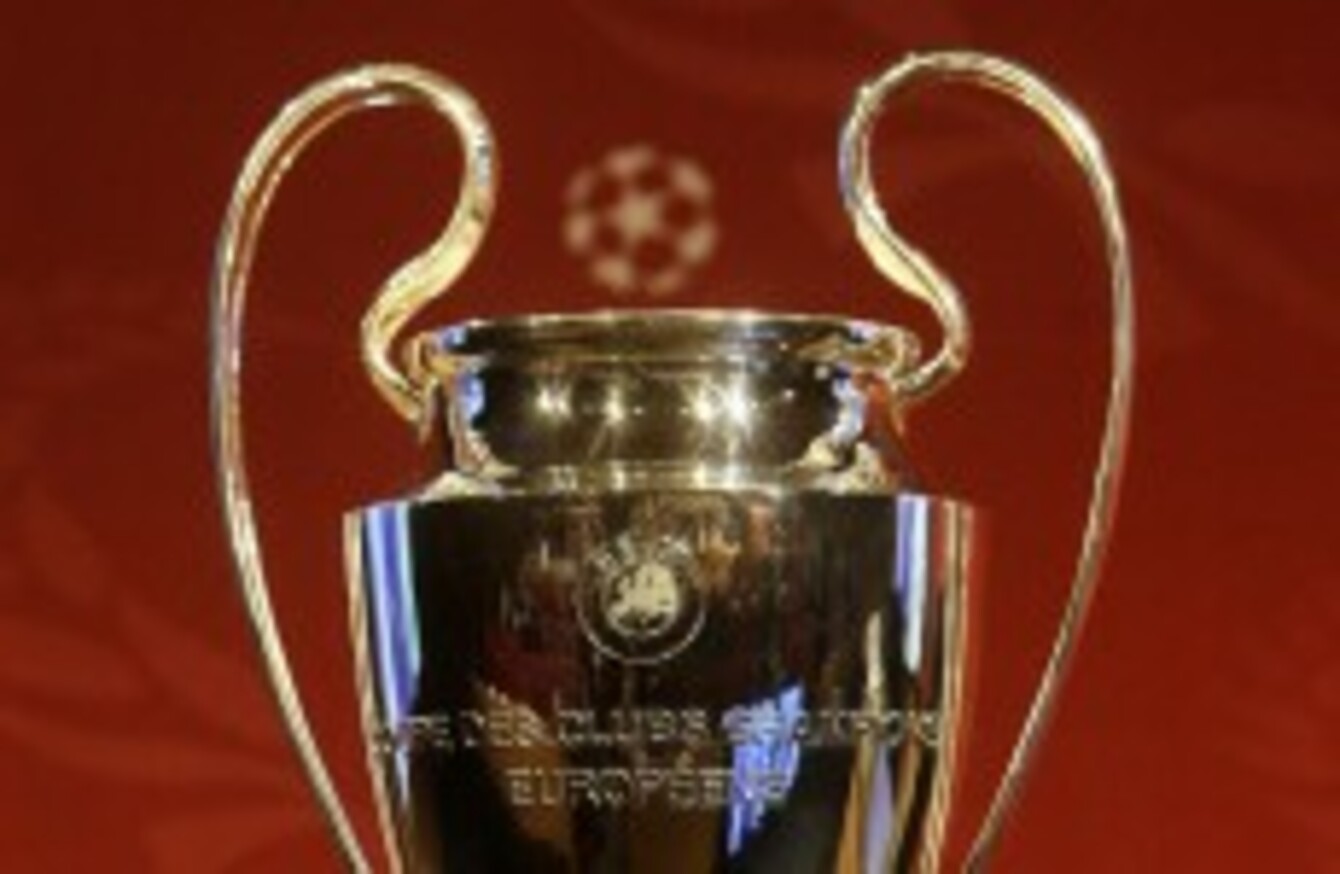 Image: The Champions League Cup is on display during the draw for the quarter final round of the UEFA soccer Champions League at the UEFA Headquarters, the House of European Football, in Nyon, Switzerland, Friday, March 20, 2009. (AP Photo/Anja Niedringhaus)
Image: The Champions League Cup is on display during the draw for the quarter final round of the UEFA soccer Champions League at the UEFA Headquarters, the House of European Football, in Nyon, Switzerland, Friday, March 20, 2009. (AP Photo/Anja Niedringhaus)
IT'S THE PEP Guardiola derby.  The former Barcelona manager will see his old charges take on the team he'll coach from next season, Bayern Munich, in the last-four of the Champions League.
The La Liga champions elect will travel to play the first leg at the Allianz Arena.
In the other game, fellow Bundesliga outfit Dortmund welcome Real Madrid to Germany in an intriguing semi-final match-up.
The first leg matches will be played on April 23 and 24, with the return games on April 30 and May 1. This year's final will be held at Wembley stadium in London on May 25.
In the Europa League draw, Premier League giants Chelsea and traditional European powerhouse Benfica were on Friday both drawn against smaller opposition for the semi-finals.
The draw at UEFA headquarters in Nyon, Switzerland, saw the Londoners draw Swiss outfit Basel while the Portuguese will take on Fenerbahce of Turkey.
Chelsea are bidding to become only the fourth team in history to win all three of European football's club competitions. Having already won the Champions League last year and the Cup Winners' Cup in 1971 and 1998, they now hope to add the Europa League to join the likes of Juventus, Ajax and Bayern Munich in doing the European treble.
Fixtures: Fenerbahce (TUR) v Benfica (POR); Basel (SUI) v Chelsea (ENG)
Matches to be played on April 25 and May 2.
More to follow