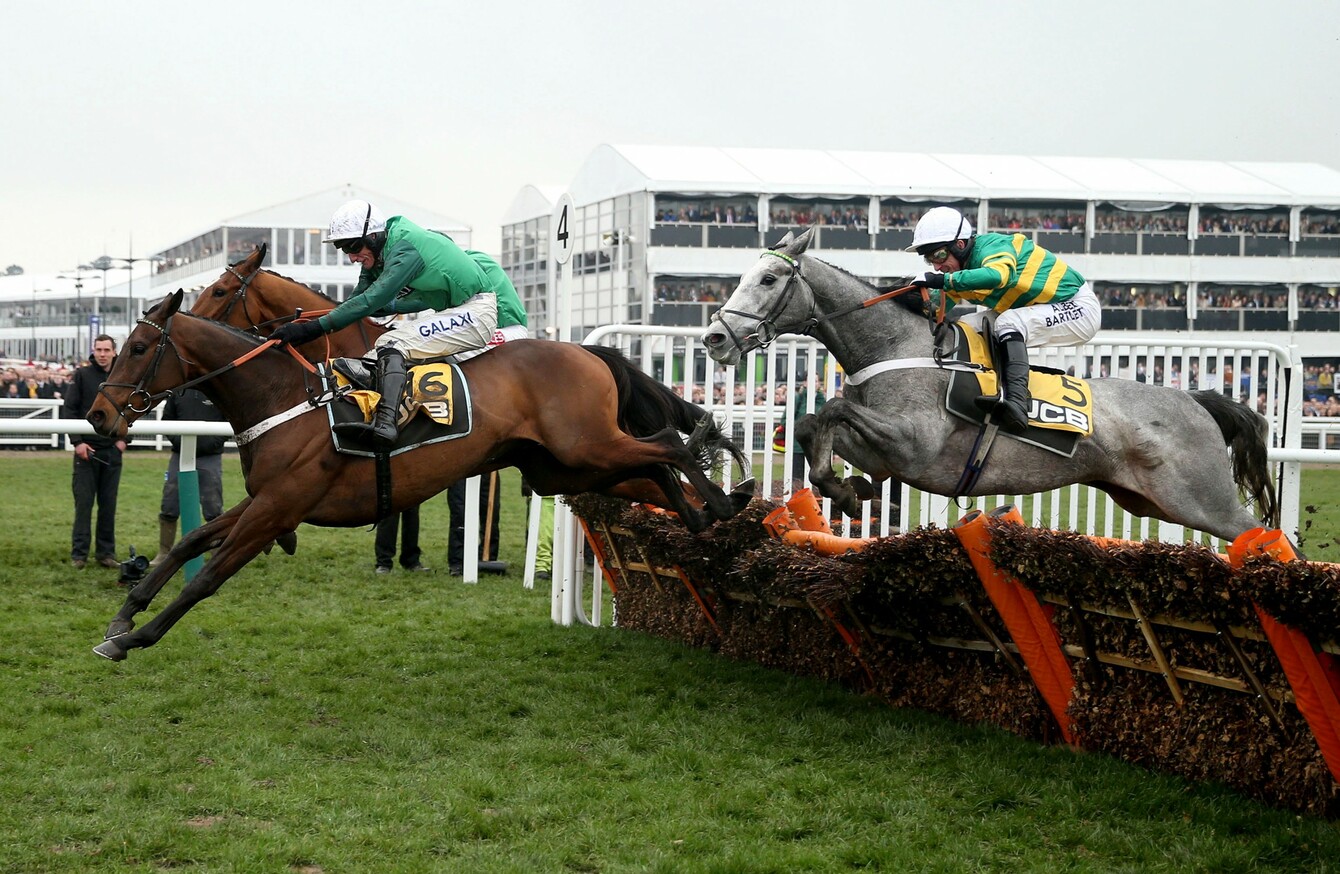 Image: Dan Sheridan/INPHO
Image: Dan Sheridan/INPHO
LOVE IT OR loathe it, 'The Greatest Show on Turf' will be all the rage at the water cooler this week.
These are the four days racing fans, and spoofers, so desperately yearn for. You'll struggle to ignore all the chatter around the events at Prestbury Park so you may as well arm yourself with enough information to get by.
What's all the fuss about?
The Cheltenham Festival is the Olympics of National Hunt racing — where the horses have to jump fences rather than just run along a flat track — and it takes place in March every year.
Cheltenham, a town of 120,000 people in the south-west of England, and horse racing have been closely associated for nearly 200 years and the festival itself has been running in some format for the majority of that time.
The entire jumps season is built around this week for most trainers, and for the smaller operators the idea of even having a runner at the festival is a dream come true.
The finer details
There are 28 races over the four days — seven each day from Tuesday to Friday — as the best horses from Britain and Ireland, and some from around the world, go head-to-head on the track for combined prize money to the tune of €4.8 million.
The races are run at the same times each day, at 40-minute intervals, from 1.30pm to 5.30pm.
More than 200,000 spectators will attend the festival, while coverage of the racing is screened around the world. ITV and TV3 will be showing the action this year, which makes a change from the usual Channel 4 or RTÉ options.
There are 14 Grade 1 races, the highest level of competition, during the festival while each day also has a 'championship' or feature race.
Today's main event is the Champion Hurdle, tomorrow is all about the Queen Mother Champion Chase, Thursday's big one is the Stayers' Hurdle and Friday's pièce de résistance is the Gold Cup. Just to make things easier, these feature races all begin at 3.30pm.
National pride
Another sideshow to the week is the battle between Britain and Ireland and how many winners their respective trainers can rack up across the four days. The Prestbury Cup is on the line for this particular duel.
Irish success at the festival is a prime driver for the interest here and for the huge numbers who make the pilgrimage across the pond every spring.
Last year was a memorable one as there were a record 15 Irish-trained winners at the festival, although the bookies are predicting that tally to fall a little bit this year.
Betting
Gambling is obviously a big part of the week. You'll be hearing "tips" from all sorts of folks who wouldn't know one end of a horse from another.
Remember, the bookmakers look forward to this week more than any other in the calendar, and that's because of the profit margins, not because they love racing more than you.
Which horses, jockeys, trainers and owners should I be looking out for?
From an Irish perspective, Douvan is the star attraction. Unbeaten since joining Willie Mullins's stable, the seven-year-old is highly fancied to extend that record when lining out under Ruby Walsh in tomorrow's Champion Chase.
Nicky Henderson's Altior, which runs in today's Arkle Chase, is another horse that is expected to win at a canter but as racing fans will tell you, nothing is a certainty in this game, especially when fences are involved.
Mullins and Walsh have been the top trainer and jockey at the festival for the past four editions and are expected to emerge with those titles again this year.
You'll see Walsh riding a number of popular horses in the standout pink and green colours, think Mr Blobby but green spots rather than yellow, of American owner Rich Ricci, a banker with no shortage of funds and a love for the 'Sport of Kings'.
A number of Mullins's top horses are missing this year's festival through injury but he remains the man to beat. Henderson is the probably the most likely to dethrone Mullins while Gordon Elliott is another who has the firepower to make this festival his own.
The battle between Elliott and Mullins is an interesting one, particularly as Ryanair boss Michael O'Leary, a leading owner in this realm, withdrew his horses from Mullins's yard last year and sent even more of his charges Elliott's way.
Mullins generally has horses which are well-equipped to win the big feature races, and while Elliott is no slouch on that front, he has a reputation for winning major handicap contests.
As top jockey for O'Leary's Gigginstown House Stud, you'll see Bryan Cooper, who steered last year's Gold Cup winner Don Cossack to glory, on a lot of the Elliott-trained horses.
Another you'll see on board Elliott's horses is 17-year-old rising star Jack Kennedy who is bound to get plenty of attention this week, particularly if he claims his first festival win.
Glossary
Key racing terms that you'll hear repeated this week:
Gelding: A castrated male horse.
Colt: A male horse up to four years old which hasn't been castrated.
Filly: A female horse up to four years old.
Mare: A female horse over four years old.
Favourite: The horse with the shortest price, the one that would give you the lowest return if it wins.
Odds on: Such a heavy favourite that a winning bet won't even double your money. E.g odds of 1/4.
SP: A horse's starting price.
Each-way: A type of bet that splits your stake between a win and the horse finishing in a place position, usually from second to fourth, depending on the number of horses running and on particular offers by bookmakers.
Accumulator: A bet with more than three selections, all of which have to win.
Furlong:  A distance that is equal to one eighth of a mile, or 220 yards.
Length: The length of a horse, about eight feet, used to calculate winning margins.
Group 1, 2, 3: High-standard racing, which is reflected in prize money, Grade 1 being the highest.
Listed: A quality race that falls just short of Group standard.
Maiden: A horse that has never won, or a race for horses which have never won.
Novice: A horse that has not won a particular type of race, such as hurdling or chasing, before the start of the current season.
Amateur: A jockey who is not fully qualified yet.
Ground/going: The current state of the race track under foot.
On the bridle: A horse cruising along with what appears to be minimal effort.
Rating: A score given to a horse based on its past performances and other criteria relating to its ability.
Handicap: A race where each horse carries a different amount of weight depending on its perceived ability. This is decided by the handicapper.
A previous version of this article had definitions for 'Listed' and 'Maiden' placed the wrong way around.