THOSE OF US who watched the thrilling Waterford v Limerick game at home last Sunday with TheScore's liveblog, may have chuckled along when Davy Fitz lost the head on the sideline.
Several viewers however complained to RTÉ over astericks-scarred rants like this.
Today FM's Gift Grub kept the show on the road with this mickey-take of the former Clare goalkeeper but Fitzy – in fairness – shrugged it all off.
Our team of statisticians however examined if there's a scientific correlation between the event on the field, and the colour of the air around Fitzgerald.
Here's their preliminary findings.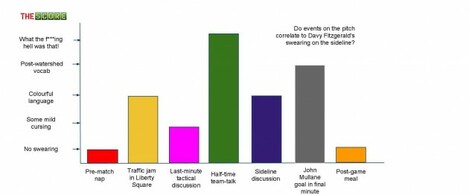 Science Fiction: check out more Charts of the Week>
Join us tomorrow for out Sunday GAA liveblog, we'll have the kettle on>