THERE'S ARGUABLY NO sport that offers quite so many reminders that the window for playing is incredibly small as rugby does.
Players brush off nine-month injury lay-offs as 'part and parcel of the game' and nobody need think very long to drum up the name of a star was robbed of their prime.
So it's tough to begrudge any professional player a look beyond the walls of their current club, especially when the foundations are rife with tremors.
"When we heard we were axed from Super Rugby there was a lot of doubt about guys' futures," said Niell Jordaan, captain of the Cheetahs after travelling more than halfway over the globe for the Pro14's media day last week.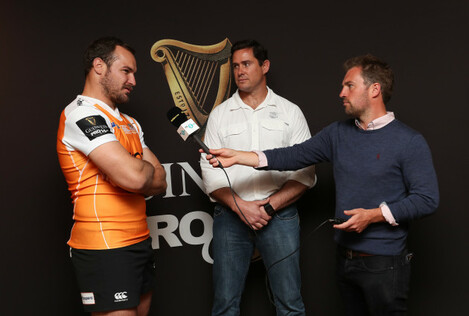 Source: Billy Stickland/INPHO
"For about two weeks we didn't know where we were going to go. We were sure we were axed, but the guys didn't know what their future held. It was tough for the union to retain players because guys were going crazy phoning agents, saying they want to leave, go to another place."
For the most part, the Cheetahs managed to settle their situation down and hang on to their personnel. Sevens representative Boom Prinsloo moved across town to the Blue Bulls, second rows Armandt Koster and Francois Uys headed for Grenoble while prop Danie Menie signed for Toulouse. Hardly an exodus.
Most crucially, four Springboks remained in place, but the disconnect between international windows in the north and south means that it will be some time before Francois Venter, Raymond Rhule, Oupa Mohoje, and Uzair Cassiem are able to focus on club duty.
Mohoje in action against the Barbarians last year. Source: Paul Harding
For head coach Rory Duncan, who has traded places with director of rugby Franco Smith, the recent months have involved carefully plotting a pathway for players through fixtures in an effort to limit the inevitable fatigue that transitioning from a 2017 season in the south to a 2017/18 season in the north brings.
Winter, and the end of Currie Cup commitments, can't come soon enough. Because after they face all four Irish provinces as well as Glasgow and Ospreys in the opening eight rounds of the new Championship, the Bloemfontein club won't have to travel back to Europe until the New Year. The fixture format with the absence of Champions Cup commitments means they won't play any match at all between 2 December and 6 January. A welcome winter break in the middle of a 15-month season.
"We've been giving the players time off during Super Rugby. We've also rotated during the Currie Cup, every week playing a different team. Really it's a challenge up until November," says Duncan.
"When we come back then, it's on for two weeks, off for two weeks, that sort of thing. During that time, the guys will be hungry for rugby I think."
Jordaan the Kings' CJ Velleman get a sniff of the Pro14 trophy. Source: Billy Stickland/INPHO
What the hunger of these players, who are carrying 'a few niggles from the back end of Super Rugby', is like right now will become clear this Friday night when they kick off the new look tournament against Ulster in Kingspan Stadium.
They could scarcely have asked for more familiar opening opposition than the heavy Springbok-influenced Ulster and Munster, but the quality opposition on their upcoming fixture list will make for an arduous acclimatisation period. That goes for the coaches and analysts too, who until now have watched European rugby in a casual setting, but must cram as much as humanly possible as they pore over their laptops on the long trek from Bloemfontein to Belfast.
"In the past I'd watch with a Braai – a fire, a steak on and a beer in my hand – that's how I watched Pro rugby in the past. That's going to change."
That particular transition is the least of Duncan's worries.
Subscribe to The42 podcasts here: