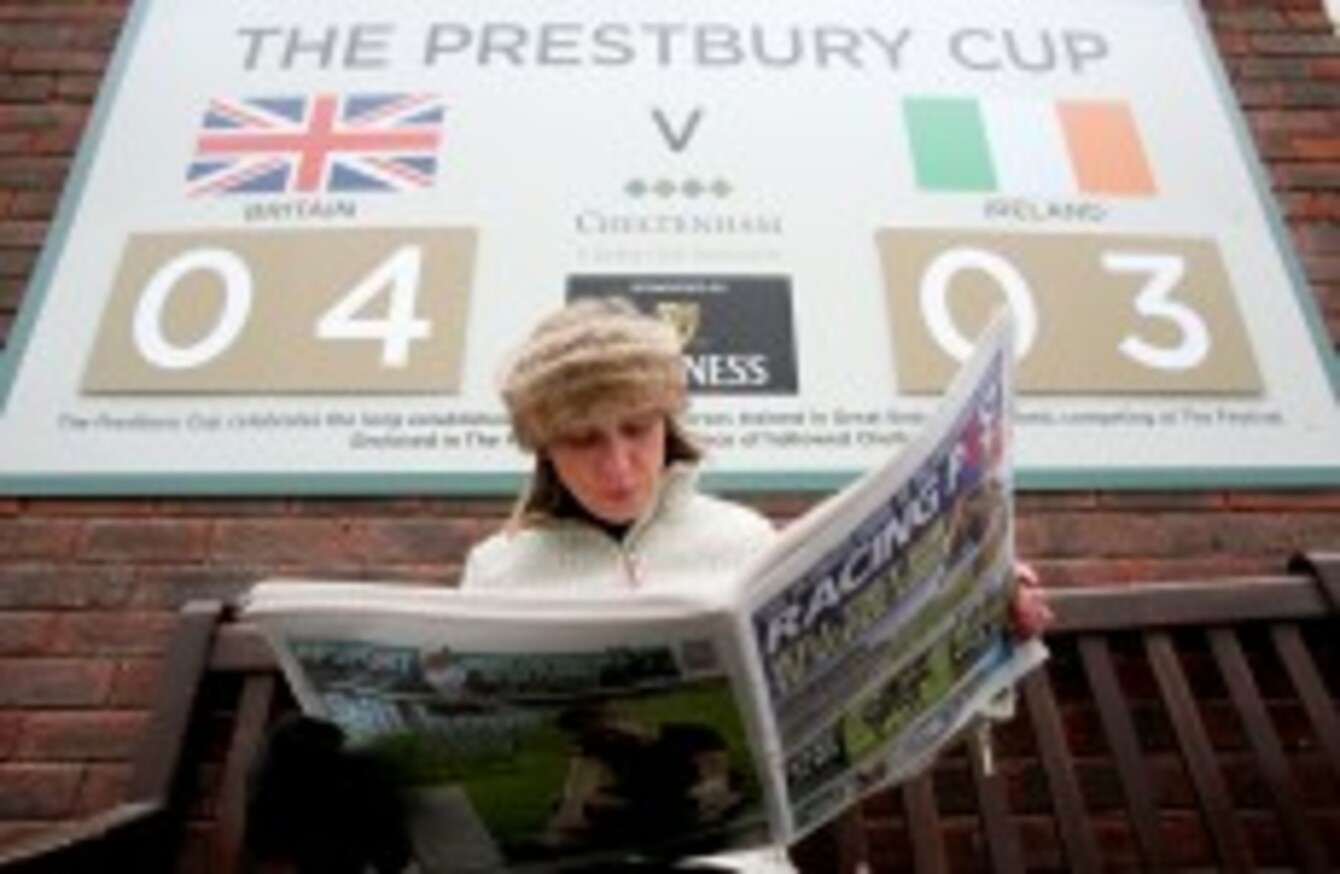 Image: Dan Sheridan/INPHO
Image: Dan Sheridan/INPHO
WHILE YOU SHOULD never, ever, gamble more than you can afford to lose Cheltenham is one of those landmark sporting events that sees even the most unlikely punter have a flutter or two.
With that in mind, we thought now would be the perfect time to give you a basic guide to the different bets you could have this week.
Odds
Odds are there to show the likelihood of a particular horse winning a race and are shown in a number of different ways with the most popular being 'bookmaker' odds, i.e. 10/1, 25/1, etc.
Taking 10/1, this means that for every €1 you bet, you will receive €11 in return. This is made up of €10 winnings and your €1 initial bet.
Of course, not all odds are that simple so, for example, if you place €10 on a horse a 9/4 you will win €32.50. This works out as €22.50 winnings (or €9 for every €4 you bet) and your €10 stake.
If your horse is a strong favourite, the chances are they will be odds on. If it is a 1/3 favourite a €10 bet will return you €13.33 — €3.33 profit and your initial €10 bet.
Odds can also be displayed as decimals but generally only on exchanges. If you're reading a beginners guide to betting we're guessing you're not going near the exchanges.
Types of single bets
Win
The simplest bet you can make. This is a straight bet at fixed odds and if your horse wins, you win.
Place
This is where you bet on a horse to finish either in the top two (5-7 horses in the race), three (8-15) or four (16+).
Each-way
Perhaps the most popular bet, it gives you a chance to both win and place. However, it will also cost you double the initial stake. For example, if you want to bet €5 each-way on a horse at 8/1 it will cost you €10. That is €5 for the win bet, and €5 for the place bet.
If the horse wins, you will receive €60. That consists of €40 for winning, €10 for placing — place odds are calculated at 1/4 of the original odds, in this case 2/1 — and your two €5 stakes returned.
If your horse finishes in the places but doesn't win, you will receive €15. That is €10 for placing at 2/1 and your €5 place bet. You lose your €5 win bet though.
Types of Multiple bets
Double, treble and accumulator
In a double, you pick two horses in two different races. Both must win (or place if you bet each-way) for the bet to be successful. In a treble that increases to three and an accumulator is four or more selections.
Betting this way significantly increases the odds. For example, if you were to bet €10 each on four individual horses at 2/1, your return would be €120 (€80 profit and €40 in initial stakes returned).
If you were to back that as an accumulator though, your returns would be €810, €800 winnings and your €10 initial stake returned. The increased odds reflect how unlikely all four horses winning is.
Types of full cover bet
Trixie, Yankee, Super Yankee, Heinz, Goliath and Super Heinz
This is a bet that basically covers all possible doubles, trebles and accumulators across a number of selections. A Trixie consists of four separate bets – three doubles and a treble – of which two must win to gain a return.
A Yankee (four selections, 11 bets), Super Yankee (five selections, 26 bets) all the way up to Goliath (eight selections, 247 bets) are just variations on the same theme.
Each bet costs its own stake though so a €1 Goliath would cost €247 to place.
Patent, Lucky 15, Lucky 31, Lucky 63
This is similar to the above but you also bet singles (as described above) on top of doubles and trebles. For example, a Patent is the same as a Trixie plus three single bets, i.e. a wager of seven bets – three singles, three doubles and a treble.
As above, each separate bet must have it's own stake so these types of bets can be costly.
And that's about it. You don't have to have a whole lot riding on a race for it to be exciting — and certainly shouldn't gamble more than you can afford to lose — but if you do decide to part with your hard-earned €10, at least you now know what your options are.
So, anybody any tips for Cheltenham?