NIGERIAN TEEN WEIGHTLIFTER Chika Amalaha has been provisionally suspended from the Commonwealth Games after testing positive in a doping test taken after she won gold in the women's 53kg category, the Commonwealth Games Federation announced this morning.
The 16-year-old Amalaha provided an 'A' sample on July 25 which revealed traces of diuretics and masking agents.
She will have a 'B' sample tested at a laboratory in London on 30 July.
Commonwealth Games Federation chief executive Mike Hooper said: "We [have] issued a formal notice of disclosure to an athlete following an adverse analytical finding as a consequence of an in-competition test.
That athlete is Nigerian weightlifter Chika Amalaha who was tested on July 25th. That athlete has now been suspended from the Commonwealth Games in Glasgow."
Amalaha snatched a best of 85kg before managing 111kg in the clean and jerk for a total of 196kg, to become the youngest Commonwealth weightlifter gold medallist.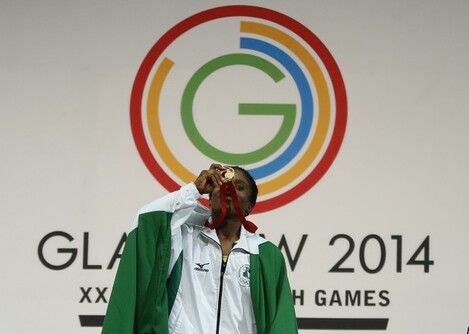 Amalaha kisses her gold medal. Source: Alastair Grant