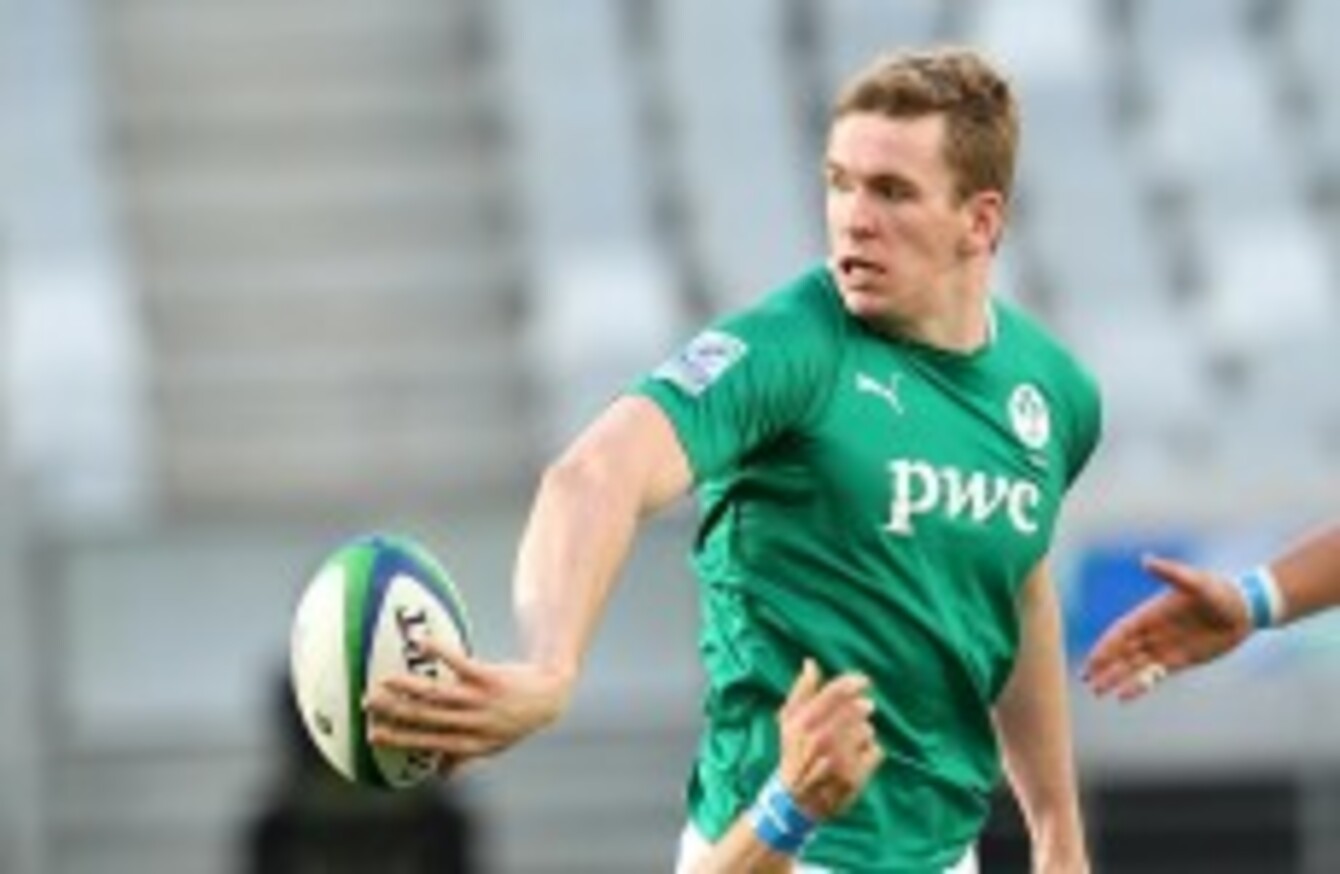 Farrell shone for the Ireland U20s in 2012.
Image: Photo by Ron Gaunt
Farrell shone for the Ireland U20s in 2012.
Image: Photo by Ron Gaunt
LAST WEEKEND'S TOP 14 action was a notable one from an Irish point of view as Chris Farrell made his first start for Grenoble against Oyonnax, the same match in which scrum-half James Hart scored a try and kicked 10 points.
While Grenoble were handed a 40-27 defeat at the fortress-like Stade Charles Mathon after what Farrell calls a "horrible game," the 21-year-old centre's 80-minute display followed his 26-minute debut the previous week off the bench against La Rochelle.
Positive steps in the Ulsterman's burgeoning career.
Farrell shone for the Ireland U20s in 2012, starting all five games in that year's Junior World Championship and helping them to fifth position. Having already picked up two senior Ulster appearances at that stage, it seemed the only way was forward.
But the unpredictability of injury stunted his progress – first an ACL tear in September of 2012 and then a broken foot late in 2013. Now, Farrell finds himself on the books at Grenoble.
"I've had two operations in the last two years," explains Farrell. "I was just a wee bit sick of where I was, a bit of a dark place with having been injured for so long in Ulster. I'd slipped down the ranks and I wasn't getting a lot of game time.
It was just a bad situation to be in. I talked to my agent and said it would do me good to get out, get a fresh start somewhere else. I just needed a change of scenery and maybe just to refresh myself."
There was interest from several quarters, including the opportunity to switch provincial allegiance within Ireland or remain with Ulster, where then Director of Rugby David Humphreys had expressed his desire to retain Farrell.
England and France provided further options, with Grenoble proving to be an irresistible chance for a man looking for a distinct new beginning.
"They were very interested and it all happened very quickly from there," says Farrell. "Bernard Jackman had done his research and showed that interest. He flew over and I went down to Dublin to meet him, and the deal was done in a couple of weeks."
Jackman's presence as head coach of the club was an obvious draw, with the former Ireland and Leinster hooker helping Farrell to adapt to a new culture more comfortably over the summer months.
With ex-Munster scrum-half Mike Prendergast involved as backs coach, and compatriots Hart and Denis Coulson in the playing squad, the Irish community continues to grow in the Isère.
"It would obviously be very tricky if the set-up was all French coaches, because you wouldn't know where you are. You could talk to them, but it's very helpful to have those guys there for communication.
There are a lot of foreigners in the squad, and even the French boys speak good English."
Farrell's français is improving all the time, while he has developed a close friendship with young Kiwi back row Rory Grice, who arrived at the club at the same time and stayed in the Irishman's apartment as he went about organising his own living arrangements.
In playing terms, Farrell – who won an Ulster senior cup with Campbell College in 2011 – faces stiff competition from the likes of Nigel Hunt and Jackson Willison in midfield but feels his rare frame may be an advantage.
At 6ft 5ins and around 104kg, the 21-year-old is of highly respectable dimensions and looks extremely suited to the heavy demands of the Top 14.
"Being in France, physicality is something I need to concentrate on here. It's one of the most physical leagues in the world, if not the most physical. Maybe the difference between me and the other centres is that I'm a lot bigger.
"Although Nigel and Jackson are very physical, maybe I can offer something different with my size and by being physical around the park."
Farrell is something of a rarity in the field of modern Irish centres, given his frame and ability to offload out of the tackle. Indeed, the Fivemiletown man is likely to be closely watched in France thanks to those unique attributes and his long-standing potential.
Having joined Grenoble on a one-year deal during the summer, Farrell will have a decision to make in the coming season as to where his future lies.
I've got a very open mind and I'm very happy with where I am," outlines Farrell. "Maybe if it goes really well there'll be a situation whereby I won't want to change it. I'll be thinking there's no point in changing what's not broken.
"I'm really enjoying it here; I like the club and the set-up, it's really professional and the town is really beautiful. On the other hand, maybe I'll play really well and I'll want to go back to Ireland because I have aspirations there.
"At the minute, I'm just trying to play as much rugby as possible and see if I can get myself into that starting team."