TOUR DE FRANCE leader Chris Froome accused journalists of failing to keep up with the times saying cycling had moved on from the 'Wild West' era when disgraced Texan Lance Armstrong raced.
The 30-year-old Briton, who faced more doping-related questions after the stage, pointed the finger at some in the media after being doused with urine during Saturday's 14th stage.
It was the latest in a succession of incidents in which he and his Sky teammates, particularly Australian Richie Porte, have been targeted by disgruntled fans accusing them of racing unfairly.
And when Froome was asked if he could understand similarities being drawn between himself and the shamed Armstrong, he was indignant.
"If people are led to believe these performances are not legitimate, that's what's going to push them to start booing, punching, spitting or throwing urine on riders, that's my point," he said, before rounding on French television commentators Laurent Jalabert and Cedric Vasseur.
Both had cast scorn on Froome's dominant win in Tuesday's stage 10 summit finish with Jalabert saying it made him "feel uneasy" while Vasseur remarked that he thought the Briton's bike was "riding itself".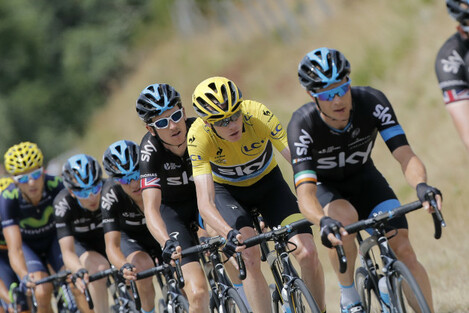 Source: Laurent Cipriani/AP/Press Association Images
But Froome hit out at both, pointing out that their professional racing careers coincided with cycling's darkest doping years, when Armstrong won seven Tour titles that he was later stripped of for cheating.
Jalabert was found in retroactive testing in 2013 to have used the banned blood-booster EPO while Vasseur once raced for Armstrong's US Postal team.
"Times have changed, everyone knows that. This isn't the Wild West, that was 10-15 years ago," said Froome.
Of course there are still going to be riders who take risks (by doping) in this day and age, but they are the minority. It was the other way around 10-15 years ago. There's no reason in this day and age for that type of suspicion to continue."