IT'S A LITTLE over six years since I first met Chris Shields.
Involved with a modest Leinster Senior League club based in south-west Dublin at that time, one particularly bitter, winter evening saw training get underway as per usual.
As we were put through our paces on the windswept artificial pitch, however, it soon became apparent that a new addition had joined the group.
A rangy lad with ginger hair, the mystery player got himself on the ball at every opportunity and made an instant impression under the floodlights. Without being spectacular, he was undoubtedly operating at another level to the rest.
Unfortunately for us, we were later informed that the youngster simply wanted to keep himself ticking over during the League of Ireland off-season, having just left Bray Wanderers at the end of the 2011 campaign.
With close friends playing on the team, Chris had asked to take part in our sessions for a couple of weeks, while also attending the PFAI's annual training camp.
But it wouldn't be long until the late Sean McCaffrey came calling. A former Ireland underage manager who knew the midfielder from the U19 set-up, McCaffrey had just taken over at Dundalk and his plan was to build a squad brimming with youthful energy and potential.
"I didn't know what I was really doing at that time, then Sean rang me up in December and I signed for Dundalk," Shields recalls.
"Those sessions were a good way to keep me fit, but that's all changed now. I wouldn't take the risk of training with another team in the off-season these days in case I got injured."
Shields admits feeling a significant amount of uncertainty at that point in his career, and, at 21, he never could have envisaged just how perfect a fit the Lilywhites would be.
McCaffrey, who was praised by Shields and others after tragically passing away last December, left after just seven months, and the Louth club narrowly avoided relegation — thanks to a play-off final win over Waterford.
Shortly afterwards, Stephen Kenny was handed the reins and the rest, as they say, is history.
Fast-forward six years and Shields has got three league titles, three league cups and an FAI Cup medal to his name as well some unforgettable memories from their run to the Europa League group stages in 2016.
Along with John Mountney, he is Dundalk's joint longest-serving player. In an era when many LOI footballers hop from club-to-club on an annual basis, it's an astounding achievement.
To be honest, I never thought my career would go the way it has gone," he confesses. "I was playing for clubs just to be in the League of Ireland and if I could make a few bob and earn a living, that was good enough for me.
"That all changed when Stephen came in. I had never been part of a team that finished higher than sixth, but in 2013 we discovered that winning drive. You're competing for trophies and your mindset changes as you think 'I want to win these competitions'. It feels more than just a job.
"Mentality-wise, that was huge for me. We kicked on from 2014 onwards and you get such a buzz from it that you don't want to be doing anything else."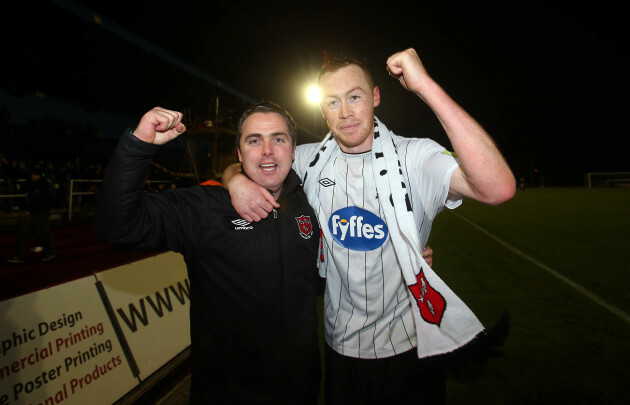 Donall Farmer / INPHO Celebrating the promotion-relegation play-off victory over Waterford with manager Darius Kierans in 2012. Donall Farmer / INPHO / INPHO
He's been a key member of the squad during a remarkably successful period in the club's history, captaining the side on numerous occasions, but Shields has been hampered by more than his fair share of injuries.
The arduous 2016 campaign took its toll and he struggled to shake off an osteitis pubis problem for much of last season.
"I had a bad year with injuries last year," Shields says. "I was playing through them but I wasn't fully-fit. I think that showed in my performances.
"I had osteo pubis in 2016 and then I got such a short break in that off-season, it followed me right through 2017. We were hit with injuries so I just had to play through it.
"We've dealt with it now though and I have to give credit to the medical team of Danny Miller and Sam Rice. They have helped me tremendously. I've had a proper rest and I'm feeling better than I have in about two years."
There has been big news off-the-field in recent months too as Shields tied the knot with long-time girlfriend Shauna back in December. Having bought a house in her native Bangor, the pair held the wedding there in the run-up to Christmas, before jetting off to New York and Mexico to enjoy that down-time he mentions.
"It was some craic," he explains. "The break was perfect just before pre-season as well."
The first few years at Dundalk were spent shacked up with a dozen team-mates so life in County Down is considerably more peaceful. And the drive to Oriel Park isn't too bad either.
"You'll do it in just over an hour, so it's grand," Shields tells. "I'm used to at this stage so it's like you're in auto-pilot on the motorway down."
In October, Shields penned a new deal that brings him up to the end of the 2019 campaign. By that stage, it will be eight seasons at Dundalk and, at 27, he doesn't see himself playing for another club.
It was a no-brainer for me," he says. "This is the only place I want to be. My deal takes me into 2019, so hopefully there's a testimonial around the corner!
"We've won dozens of trophies over the past four or five years and you want to build on that.
"I've established such a great relationship with the club that I can't really see myself playing anywhere else. Hopefully, as I get older the body holds up with injuries and that goes well. I want to kick on this year as 27 to 29 is supposed to be the prime of your career."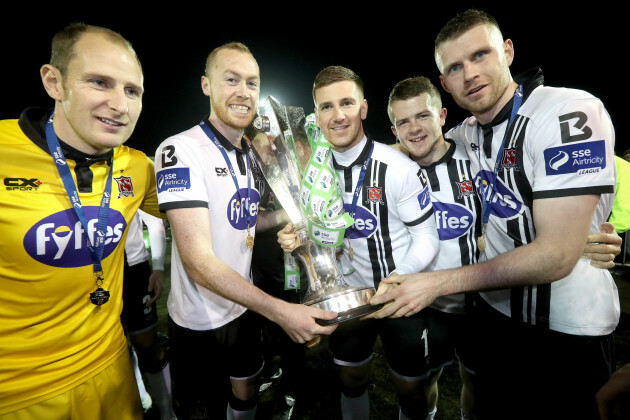 Ryan Byrne / INPHO Shields with Gary Rogers, Patrick McEleney, Ciaran O'Connor, Ciaran Kilduff and the Premier Division title in 2016. Ryan Byrne / INPHO / INPHO
Dundalk have recently been bought out by a US-led consortium, backed by Peak 6, and while there has been both excitement and apprehension around the acquisition, Shields believes early impressions of the new owners are promising.
"We met two of them in Spain last weekend," he reveals. "They came out to Spain to watch us play and they were animated on the line so you could see they loved it.
"We then spoke to the owners on Monday and they seem very enthusiastic. They came around the gym and introduced themselves to the squad.
"It doesn't really affect us that much but there are a few more sets of eyes on us now. We're still dealing with Stephen and [assistant] Vinny [Perth] on a daily basis but they will be in the background.
"The friendly game against Brentford B was streamed live to them in the US. From the players' point of view, we see it as a positive so far as they're not just putting money in and then you don't see them again.
"They're really interested in how we're doing and they want to see us play."
Kenny has had to deal with losing a couple of his most-prized assets on an annual basis, and this year was no different. Patrick McEleney left for Oldham Athletic, while David McMillan made the switch to St Johnstone.
Galway United's Ronan Murray and the returning Pat Hoban will be tasked with replacing their goals, and former Liverpool youth player Krisztian Adorjan could also add some invention in attack.
"They have slotted right in with the squad and the quality is right there to see," says Shields. "In the last few days, Krisztian has got quite a bit of interest because of his pedigree and he has shone in the recent friendlies.
"Ronan looks a fantastic signing. It's the same with Pat, we all know what he can do as he has proved himself in the league. Dean Jarvis has come in from Derry and looks good too, while Karolis [Chvedukas] is a Lithuanian international.
"I think we've gelled better in pre-season than we did last year. We had such a backlog of injuries as the 2016 campaign took its toll, meaning we got off to a sluggish start. This year has gone well and everyone seems to be flying."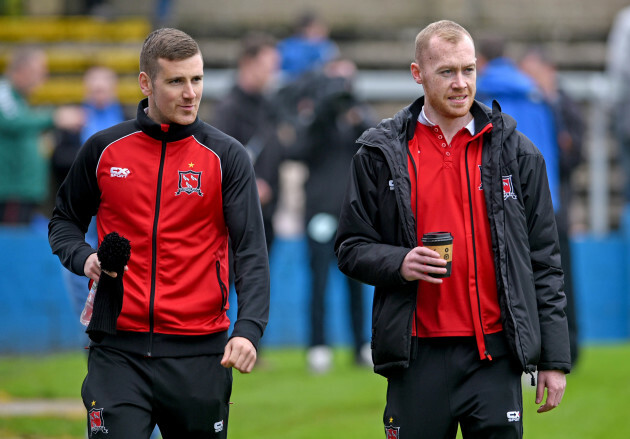 Ciaran Culligan / INPHO Patrick McEleney (pictured here with Shields) is likely to be a big loss for Dundalk. Ciaran Culligan / INPHO / INPHO
12 months ago, Cork City shot out of the blocks — going on a 22-game unbeaten run — while Dundalk struggled to rediscover top form and Shields is well-aware they must prevent something similar occurring this time around.
"We can't let that happen again. Cork's start was just so good, so it's important for us to get going straight away.
"We've become serial winners over the past number of years but last year Cork got up such a big lead that they were almost uncatchable in the second half of the season.
First and foremost, our aim is to try to reclaim the league title."
The afternoon, the rivalry with Cork is renewed in the season-opener as Oriel Park hosts the President's Cup (2pm). It was Dundalk's turn to play the nearly-men last year, as John Caulfield's side did a league and FAI Cup double, and they plan to do everything in their power to dethrone the Leesiders as the top club in the country.
"It starts Sunday," declares Shields. "This game could be seen as a friendly but the rivalry between the two clubs is there and it's such a positive for the league.
"You need that kind of competitiveness and it has become a real rivalry over the past number of years. You could say it has spurred on both clubs to become better. We had our time winning three leagues in-a-row, and now they've won the double and retained the cup.
"You want to win that back and make sure you're known as the best team in Ireland. They will have the exact same mindset so it all kicks off again on Sunday."
The 42 is on Instagram! Tap the button below on your phone to follow us!