SHORTLY AFTER HE announced his Kerry retirement in the winter of 2014, Declan O'Sullivan spoke about his deep appreciation for the team dynamic that helped him win five All-Irelands during his career.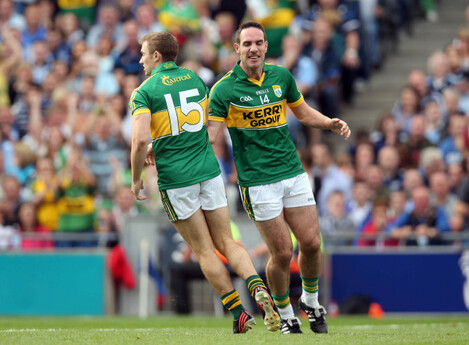 Source: Donall Farmer/INPHO
He had an interesting take on what the term 'friendship' meant in the Kerry dressing room.
"In this dressing room, a friend isn't someone who pats you on the back," he told the Irish Examiner. "He's the one who tears back past you when you're struggling for legs and makes a tackle for you and the team.
"If you're going to win All-Irelands, they are the minute details no-one outside the group notices. A fella gets a paw in, puts the guy who's taking the kick off enough to avoid conceding a score or a killer pass. A friend is the colleague who bails you out."
O'Sullivan's point was that when big games are in the melting pot, sometimes the bond between teammates can be more important to achieving victory than, say, a tactical switch or piece of individual brilliance.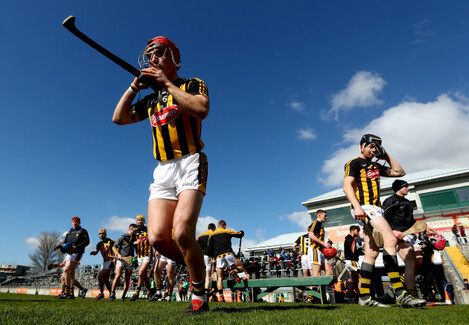 Source: James Crombie/INPHO
Cillian Buckley understands just how important having a tightknit squad is. He made his Kilkenny debut in 2012 and started the All-Ireland final replay victory over Galway that September as a wing-forward.
That group were driven on by serial winners Tommy Walsh, Jackie Tyrrell, JJ Delaney, Henry Shefflin, Richie Power, Eoin Larkin, Michael Fennelly, all of whom have since retired.
After losing so many big personalities in a short period of time, there was bound to be a void in the dressing room but Buckley feels the winning spirit has returned to the camp.
"The younger lads have definitely brought a camaraderie back into the dressing room," he says, "Which is as important as – you'd put it up beside leadership.
"It's about creating a spirit in there and they've definitely come in and formed a bond among themselves and among the whole panel. There's a fierce sense of a team there among nearly 40 of us at the moment.
"You're doing it among friends and it brings out the best in each other. That's definitely the sense you want to build-up in an inter-county set-up. That's definitely there this year.
"I don't know if it's because the lads have come up through underage levels together and both won and lost together, but that bond is definitely fierce important as much as any sort of tactics.
"Wanting to do it for each other and making sure you do it for each other, and calling out each other when it's not done. It's huge in a panel and it's always been there with Kilkenny but it's definitely strong at the moment."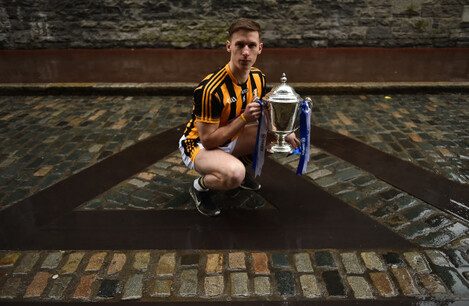 Cillian Buckley was in Croke Park at the 2018 Allianz Hurling League Division 1 Final Preview Source: Brendan Moran/SPORTSFILE
That bond was severely tested when Kilkenny lost their opening two league games, but Brian Cody's men have reeled off five wins on the bounce to make their first Division 1 final since 2014.
"I suppose the challenge we had to face leading into that Waterford game was we needed three wins on the trot realistically and the challenge we faced up to and we managed to get the ball rolling again.
"Not a whole lot changed. We weren't that far off in the Cork or Clare games. We had a decent performance on the night in Pairc Ui Chaoimh against Cork, Clare was definitely a slow start, but a good response.
"There were still positives to take from them two games, but it was about bringing into the Waterford game and trying to address the lack of intensity maybe that we were bringing to them first two games.
"We got it right and we have definitely built on it and progressed since them two games. Big change, no, but definitely we'd acknowledge we needed to up it a gear and we did I think."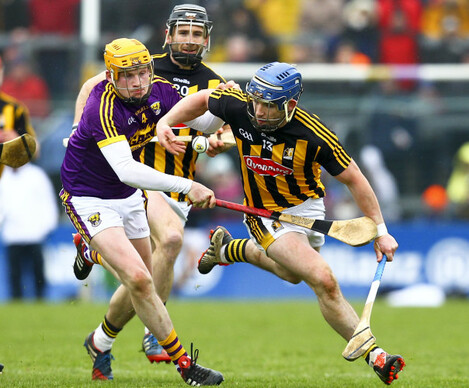 Ger Aylward gets away from Wexford's Simon Donohoe Source: Ken Sutton/INPHO
The Cats have developed a more measured gameplan where they're not simply launching the ball into attack, but working scoring positions with shorter stickwork and handpassing.
"Tactics have come into it," says Buckley. "Tactics were always there, they probably just weren't labelled tactics. There was always plans put in place, plans to mark different players, to target different aspects of whoever you're playing.
"It's becoming more important because teams definitely have a way of playing. Going out with the same attitude when you're playing one team versus another doesn't work anymore because you are facing different formations, teams with strengths in different areas.
"You do have to take each match as it comes more so than coming up with a tactical approach to the whole year. It's trying to take on individual teams rather than setting out an overall tactical approach.
"(You have) to learn and adapt on the field. When we're becoming confident in possession and stuff, you see that you're working scores better. That's what I mean when it just happens, it's not something that we go out on a Tuesday evening and try to change our style of change.
"That's not something that we've ever really done. It's always a challenge faced to us and given to us by Brian: to learn on the field and adapt on the field. If you see something that's on or you see something that needs to change, you do it."
Source: Ken Sutton/INPHO
Davy Fitzgerald's Wexford enjoyed league, championship and Walsh Cup wins over Kilkenny in the past year, before the Cats set the record straight with two wins on the trot in the 2018 league.
The new style of play helped overcome Wexford's sweeper system, but it won't be long before they clash against in the Leinster campaign.
"You're trying to play to your own strengths where you have numbers and possession is becoming as important as scores in today's game. It's about trying to hold onto the ball, not playing to, in that case, Wexford's strengths.
"They have that sweeper system mastered with one or two of their players there. Unknown to ourselves, we're becoming more confident of holding onto possession where we have numbers and working the score that bit better rather than lumping it up to where they have numbers.
"It's something that's worked the last two days but I think they'll acknowledge too and maybe switch it up again and we'll face a different challenge the next day.
"Wexford definitely had us last year, they were way ahead of us, they went on to have a great year and narrowly lost out to Galway, who went on to win an All Ireland. The same at the start of this year they pipped us in a Walsh Cup Final, we definitely to get back up to Wexford's level.
"We are facing a huge game this summer again in the Leinster campaign so getting them two wins over Wexford was important for us. Even getting the win in Wexford Park (was important) because there is a fair few of us on the panel who haven't won down there even at underage level.
"Winning down there was big mentally, they were huge games, ones that we targeted against Wexford.
"Thankfully we came out the right side of the result the lads two days, but Wexford will be rooting to come bigger and better again in May and June whenever we are facing them."
The42 is on Instagram! Tap the button below on your phone to follow us!