TALK ABOUT NOT resting on your laurels.
After being named as the Guinness Rugby Writers' Player of the Year last night, CJ Stander says he's aiming to improve in order to avoid becoming just "part of the furniture".
It was a big year for the Munster man who was handed the captaincy of his province, made his Test debut in the Six Nations and was part of the Ireland side that recorded a first-ever win over the All Blacks in Chicago earlier this month.
However, far from basking in the praise, Stander is keen to see how he can improve his game.
"Yeah, it's good to get (the award).
"I think when you're a younger boy you go through a stage where you want to get a lot of pats on the back but when you get older and you get into a team you just want to perform for all the boys and for the team to help them win. That's really my biggest drive.
"It's been a great year, an unbelievable last three years and I've worked hard to get to the place where I am now. The biggest thing for me now is to drive on from there and not settle or be part of the furniture. You always have to push on and create something new.
"My dad always used to say to me 'your boss is only getting born', that someone is stepping up to make life difficult for you. He used to say it in Afrikaans but it means that the guy who's going to push you out of your position is only over your shoulder.
"So that's a big drive for me not to think I've done enough. I just want to keep on performing for the team, that's important for me, and lead a few teams."
While Stander experienced the highs, 2016 also brought the most crushing of lows with the sudden death of Munster coach Anthony Foley.
"I would say this last year has also been one of the toughest years of my rugby career with all the stuff that happened. It was difficult just being in a team needing to win week in, week out just to qualify for Europe.
"Then going out to South Africa to perform and then not getting the chance. At some stage you'd probably start doubting yourself but I've learned, for myself and from other people, to go from week to week and put it all behind you.
"The passing away of the big man, Axel, was very tough and I won't put that behind me."
Be part
of the team
Access exclusive podcasts, interviews and analysis with a monthly or annual membership.
Become a Member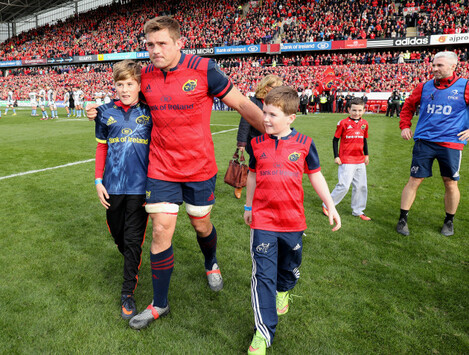 CJ Stander with Anthony Foley's sons Tony and Dan. Source: Dan Sheridan/INPHO
In the wake of Foley's death, Rassie Erasmus has had a bigger role to play for Munster and Stander can already see his impact.
He's an unbelievable coach. He knows what other teams are going to do and bring before they get onto the pitch so you know by Monday what to do, the same thing as up here.
"He brings a lot of passion and he's honest. I think that's the biggest thing about him.
"And then you get Jacques who's so passionate about defence that you can feel it. I like passion and he brings it to defence; Jerry Flannery with the scrums and Felix, he was playing the game a year ago and now he's stepping up and he has that passion, you see him jumping up and down in the coaches' box.
"I just feel that we last year lacked a bit of confidence and the management have brought that back in.
"After Axel's death I think we realised that we're here now, we disappointed ourselves last year but we have an opportunity to do something.
"If it's to play for Axel or if it's playing for yourself or for the management or play for our jersey, that's back. That's something that I think we lacked a bit last year but it's come back.
"It was the worst week and the worst day for everyone when Axel passed away but it's as if he's still around us and he's reunited us as a team.
"Everyone's together whereas before, if you walked in two years ago and you saw an academy guy you might just wave. Now we're in the one centre and everyone knows everyone's name and we're all in one changing room and it's a different vibe. It's great to have.
"So it was one of the toughest weeks but I could see boys turning into men. It was something a lot of people will never experience again in their lifetime and I think the group learned massively out of it.
"It just shows, I think it united the team, that whole week."