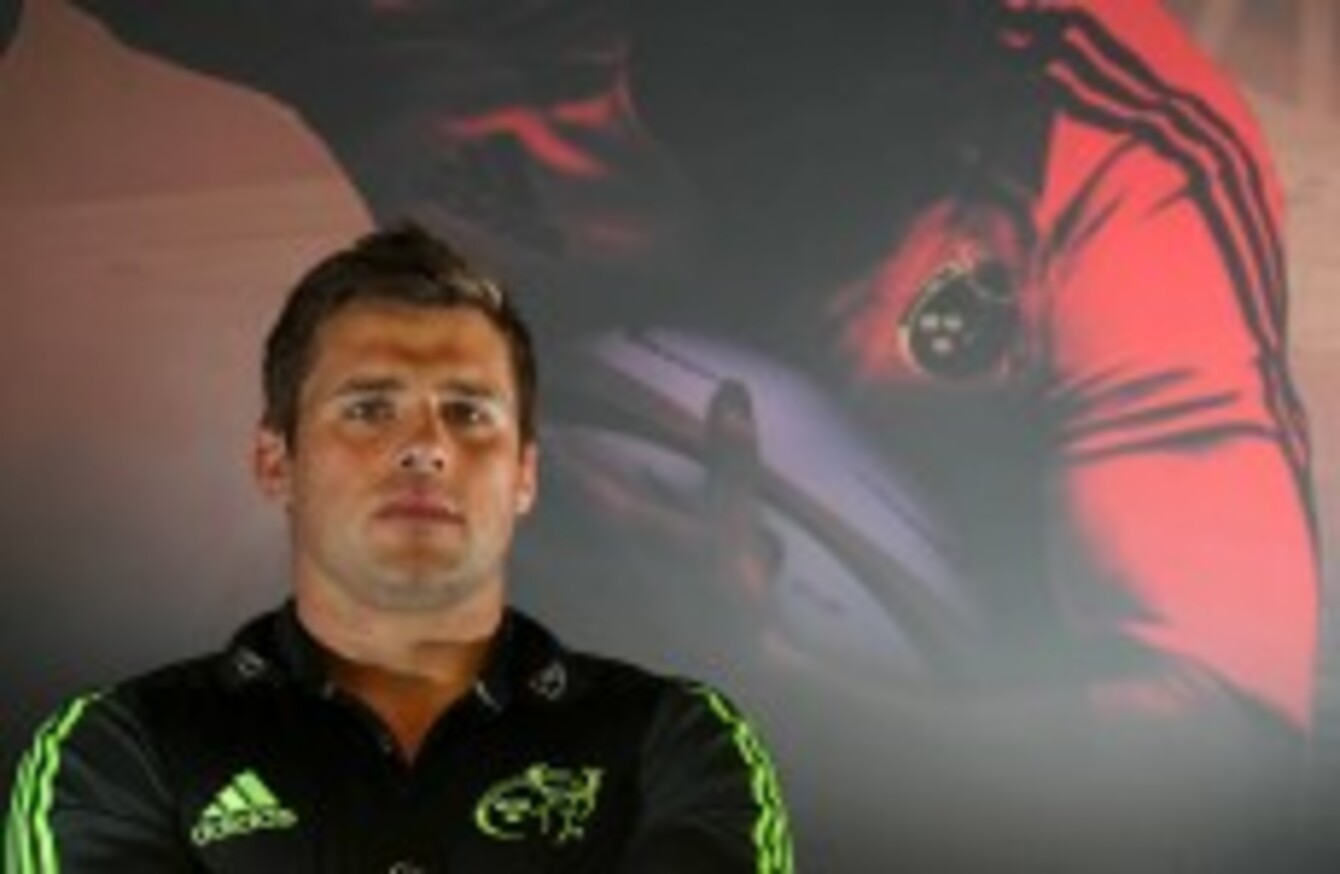 Stander has trimmed down to 113kg this season.
Image: Dan Sheridan/INPHO
Stander has trimmed down to 113kg this season.
Image: Dan Sheridan/INPHO
AFTER A HANDSHAKE that redefines the term 'firm,' CJ Stander pulls up a stool at the newly-refurbished Dug Out Bar in Thomond Park to discuss his progress as a player and optimism ahead of the 2014/15 season.
Weighing in at a reduced 113kg heading into the new campaign, the South African back row is an impressive physical specimen, as well as an affable character.
Having been in Ireland for almost two years now, Stander has grown to appreciate the change of culture, while bringing a South African touch to his abode in Limerick.
"You miss home a bit, but me and my wife feel so comfortable here we call this place 'home,' you know?' begins the George native. "We do our stuff on weekends; we have our friends outside rugby.
I miss home because I just miss the farm, that's it [laughs]. Otherwise, I fell in love with this place. I've got a guy who built me a nice braai and I've got a nice butcher who makes my South African sausages and meats, so I'm sorted on that side."
Happy off the pitch, Stander acknowledges that he has important strides to make on it this season, matching up to what is, as always at Munster, "a lot of competition in the loose forwards."
After 60 minutes of action in the pre-season friendly defeat to Gloucester and a 70-minute "hit out" against London Irish last weekend, Stander is hopeful of a Pro12 start this weekend against Edinburgh.
The 24-year-old admits that he has not reached the level of playing ability he desires, and the only way to do so is to start games. Stander has specific areas of focus for improvement this season:
"I think you can always work on your defence, for sure. For me, my breakdown, I can be more competitive there and get more turnovers. Just maybe line-out, I think I'm a good option, but I can be a greater option or a better option.
I think they are two places, and my work-rate around the pitch. I just need to be the best worker I can be in every game."
Stander has been a player who relies on his physical prowess from the moment he first picked up the oval ball, and that won't change in the future, even as he adds the more subtle skills to his armoury.
The back row never has an issue with packing mass onto his 6ft 2ins frame. Indeed, he admits to having trimmed down during pre-season and feels his explosive pace has returned as a result.
"When I arrived here [in 2012], I picked up a good weight. This year, I feel very comfortable and I've done a good pre-season. I'm 113kg now. I played at 115kg last year, but I think at 113kg I'm more mobile. I've got that speed I had before; I've got that back with a lot of speed work.
"In the gym, strength-wise, I feel good. I've had a good year and I had a good hit out against London Irish with some good carries. I'm looking forward to more."
Stander says his current positional preference is the blindside flank, although he has been working with former Ireland international and current Munster head coach Anthony Foley on some of the skills needed to thrive in the eight jersey.
"We've had the chance to have a chat and work on footwork around the base of the scrum, stuff like that," explains Stander. "He's taught me a lot of new things in that department and it's good to have a guy like that to teach you the ropes.
"I want the ball, I want to carry. I prefer playing six right now as there's a lot more ball in your hands coming around the corner. I haven't really had the chance to play a good game at No. 8 for Munster. Hopefully I get a chance to get a run there."
Hovering in the background of Stander's every move with Munster is the fact that he qualifies to play for Ireland in 2015. The former South Africa U20 captain has previously stated his desire to line out for his adopted nation and nothing has changed in that regard.
It will always be in the back of your mind. You want to play on the best stage, in the best jersey you can. So at this stage, I just want to be the best player I can be for Munster and the players around me, improve on my game in every game.
"When that day arrives and I'm good enough, if I can get picked… it's the future and you can't really predict that. I just want to be the best I can be now."
Stander is mature enough to realise that any chance of being capped for Ireland is dependent on his Munster form, meaning he will need to wrestle first-choice status from his back row competition in the southern province over the next year.
"Coming here, I said to myself, 'You're like a junior walking into the seniors and you have to work your way up again.' You always want to be better, so we'll see what happens this season."