FIRST STEVE NASH shows up for NBA duty with the Lakers looking like a public television talk-show host from 1984, then CJ Stander does this.
The South African flanker landed in Cork yesterday but not before announcing his imminent arrival via Twitter.
He showed up at Munster's University of Limerick training facilities to meet his new teammates but there was no mud-chewing action at the base of a ground-churning scrum.
The former Bulls player chatted with coach Bryce Cavanagh and signed autographs on Munster kit for the province's media officer Pat Geraghty before observing his new teammates in action.
He was given some fresh tracksuit tops to throw on before meeting head coach Rob Penney, who surely lectured him on the strict dress code at Munster Rugby.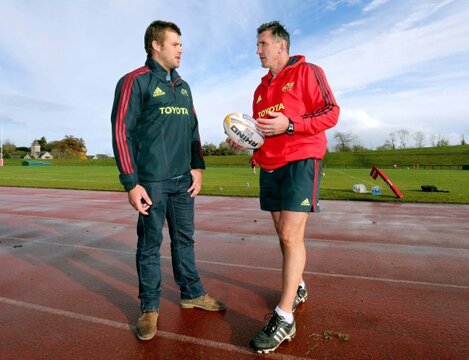 "Far too stuffy mate." (©INPHO/Lorraine O'Sullivan)
Penney remarked back in September, at the official Heineken Cup launch in Dublin, that he would be wearing his customary Munster shorts until November at least.
It will be interesting to see if he wraps up the pins for the winter, starting tomorrow.