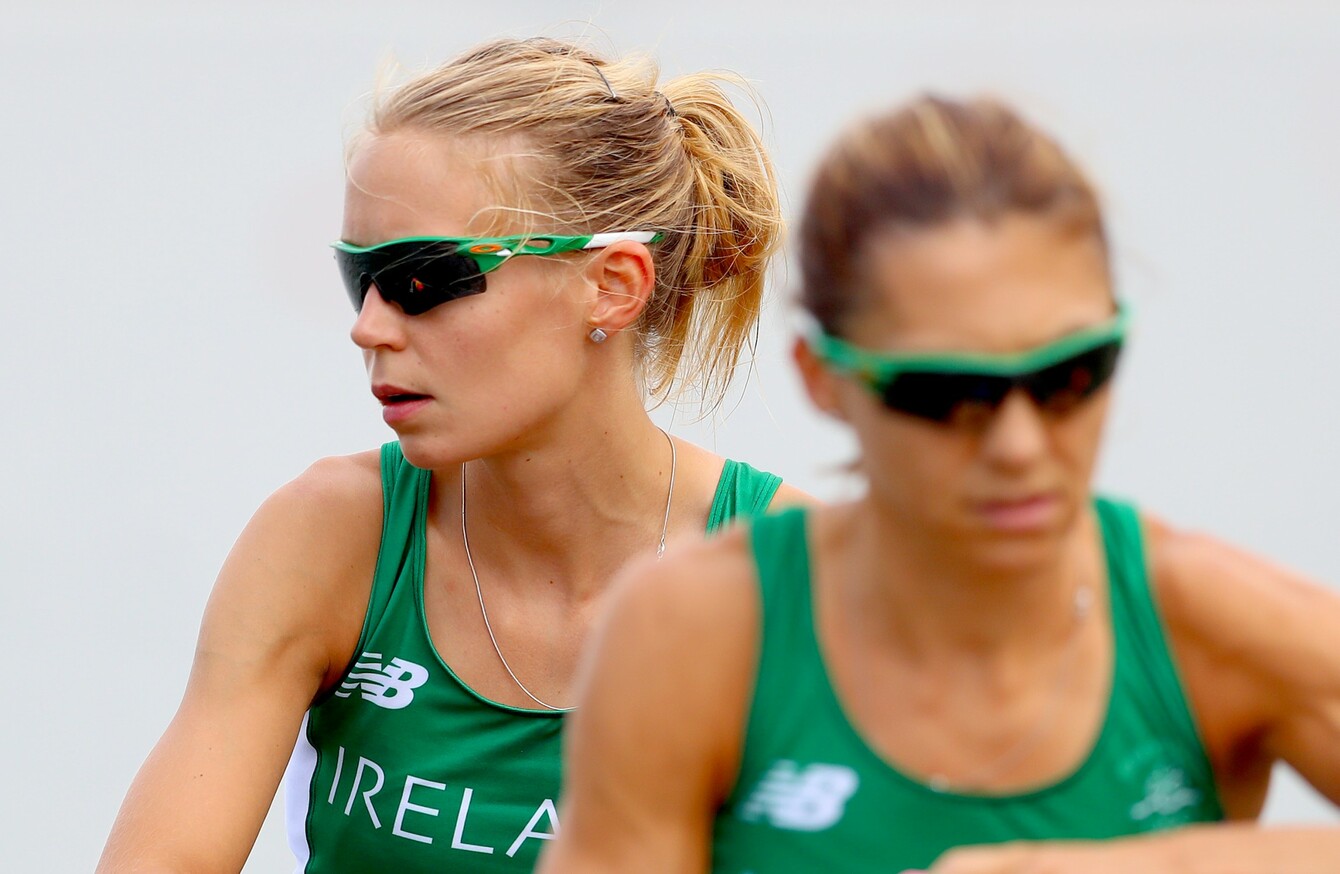 Claire Lambe (left) represented Ireland at the 2016 Olympics with rowing partner Sinead Lynch (right). Last week, she became the first Irish international to be part of winning team in the Boat Race.
Image: James Crombie/INPHO
Claire Lambe (left) represented Ireland at the 2016 Olympics with rowing partner Sinead Lynch (right). Last week, she became the first Irish international to be part of winning team in the Boat Race.
Image: James Crombie/INPHO
Updated at 08.23
CLAIRE LAMBE IS unlikely to be accused doing things the easy way anytime soon.
Along with her rowing partner, Sinead Lynch, she came sixth in the Women's Lightweight Double Sculls final at last summer's Rio Olympics.
And while Olympians often take a down year immediately after representing their country on the biggest stage, the past few months have been anything but laidback for Lambe.
Last Sunday, the Dubliner was part of the Cambridge team that triumphed in the 72nd edition of the Women's Boat Race.
Lambe and co prevailed in style, winning with a record time of 18 minutes and 34 seconds, and ending a run of four losses on the trot to their rivals Oxford.
"It was such a fun day. Going to Cambridge, I didn't realise how big the boat race would be," she tells The42.
After coming back from Rio, it almost felt like a smaller fish. At times, it was probably even hard to see it on the grand scale that the girls were.
"But the week leading up to it and the race on the day itself made me realise that this really was a big deal and a big event.
The girls had been disappointed on so many occasions over the last few years when Cambridge lost. You could see when Oxford came in and were so good at it, it just made you realise how good it was to be on the right side of it."
Having earned a degree in mechanical engineering at UCD, Lambe is now spending a year undertaking an MPhil in Engineering for Sustainable Development at Homerton College.
Studying at Cambridge and competing in the illustrious Boat Race had been a long-term ambition for the multi-talented 26-year-old.
Rob Baker, previously Lambe's coach with the Ireland U23s and who is now in charge of the Cambridge Women's team, had shown her around the college and encouraged her to apply as far back as 2013.
Yet having suffered the heartbreak of narrowly missing out on the London 2012 Olympics, Lambe's focus was firmly fixed on qualifying for the Rio Games, with all other plans put on hold until its culmination.
Coming down from the highs of an event like the Olympics, particularly after performing so impressively as Lambe and Lynch did, is an experience that athletes often find difficult to deal with. But having learned of her successful application to Cambridge as far back as February of last year, Lambe knew she would have little time to reflect or ponder her next move after Rio.
"We did a lot of workshops with the Irish Sports Council and they were always pushing that you had to have a plan for as soon as the Olympics is over," she says.
You need to have a plan for afterwards and a new goal as soon as you can. A lot of people were like: 'I'll take the year out and go travelling, enjoy a bit of freedom.' I personally needed something big to distract me from Rio being over and to get my sights on something else.
"I guess coming back to college was a very big challenge for me because I had been three years out of education. And I could still do the sport I enjoy so much in a completely different way — being part of a team in Cambridge is immensely different from being part of Irish rowing in Cork where it's very small, the team was never bigger than the athletes at any one time over the last three years. Whereas straight away (at Cambridge), I came into a squad of 25 girls and was rowing in (a team of) eight as well. It was just a completely different challenge and that was kind of fun too."
Lambe got "different perspectives on how things are done" on a team that included rowers with completely different backgrounds and nationalities — her boat included athletes from New Zealand, France and Canada.
But as unique and thrilling as the experience was, it was also difficult at times. While training sessions were shorter and not quite as physically demanding as her Olympic preparations, combining two sessions a day with her course's intensive study demands proved challenging.
I always felt on the backfoot coming into it," she admits. "Many of the people on my course also have a lot of work experience as well and academically, they're definitely high achievers, so I was always kind of struggling to keep up with that."
Be part
of the team
Access exclusive podcasts, interviews and analysis with a monthly or annual membership.
Become a Member
From a technical viewpoint, too, representing Cambridge was unlike anything Lambe had ever experienced previously.
"One of the biggest challenges was the fact that I'd always been a more natural sculler than a sweep rower. When I came over, Rob wanted me to switch sides. So in rowing, you're either a stroke sider or bow sider, and I'd always been a stroke sider when I rowed for UCD.
But when I came here, he already had quite a strong group on stroke side, so he asked would I switch over to bow side. Straight away, I was a pure novice in the boat. Other than the Olympics, it was probably one of the most difficult things I've done in rowing, to try to switch sides.
"I'd been at such a high standard. But I was getting into boats like I was a complete novice. I could tell I was upsetting the balance in the boat because I didn't really know what I was doing, whether my blade was in the water, out of the water. There were definitely plenty of times where I was like: 'Why am I doing this to myself?'
I'd built up so much pride off going to the Olympics and then here I was. People were probably hoping they wouldn't put me in the boat because I was only going to upset it. Luckily by Christmas, I was sort of getting the hang of it. Although I was quite novice-y, still when I was put in boats, we generally did quite well, so that kind of just kept me going.
"But it was a different kettle of fish after Christmas and the training camp, I really started to enjoy it an awful lot more. The aim was getting close to selection there and with the squad of girls, the last few months was so much fun — really good banter and they're a real good bunch of girls."
The Cabra native has come a long way since her early struggles in adapting to a new life last September, admitting she initially suffered somewhat of a post-Olympics slump.
At the time, I found it hard to stay motivated," she says. "I was training as part of the Irish team and was an undergrad in UCD. When it came to the point in Cambridge where you're getting up ridiculously early in the morning, I did have that feeling of 'Oh Claire, you've done this already, why are you doing it again? You got what you wanted out of it. Yet here you are at 26, still setting your alarm for five in the morning and being knackered throughout the day.' So motivation was very difficult in the first month or two, but you know it pays off and it really did last weekend."
Not only was Lambe the first-ever Ireland international to taste victory in the Women's Boat Race, she was also the first female athlete to triumph at the event after competing in the Olympics. Such status ensured she was always very highly thought of in the eyes of her team-mates.
"I was so disappointed to not complete the project of winning a medal (in Rio). But coming over here and seeing the respect I've had from the girls for making an Olympic final — I guess that put it into perspective. Every single one of them would aim to reach that level. So to kind of say 'I've done it' made me realise more and more what I had achieved. That was pretty cool."
With her Cambridge course not finishing up until the end of August, Lambe probably won't have the time to race internationally this summer, though representing Ireland and potentially competing at the Tokyo 2020 Olympics are very much part of her long-term plans.
She still remains close friends with her Rio partner Lynch, though with the latter undertaking "her GP training, working crazy hours, (raising) the kids and still doing a bit of training on the side," Lambe explains that her fellow rowing star is one of the few people "probably even busier than me," so opportunities to catch up are few and far between these days.
Lambe and Lynch will, however, be competing together for the first time since Rio in a charity cycle later this month. The pair are doing a stage of an event from Malin to Mizen in aid of Hugh's House, which provides accommodation 365 days a year to the families of children who are long-term inpatients of Temple Street and the Rotunda Hospitals. With the organisation run by a dedicated team of volunteers, the event aims to raise €40,000, which would be enough to keep the house open for a year.
Seven months on from the pair's Olympics achievement, Lambe reflects on proceedings with a largely positive outlook, even if she is not wholly content, owing to their inability to take home medals from the event.
I guess you can't really prepare (for the Olympics). In the years leading up to it, I was thinking: 'Oh my God, imagine you're in an Olympic final or a semi-final and you knew you had to pull it out of the bag, you'd be so nervous.'
"I was probably surprised at my sense of calm and control over the whole thing. Myself and Sinead were always in such a good state of mind about every aspect of it. We made sure we enjoyed the experience as well as getting the best out of ourselves.
"I probably surprised myself in how well I handled it all and especially on the semi-final day, we really did get the best race out of ourselves against people we hadn't beaten before to make sure we got in the final."
The42 is on Instagram! Tap the button below on your phone to follow us!