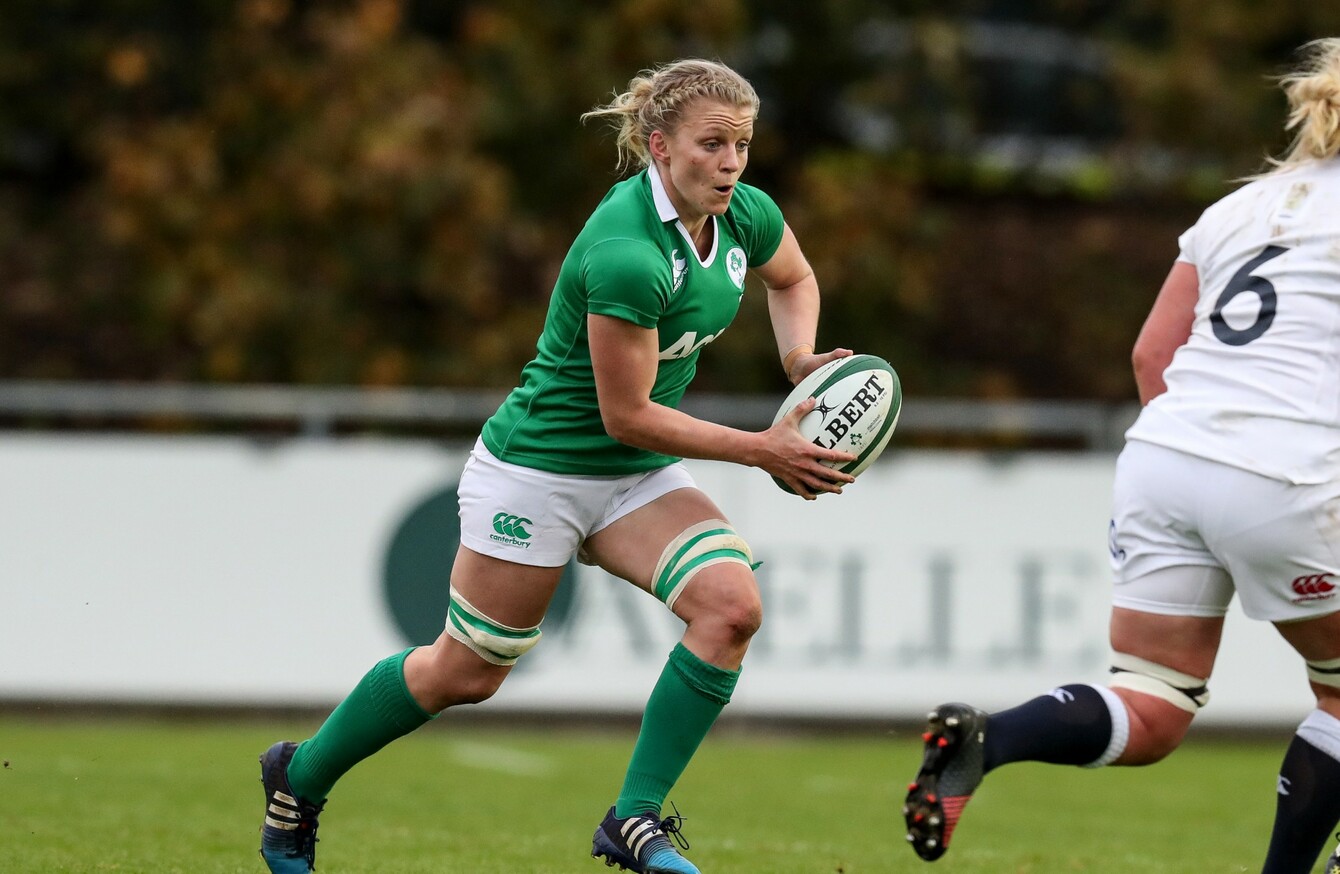 Claire Molloy is looking forward to Ireland's last November Test this weekend.
Image: Billy Stickland/INPHO
Claire Molloy is looking forward to Ireland's last November Test this weekend.
Image: Billy Stickland/INPHO
WHEN YOU ASK Claire Molloy if the Irish Women's rugby team can repeat the accomplishment of 2014 and beat New Zealand again, her definitive answer is "Why not?"
There's a strong argument to go with her belief. No delusions. No disrespectful remarks about the Black Ferns. Just facts that happen to make for pleasant reading if you're an Ireland fan.
Molloy lined out for the Irish side who earned that famous win in the World Cup. It's "burnt into" her memory, which would explain why her face creases with a smile when she explains her theory.
"The players who played that game have confidence," she told The42, "and are thinking: 'we've never lost to New Zealand' and there's not many people who get to say that.
I think that's something we'd like to keep hold of. We've seen the lads who have had that opportunity and we've seen how difficult it is to beat a New Zealand side and to beat them again. The Black Ferns that were involved in that fixture will remember that that was the game that knocked them out of the World Cup."
Ireland have a 0-2 record heading into this final November Test but the scorelines appear to be secondary to the fundamental concept behind the Series and it's importance to their World Cup preparation.
"The Autumn Series gives you a chance to try out different combinations against really tough opposition. The turnaround in the Six Nations is two weeks so it's not quite as clustered as a World Cup so you don't get that match day experience of having that quick turnaround and having to get the bodies right."
"I think we're showing a more attacking edge that we didn't show last year so it's been invaluable experience against the top teams in the world."
"Having been to two World Cups, the four-day turnaround is hectic, it's very hard on the body. As well, there are going to be injuries and knocks and you have to readjust. It's a squad effort that's going to win a World Cup and a Six Nations."
Based in Wales, Molloy is a doctor covering the A&E circuit with a view to becoming a consultant in the future. The Galway native began playing rugby at college in Cardiff and after her first year in University, Molloy returned home where she found a useful resource in the Connacht men's rugby team to keep her own skills in check.
"That was the 2010 World Cup so I got involved with Connacht after my first year of club rugby in Wales and played three inter-pros with them while continuing to play my day to day rugby in Wales."
"Myself and Carol Staunton were training away and Connacht were very kind to us, we got S&C (strength and conditioning) there and they invited us in to have a crack with the lads."
"It was brilliant, really fun. I remember Carol Staunton stepping Johnny O'Connor and the lads got some enjoyment out of that. I haven't been home since then really to get a chance to play with them again. With my University, I got longer terms 11 or 12 months, but I know the girls are getting access to the facilities and are getting fantastic support. Bundee Aki has done some skills sessions with them as well."
Trying to integrate the commitments to an international rugby team with a doctor's demanding schedule can be a tricky endeavour. Molloy however, appears to have found a balance. After three years of working on a full-time basis, the job is giving way somewhat, to allow her to focus on her sport.
"I've had to dial it back this year and I threw in the towel with the full-time.
"This is my fourth year qualified – I did the first three years full-time and went to the rota people and said: 'these are the weekends to swap' and very kind colleagues have swapped. That has become less sustainable in the last two years because the nature of your responsibilities increases."
"We've had much more contact time over here, more camps and friendlies. I looked at the schedule and looked at my rota and saw that potentially I was gonna have to be in Ireland 26 weekends of the year. I was going to be in A&E working one and two weekends so I had long chats last year and negotiated a part-time deal for the year."
"I've worked out a Tuesday, Wednesday, Thursday working week and occasional long shifts and a couple of weekends every three months."
Further adjustments to her working arrangements may have to be discussed in advance of the World Cup next year but that's a dilemma for another time.
The Black Ferns could well provide opposition at some point during the World Cup, meaning today's meeting in the UCD Bowl (2pm) could ultimately amount to a dress rehearsal. A 20-10 victory over Canada during the week gives them momentum heading into the tie, but to reiterate Molloy's earlier question 'why not?'
"It's just about belief, the atmosphere in camp. The game against England is something akin to what we had before the game in 2014. People are feeling good in camp on and off the pitch."
"They won't underestimate us, they want a clean sweep in this tour so everything's to play for them as well so I expect they'll put out a strong team against us. They've played two games in four days so there are going to be knocks and potential niggles and injuries that may change their selection but it's gonna be a strong side we're facing."
The42 is on Instagram! Tap the button below on your phone to follow us!