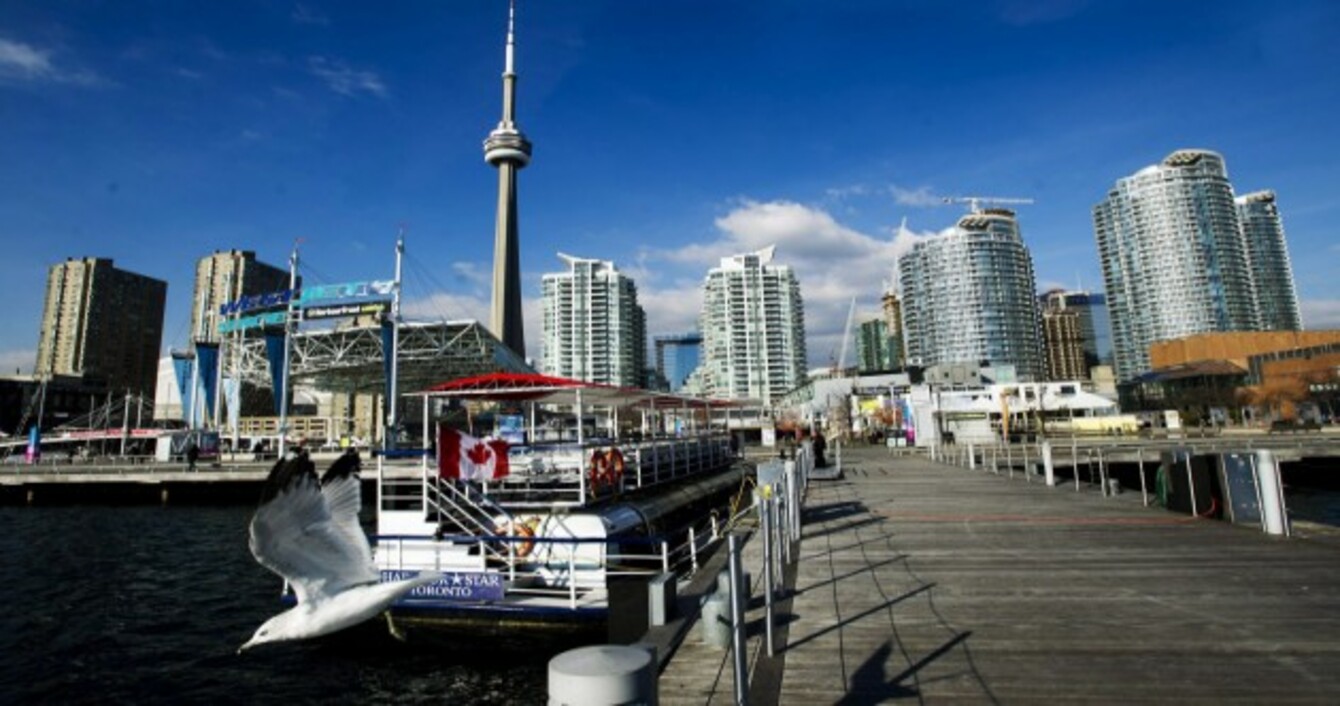 Toronto's Harbour Front.
Image: Nathan Denette/The Canadian Press/Press Association Images
Toronto's Harbour Front.
Image: Nathan Denette/The Canadian Press/Press Association Images
WE'VE ALREADY TOLD the story today of the Cork fan travelling from Burma to make Sunday's All-Ireland senior hurling final.
But there's plenty Clare supporters making long treks to reach Croke Park on Sunday afternoon as well.
One such fan is Mairead McNamara from Bodyke in Clare, who is making the 5,249km trek this weekend from Toronto, where she works as a doctor, to Croke Park.
Here's her itinerary:
September 6th

- Fly from Toronto Pearson (8.40pm) to London (8.35am – Saturday)

September 7th
– Fly from London (11.05am) to Shannon (12.30pm)

September 8th
– Drive from Bodyke in Clare to Croke Park for match

September 9th
– Fly back from Shannon to London and on to Toronto, arriving Tuesday morning
So why is she embarking on the trip home?
"I have been at all the All-Ireland's that Clare have been in since I was born (1995, 1997 and 2002) so I couldn't miss one now.  In my line of work, you are reminded daily that there is no point having regrets when you have the chance and are able bodied.
"I watched the Clare v Limerick semi final in a pub in Toronto.  When I got there at 10.20am, the pub was still locked, even though I had rang the previous evening to make sure they were showing the match. The cleaner came out and got manager and he let me in.
"You have to pay 20 dollars to watch it here. A Dublin and Leitrim man were my company watching it!  It was RTE 2 coverage and we got to see the chat beforehand. My sister Denice was sending me pictures from Croke Park also.
Clare's Fergal Lynch and Conor McGrath in action against Paudie O'Brien of Limerick
Pic: INPHO/James Crombie
"My dilemma was then, what to do about the final.  I was due to be on call (on duty) the night of Friday September 6th and that would mean having to fly on Saturday September 7 when I came off call, arriving in to Dublin then the day of the match.
"My boss is also away on Monday September 9, and I was due to cover for her. I got a girl from Tyrone to do my call Friday night and a girl from Hong Kong to cover for me Monday, so then I booked my flight home!
"It is difficult for the people here to understand our interest in hurling, so I try to explain that Clare being in the All-Ireland is like their ice hockey team (they say hockey only, don't appreciate that there is field hockey also!) – The Maple Leafs, being in the Stanley Cup final.
"The Maple Leafs last won the Stanley Cup final in 1967.  They reached the play-offs this year (2013) and there was so much excitement about it, but were beaten by the Boston Bruins who eventually contested the final and were beaten by the Chicago Blackhawks."
Let us know of what other trips Cork and Clare fans are making to get home for Sunday's game.