Updated 16.35pm
CLARE HURLER JOHN Conlon was released from hospital late last night after suffering concussion during yesterday's Munster semi-final in the Gaelic Grounds.
But Clonlara club man does not remember much of the game that he only lasted 19 minutes in, before being forced off as a result of the heavy challenge.
TheScore.ie understands that he is doubtful as a result for Clare's All-Ireland qualifier Phase 2 clash at home to Laois on Saturday July 6th.
Conlon sustained a heavy challenge early on in the clash against Cork close to the sideline near the Mick Mackey Stand at the Ennis Road venue.
Although he attempted to play on, concern amongst the Clare management and medical teams resulted in him being substituted with Aaron Cunningham introduced.
Conlon's blood pressure was extremely high and he subsequently went to hospital before being released late last night. Conlon is currently recovering at home after the challenge and is still feeling groggy.
Manager Davy Fitzgerald expressed his annoyance after the match with the incident.
"I talked to him once and I knew – I said it to the lads that we need to get him out of here now. John said, 'leave me two minutes', but I knew he wasn't right.
"Would you not think safety of players is the most important thing that's out there, no matter what? The doc was very worried about him at half-time, his blood pressure was up unreal.
"It was the second time – he was got going up the sideline as well. The sideline guy said he knew but he couldn't say anything to the referee."
"Winning and losing games – we'll hurt for a day or two and we'll get over it but my God, it (the clash which led to Conlon's injury) was brushed under the carpet and it was plain for everybody to see that he was in trouble.
"The most important thing is John Conlon's okay. He's an absolutely fantastic young fella."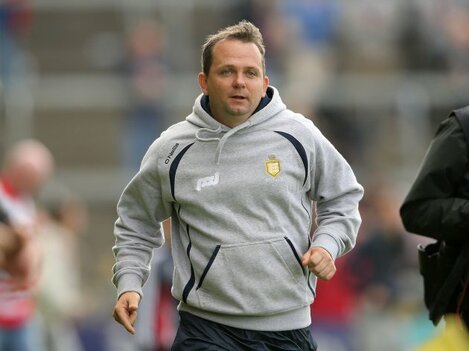 Clare's Davy Fitzgerald
Pic: INPHO/James Crombie
When asked about the number of frees awarded against his team by referee Barry Kelly, Fitzgerald's unhappiness was clear.
"What would you honestly think, looking at it? You might as well answer me; you know how I felt. Soft? We won't go there. I'm not going into it.
"If you say anything you're going to be accused of not taking a beating so I'm going to leave it but I won't be leaving it when I get a chance to correct it properly with the people that matter."
The Clare boss did pay tribute to their conquerors Cork.
"Hats off to them. I never thought they were a bad team. They got to a (All-Ireland) semi-final last year and a league final and weren't that bad. All of a sudden they were being written off.
Clare were beaten and Cork were the better team, fair play to them."