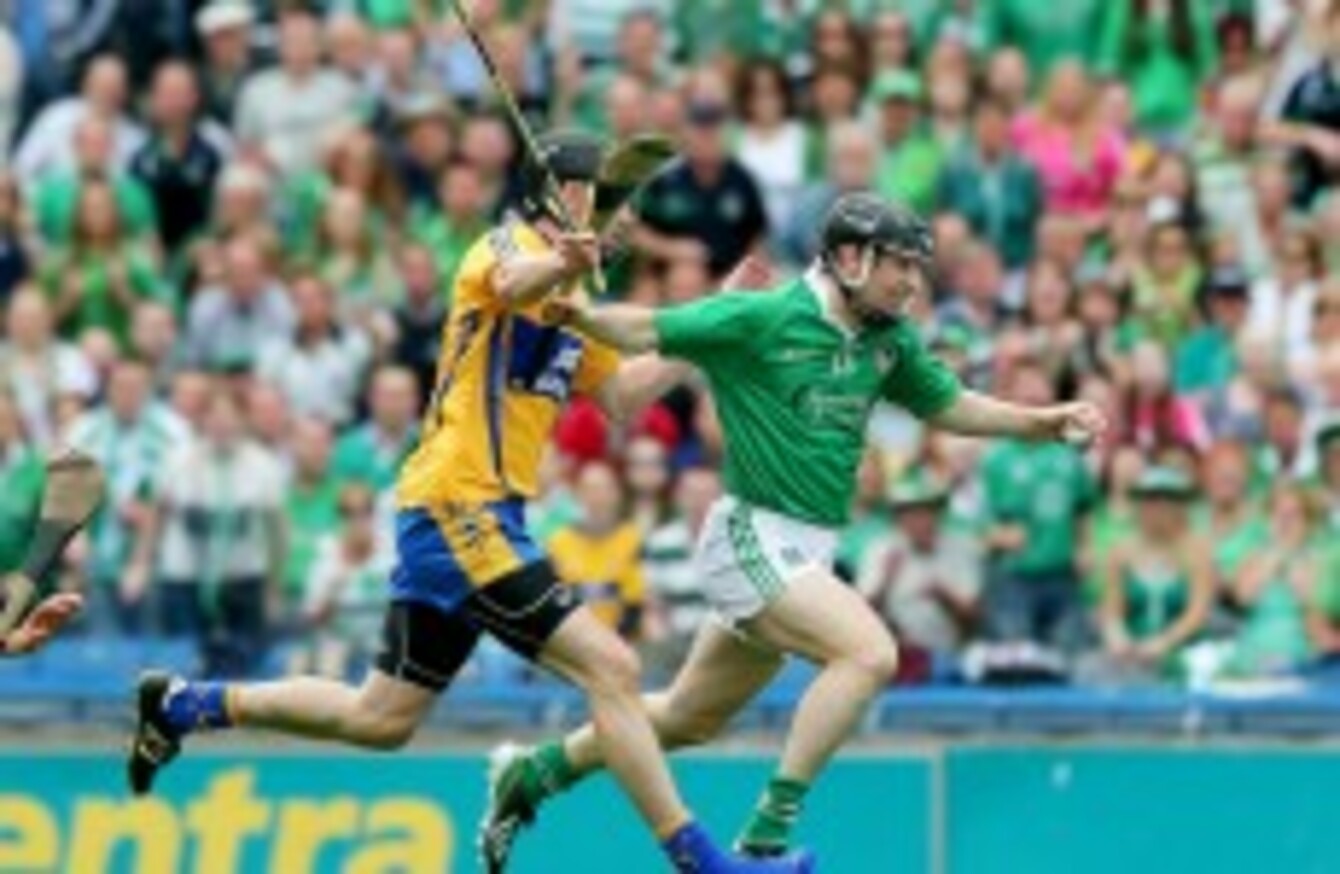 Clare's Patrick Donnellan (left) and Graeme Mulcahy will go head to head again on Sunday.
Image: Lorraine O'Sullivan/INPHO
Clare's Patrick Donnellan (left) and Graeme Mulcahy will go head to head again on Sunday.
Image: Lorraine O'Sullivan/INPHO
1. The goalkeepers
Limerick manager TJ Ryan has handed a championship debut to Barry Hennessy ahead of Aaron Murphy, with the Kilmallock netminder stepping in for injured Nickie Quaid.
Since 2011, Quaid had enjoyed an unbroken run of championship games and that helped to provide real solidity in the Limerick defence.
With a new goalkeeper, and Stephen Walsh back in the Limerick full-back line after missing 2014, Clare will look to exploit any jitters close to the opposition goal.
Source: Irish Flukey/YouTube
It's a massive game too for Patrick Kelly, Clare's 2013 All-Ireland winning goalkeeper.
Kelly was edged out for the Munster championship defeat to Cork last year by Donal Tuohy but reclaimed his place before the end of the season.
With ball in hand on at least 20 occasions per game, how the last lines of defence use it will be central to the respective gameplans.
2. Clare need leaders
Clare could be missing a third of what would be considered a first choice team on Sunday.
Brendan Bugler is suspended while Colm Galvin opted to spend the summer in Boston.
Podge Collins decided to concentrate on football only this year and Conor McGrath is set to miss out through injury.
Source: MarcasOCallanain/YouTube
Cian Dillon and Conor Ryan remain injury concerns and boss Davy Fitzgerald will need other players around the pitch to step-up to the plate.
Fitzgerald needs other star names such as Tony Kelly, Colin Ryan and John Conlon to deliver big displays.
3. The midfield battle
The war between the two 65m lines, and who wins it, is a key factor in Sunday's tie.
Clare will look to pack this area with bodies but Limerick have the personnel to compete.
James Ryan, who put in a massive hit on Clare boss Davy Fitzgerald in 2012 (below), and Paudie O'Brien are listed to start in the middle.
And they will receive ample support from wing-forwards Donal O'Grady and Paul Browne, who boast plenty of midfield experience.
Source: Conor Ryan/YouTube
With Colm Galvin in America, Clare are lacking in this department and Fitzgerald will need a dynamic figure to partner Patrick Donnellan there.
Donnellan is expected to be named at midfield but Fitzgerald could consider the option of listing him at centre back, allowing the more abrasive Conor Ryan to push further forward.
4. The championship debutants
Limerick have named three newcomers in their side – Barry Hennessy, Cian Lynch and Seanie O'Brien, who has been handed a first start.
How they adapt to the white heat of championship fare will prove vital and with so many key names absent, Davy Fitzgerald will rely on some new faces in his starting line-up.
O'Brien has flirted around the edge of Limerick panels in recent years but has shown excellent form for Limerick IT in the Fitzgibbon Cup, and is a player that Fitzgerald will know plenty about.
Source: kelvin lynch/YouTube
In attack, Lynch will bring a real X-Factor and the two-time Munster minor medallist was fast-tracked to the senior ranks.
Fitzgerald will hope that he has one or two aces up his sleeve and with the pick of Clare's three-in-a-row All-Ireland U21 winning teams to choose from, there's a vast reservoir of talent at his disposal to plug the gaps.
5. The goal threat
The old adage that goals win games could certainly apply in Thurles and Limerick boast an inside trio of Graeme Mulcahy, Shane Dowling and Lynch, players who know where the back of the net is.
But Clare are missing their ace goal-getter Conor McGrath, who Fitzgerald privately rates as the best forward in the country.
Source: MarcasOCallanain/YouTube
David Reidy is a diminutive corner forward capable of causing the Limerick inside line plenty of problems but Fitzgerald needs a focal point in attack.
The dilemma he will have grappled with is whether to deploy Tony Kelly in attack or midfield.
Kelly also has an eye for goal but Fitzgerald will surely feel that the 2013 Hurler of the Year is needed more around the middle third, to carry the fight to Limerick.
6. Fear of failure
This is a massive game for rival managers Ryan and Fitzgerald and defeat is not an option.
Both men oversaw disappointing League campaigns as Limerick failed once again to claim promotion from Division 1B, while Clare were relegated from 1A.
Anything less than an All-Ireland semi-final appearance would represent a backward step for Limerick, who ran Kilkenny desperately close at Croke Park last August.
Source: HurlingGoals/YouTube
But a championship victory of any sort would provide Clare with huge momentum, as they lost to Cork last year in Munster before Wexford knocked them out of the qualifiers.
The back door route wouldn't be the end of the world for Limerick or Clare, as the winners would still have two fences to jump before lifting the Munster trophy.
But defeat would leave massive psychological scars and the direct route is very much the way to go.