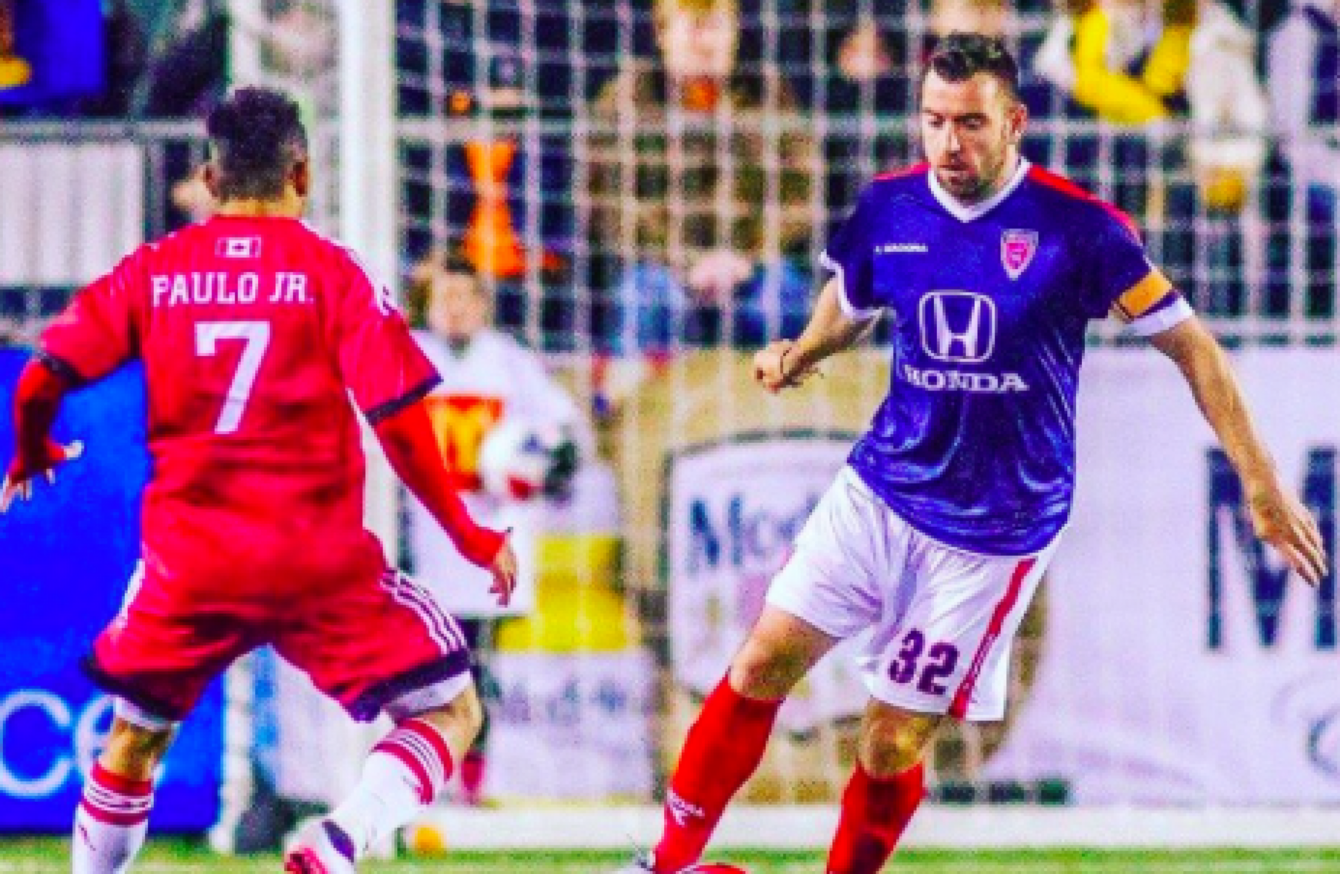 COLIN FALVEY IS still a little cut up about the way his season ended last year.
But, as is commonplace in North American football circles, so much can happen in a short space of time.
Last November, he was a key ingredient in an Ottawa Fury side – captained by former Sligo Rovers midfielder Richie Ryan – that reached the NASL (North American Soccer League) final. The team, playing in only their second season, had enjoyed a remarkable turnaround after a difficult opening to the campaign but suffered a 3-2 defeat to the storied and iconic New York Cosmos in the championship decider.
Afterwards, there was little time for reflection as the Fury side was ruthlessly dismantled. The highly-regarded coach, Marc dos Santos, left and was quickly followed out the door by Ryan. Another NASL side, Indy Eleven, made enquiries about Falvey and signed him and two more of his Fury team-mates.
Another new place, another new team, another new start. But later today, at Belson Stadium in Queens, Falvey will lead Indy out in the 2016 championship final – rather poetically against the Cosmos.
"I signed for two years and I thought the second year would be the one where we'd have a chance of winning the championship because it was going to take time to build a new team and revamp the whole squad", he tells The42.
"But it's been one of those seasons when all the pieces have slotted into place quite quickly. It doesn't really matter to me who we play in the final but there is that little thing in the back of your head that it would be nice to get my hands on a winner's medal this time around, especially twelve months later and in New York again.
There is a little chip on my shoulder, if you want to put it that way."
Falvey's career has taken him from Cork to Indianapolis via stops in Kilkenny, North Carolina, Dunedin in New Zealand, Charleston and a brief stint in India with the Kerala Blasters. But North America has been kind to him since he first arrived in 2009.
It's been a relentless slog in the lower tiers of the continent's football pyramid but a rewarding one. He's won silverware at each of his clubs. And he's been a standout performer – an MVP with Wilmington – his first US club, captain and fan favourite in Charleston, a crucial cog in the Fury's dramatic resurgence and, now, a skipper again at Indy.
In the semi-final victory over FC Edmonton, he went down after a nasty clash of heads. The blood was relentless. It covered one shirt. And then another. Someone had to dash to the club shop for a third one.
There was no name or number. But it was clearly Falvey – the warrior. Inevitably, the fans lapped it up.
All that experience, bravery and spirit will be required later today. The Cosmos have claimed the title twice in the last three years and ended the league season superbly.
Rather uniquely, the NASL is split into a Spring and Fall format. The former is a shorter, sharper affair – just 10 games, with teams only playing each other once. But the side that finishes top is guaranteed a spot in the play-offs. This year that was Indy, who went unbeaten.
But the Cosmos easily claimed top spot in the Fall standings. They lost just three times in 22 games and finished ten points clear of Indy. As a result, the Cosmos also finished top in the combined standings, an achievement that meant the 2016 final would be played in New York again.
"New York finished a little bit ahead of us overall but I do think it's more difficult when you win the Spring title and you're already in the play-offs", Falvey says.
"It's difficult, week-in, week-out in the Fall season, to make sure you're motivated because all you're trying to do is to make yourself ready for that semi-final. We dropped some points in the Fall when we didn't really have the grit between our teeth – 'We're in the play-off, whatever happens'. It's tough to keep people motivated for 22 games when you know the semi-final is the only thing that matters. So, I wouldn't read too much into the standings.
The Cosmos will have a slight advantage but the game isn't at where they normally play. So, we've got to treat it like a neutral venue."
Source: New York Cosmos/YouTube
This is a different Cosmos team too. Last November, Falvey was up against Spanish icon Raul, who was in his first and last season in New York. In midfield, they had Euro 2008 winner Marcos Senna dictating the play.
But, there's not quite the same level of glitz and glamour this time around.
"They've signed some internationals – guys who are a lot younger", says Falvey.
"They've brought in guys who are a little bit more mobile. Their main player is Juan Arango (ex-Borussia Monchengladbach) – who's the most famous Venezuelan player of all time. It was very easy to see Raul and Senna last year and get yourself up for the game. But I don't see it being much of a difference. They're still a very good side and still have that history and name behind them. They've got that aura about them."
Last year, the Fury lacked control at key moments. They conceded after eight minutes and later, when they equalised deep into the second half, they conceded again within 60 seconds. Looking back, Falvey still seems irritated by the sloppy and costly errors.
"I think we handed the championship to New York", he says.
I think the Ottawa team I was a part of was a better side than the Cosmos. But we didn't turn up on the day. It's something that's stuck in my head. This season, we've beaten them two out of the three times we've played. But it's all about turning up for the final. No one remembers the losers too much. I've tried to remind the lads not to let the opportunity pass us by. I'd much rather play shit this weekend and win but you've still got to turn up.
Last year, one of our players made a mistake and gave them a goal early in the game. It gave them a huge boost and made us chase the game. That's something I've told the lads – don't shoot ourselves in the foot. Make sure we're in the game, especially early on, and don't do anything silly. It's about managing the game."
Though the Cosmos are seasoned veterans at this stuff, Indy's success has come from nowhere. They made their NASL debut in 2014 and struggled in their first two seasons. While the club's support has always been superb (the league's highest average attendances in 2014 and 2015 and second-highest in 2016), there wasn't much for fans to cheer about.
Named as captain shortly after arriving, Falvey was a bit overwhelmed. With so many new faces and with the club having found the going tough, he had every right to feel a little concerned. Inexplicably though, it's all worked out.
"I felt a little bit of pressure on my shoulders regarding trying to get the squad to gel and make sure everyone was buying into what the coaching staff wanted", he admits.
"But I think the management team were very shrewd in their signings. They brought in a lot of older players – guys who know how to get the job done. Our goalkeeper, Jon Busch, has 19/20 years in MLS. Greg Janicki has come out of MLS, so has Lovel Palmer and Brad Ring. And we have Gerardo Torrado – three World Cups for Mexico, well over 100 caps – he settled us down with his experience".
In January of this year, Indy also acquired a new striker: former Bray Wanderers, Derry City and Drogheda United player Eamon Zayed.
He has been vitally important for the side, scoring 15 times. His form this season has led to his shortlisting as a league MVP while he's also been included in the NASL's Team of the Year.
Inevitably, he and Falvey have developed a close bond.
"Having been here so long myself, I felt I needed to help Eamon settle in and show him the ropes. But he's loving life over here. He's settled in very quickly and he's banged the goals in for us. He didn't score in the semi last week and he doesn't usually go two or three games without a goal so I'd fancy him in the final, actually.
At the start, he didn't get the concept of how important home and away is over here. The travel is very difficult and at the start of the season, I don't think he was buying into that too much. But as the year wore on, he quickly realised it's a long, tough slog. The other thing he's been struck by – which is something I fastened onto when I first came out here – is how fit and athletic and professional out here. All these guys grew up playing different sports – American football, hockey, baseball – so they're all very good athletes. And he's been surprised by how strong the league is too. I've seen the development  gradually but he's been chucked in the deep end. It helps when you're scoring goals and the team is doing well."
Given Falvey and Zayed's backgrounds, they remain huge devotees of the Irish domestic game. As much as the focus this week has been the game against the Cosmos, the pair have chatted in-depth about Martin O'Neill's decision to include Dundalk paid Andy Boyle and Daryl Horgan in his squad for the World Cup qualifier against Austria.
"We said the same thing: it's only right that the two boys got in the squad. Dundalk were playing at a level that's much beyond the League of Ireland. They're competing in Europe and should be rewarded. Why shouldn't they be given a chance at international level? I just hope it's not a token cap. I hope they take the two players seriously and keep them involved in the next few squads and have a proper look at them. I hope it's not just a gesture. But I can't remember a League of Ireland side being so dominant as Dundalk and playing such good football".
And what about Falvey's own aspirations? He's 31 now and toiled in the lower leagues for quite a while but his stock has never been higher. He's played in two successive NASL finals now. His combative, aggressive on-field approach and leadership qualities have ensured he's been a fan and coach favourite wherever he's been.
Is MLS out of reach or still part of the plan?
"You want to play at the highest level you can", he says.
"Over the years I've seen a couple of moves to MLS fall through. We had Vancouver agreed a few years back and then they sacked their coach in the off-season – Martin Rennie – and scratched the deal. I saw DC United fall through a few years ago too.
The problem we have over here is the Green Card situation. MLS clubs can only have seven foreigners. And you're now competing with the likes of Robbie Keane, David Villa – that calibre of player – which makes it very difficult. But I still haven't given up on it. I've got a year on my contract here. They're talking to me about extending that. Financially, there's good money in the NASL. You can see that with the arrivals of guys like Giorgios Samaras and Joe Cole. Richie Ryan's transfer to Miami was a big one. It's a very professional league and I'm well looked after here and I'm a captain.
The grass isn't always greener but playing in MLS was the whole plan coming out here. Whether it's going to happen at this stage, I don't know. All you can do is keep going."