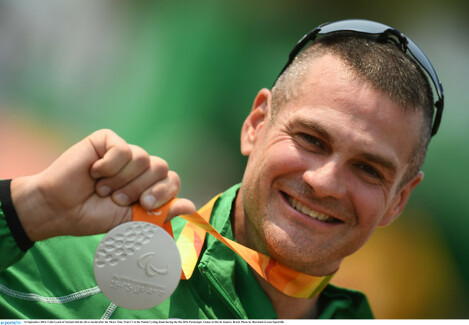 Source: Diarmuid Greene/SPORTSFILE
– Ryan Bailey reports from Pontal, Rio de Janeiro
COLIN LYNCH KNEW he was going to come away from today with a medal. He knew, on his day, he was better than most, if not all, of his competitors. It was just about executing the game plan and allowing four years of hard work come to fruition.
For the duration of this morning's C2 Time Trial, the 45-year-old was in control of his destiny. He never looked like slipping out of the medal places with an accomplished performance. He was here to get the job done and he did just that.
In the end it was silver but when you've been on the journey Lynch has been on and suffered the heartbreak he has, standing on that podium with a medal around his neck meant everything; even if there was a tinge of disappointment at missing out on the title.
"I put four years into this one ride today," he said. "I would have loved to have won the gold and it was close, but to come away with medal is a four-year dream.
"At the half-way point I was only 11 seconds down and I gave everything I had until the end. I knew gold was a possibility so there is a modicum of disappointment.
"Four years ago I was one-tenth of a second away from winning a medal in the pursuit and ten or 15 seconds off in the time trial so it really has been a huge motivating factor. There has been a lot of soul searching and when the results don't come, you wonder why you do it."
Source: Diarmuid Greene/SPORTSFILE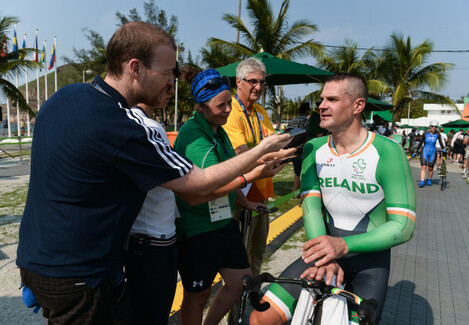 Source: Diarmuid Greene/SPORTSFILE
The questions reverberated. Was he good enough to still compete at this level? Would he ever have the capacity to win a Paralympic medal? Was it even meant to be?
Instead of searching for the answers, he did something about it. Lynch made it his business to become a better cyclist. He changed his coach, training regime and even his equipment.
A little over a year ago Lynch, who was born in Singapore but has represented Ireland since 2010 through his father's Drogheda roots, launched a campaign to raise €10,000 for a new leg.
As a teenager, he had his left leg amputated below the knee after suffering a foot injury which was complicated by a tumour on his spinal cord.
His previous prosthetic limb was causing him pain and holding him back, so to get to the next level he needed to upgrade.
Be part
of the team
Access exclusive podcasts, interviews and analysis with a monthly or annual membership.
Become a Member
"Over the years I've had several different cycling legs made but the sport moves on," he explained. "What we started off with years ago has developed into a fine science. So I worked with these guys to refine the design and make sure I squeezed every last possible second out.
"We spent a lot of time with the designers of the leg back home in wind tunnel testing to try and decide what the best design was and then I have done a lot of personal aero testing to refine my position on the bike.
"Then there is the bike itself, the wheels and tyres and the choice of skin-suit. Every last little detail was looked at to try and squeeze those last seconds out, making sure that I arrived at the start line in the best possible condition."
Source: Diarmuid Greene/SPORTSFILE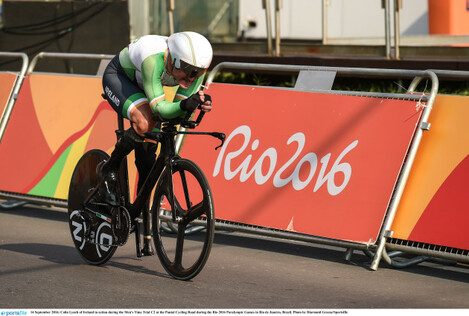 Source: Diarmuid Greene/SPORTSFILE
It all paid off today as he powered around the course in a time of 28:02.25. He made it look so easy but his performance came as little surprise. After taking up competitive cycling in 2008, Lynch won his first Time Trial world title three years later. 
Twelve months ago, he claimed two golds on the UCI World Cup Circuit and then added a silver in the 3km Pursuit at the World Track Championships to his collection. He knows how to win. 
"When I got into Paralympic sport I was watching the Beijing Paralympic Games – the British riders and all their success – and immediately I thought that's what I want to do and win medals like that," he explained.
"But I didn't realise how hard it was going to be and I went to London 2012 thinking it was going to be easy and it wasn't.
"I said all along that I've won everything from World Cups to World Championships and loads of different medals along the way but the one thing that I wanted more than anything else at this point in my career was a Paralympic medal and I've come away with that. 
"This medal is for everyone in Ireland who supports us. I have had a lot of support from people in Ireland, the ones I know and the ones I don't."
As he wrote on his fundraising page last year: 'You get me the new leg, I will do the rest.' He certainly delivered his promise in style.
The42 is on Snapchat! Tap the button below on your phone to add!