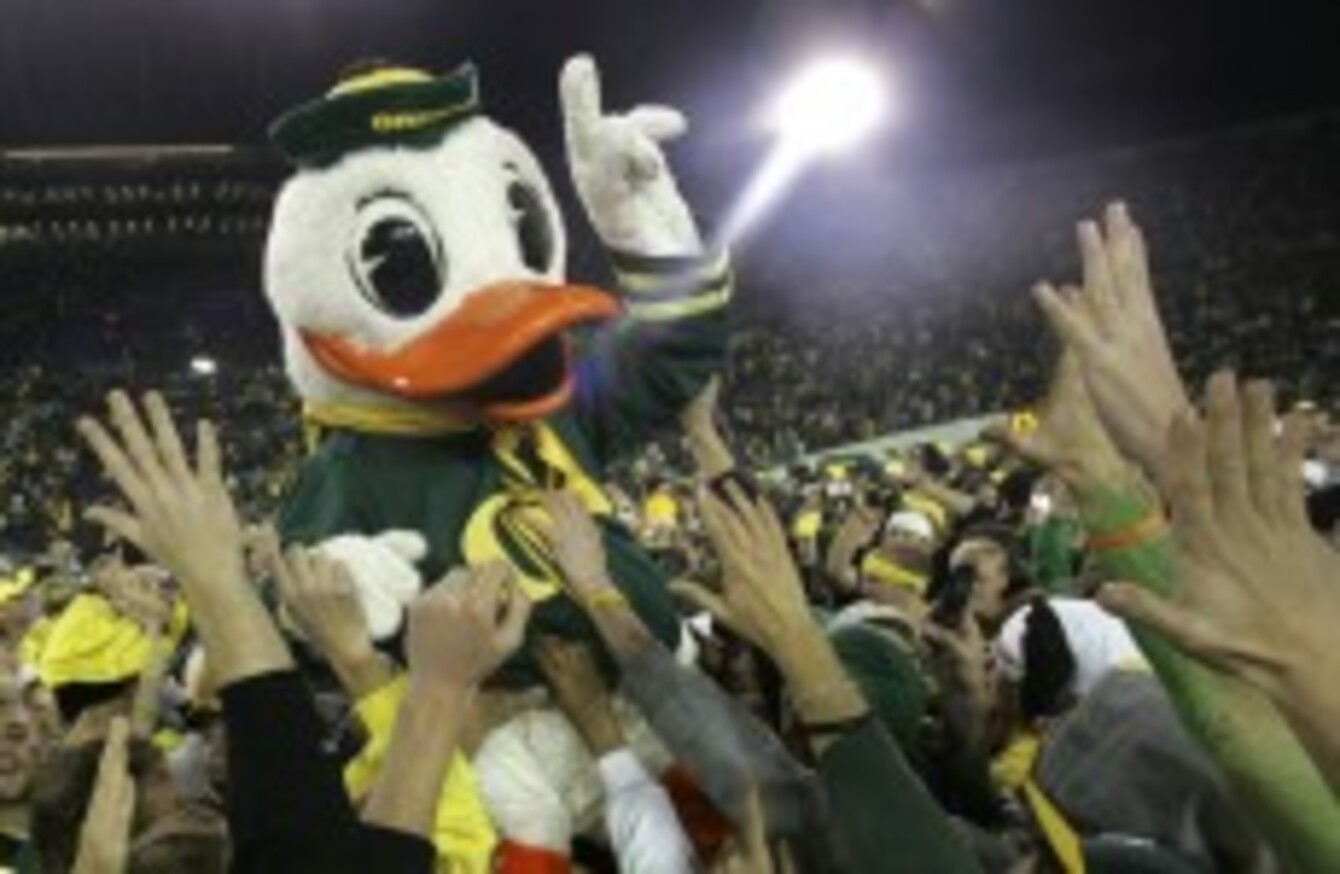 Will Oregon be number one after tonight?
Image: AP/Press Association Images
Will Oregon be number one after tonight?
Image: AP/Press Association Images
YOU STAYED UP until after 4am on Sunday morning and overdosed on coffee to stick it out until 1am this morning as the Patriots, Seahawks, Packers and Colts navigated their way through the NFL's Divisional Round.
Tonight though, you're going to go to bed early, maybe even before 10, to catch on some much needed sleep and build up some reserves ahead of next Sunday's NFL and UFC double header.
But if you do, you potentially miss out on the best American football game of the weekend as the Oregon Ducks take on the Ohio State Buckeyes in college football's National Championship Game.
History
Of course, tonight's game will make college football history as the NCAA implemented a playoff system for the first time this year which saw the number two and four ranked teams into the decider after Oregon and Ohio State overcame Florida State and Alabama respectively in the semi-finals.
The playoff system is such a big deal that ESPN paid over $7 billion for the right to broadcast it for the next 12 years. That's a lot of cash but with record-setting audiences for the semi-finals and the same again expected tonight, the broadcaster obviously feels it was worth the cost.
The Mighty Ducks
For all the talk of Oregon's high-powered offence led by Heisman Trophy winning quaterback – an possible first overall pick in this year's NFL draft – Marcus Mariota, they had their defence to thank for the rout of 2014 national champions Florida State last time out.
Forcing five turnovers in that game means they now have a +20 turnover differential, the best in college football, and it is their ability to capitalise on other teams mistakes – they scored touchdowns off all five Florida State turnovers – that has seen them reach tonight's final.
With Ohio State coughing up the ball 22 times this season expect the Oregon secondary to be very aggressive when it comes to jumping routes.
Third times the charm
Most fans of college football probably felt Ohio State's chances of making any sort of a splash this year was over before the season began when first choice quarterback Braxton Miller suffered a season-ending injury in training back in August.
Perhaps unsurprisingly, backup quarterback JT Barrett struggled early on and after a loss to unranked Virginia Tech back in week two, the playoffs looked a long way away for the Buckeyes.
Barrett found his feet but broke his ankle against Michigan in his side's final game before the Big Ten Championship Game. Once more, it looked as if Ohio State's year was done. However, nobody told third-string quarterback Cardale Jones who helped the Buckeyes to a 59-0 win over Wisconsin in the Big Ten decider to move them into the college football playoffs at the last possible opportunity. 
The player they call '12-gauge' because of his arm strength and jersey number was equally impressive against Alabama last time out and will need to be just smart with the football tonight.
The bottom line
The Ducks started the week as seven point favourites but that was as low as five by Sunday. However, as of right now the line is back out to six with the over/under a monster 63.5 points.
While Oregon are rightly favourites, the loss of kick returner and leading receiver Devon Allen could well prove decisive. Still the Ducks should still have enough on defence and force enough mistakes to come on out top in a shootout.
Where to watch
The game is available on ESPN UK with coverage starting at 1am. With the final whistle not expected until well after 4am, it might be time to stock up on that coffee.
Originally published at 15.19