COLLIE O'NEILL HAS been associated with the League of Ireland for virtually his entire life.
The current UCD manager's father was a coach at Home Farm during Ray Treacy's stint as manager there, while he followed the late former Ireland international when the latter took over at Shamrock Rovers in 1992. O'Neill Jr went to watch the games along with another notable footballing name — future Leeds United player Stephen McPhail.
"As a kid, I used to go to every single Home Farm and Shamrock Rovers game as I was growing up," he tells The42. "Me and Stephen McPhail were the two kids that used to go along to every Home Farm game, because his granddad was also involved in Home Farm. Since I was about eight or nine, I've been along to regular League of Ireland games, so I've had a love for it from a very young age.
Stephen was a very special talent [as a young footballer]. I think he was year 11 age group, but he was playing Youth 13s — that's the kind of level he was at. And he would stand out and still be the best player on the pitch, even though he was playing two years out of his age group."
O'Neill grew up playing football in his native Drogheda and ultimately went on to play as a midfielder with Home Farm at senior level.
Stephen Henderson, now a managerial rival with fellow First Division side Cobh Ramblers, actually signed O'Neill as a player while in charge of AUL side Beggsboro. The two reminisced about that time in a recent article in The Sun.
"Hendo signed me 18 years ago. He said as well that in footballing terms, I wasn't very talented, but I was 'a tenacious little fucker'.
"My biggest strength is I would run all day and could kick people who were much better than me."
Currently, Henderson and O'Neill are battling it out on opposing benches in the First Division, with their sides, UCD and Cobh Ramblers, coming third and second respectively last season behind a Waterford team that claimed the title and secured the sole promotion spot in the 2017 campaign.
This season, there will potentially be two teams going up, with a promotion-relegation play-off set to take place between the ninth-place top-flight team and a First Division side (the clubs finishing second, third and fourth will battle it out for this spot), with the league winners gaining automatic promotion.
It is, of course, very early days, but UCD have begun the campaign promisingly — they are top of the table, having taken 13 out of a possible 15 points from five games.
And while other teams might have greater support financially, O'Neill is optimistic his side can maintain their encouraging form over the course of this season.
Why not us?" he asks. "And not just promotion via the play-offs, why not be league champions? The players that we have, the talent that we have, we're capable of winning the league.
"Every other team is talking about 'maybe hoping for play-off places'. Our hope is to win the league.
"I don't believe in entering a competition unless you're realistically there to win it.
"Teams would have an awful lot more financial backing than we would have. But when it comes to training facilities, academies, what we're able to provide for players, I don't think there are many League of Ireland clubs that can match what we currently have.
"With our sports science departments, the backroom team that we're so fortunate to have, I think the players are just reaping the rewards from those kind of facilities."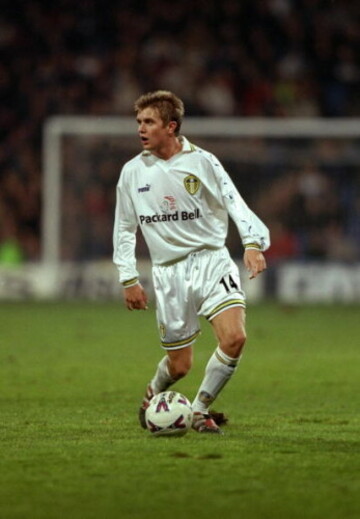 O'Neill grew up going to League of Ireland games with future Leeds player Stephen McPhail. Source: Getty Images
O'Neill has been at UCD as a coach since 2011, having previously had stints with Dublin City, Dundalk and Shelbourne, while he became The Students' manager ahead of the 2015 campaign. During that period, he has overseen a significant evolution in the makeup of the squad.
"My first year in there, there was a good mixture between external senior players along with the scholarship players that we have," he explains. "We're now fully scholarship only, so every player that we have is on a scholarship in UCD.
"It means that the culture of the dressing room and the dynamic of the dressing room has changed a little bit. Normally, the senior players would keep together and the college-based players would keep together. Now, we just have the one unit and it's brought the dressing room closer.
"On top of that, it's the first year in I don't know how many that it's almost the exact same team. The only players we lost were Niall Corbet, who went to Waterford, and Simon Power, who went to Norwich.
"I've had them now for two years on the trot. They've already gelled and are just continuing on the good work that they did last year."
So unlike most players in the league, who are invariably put on short-term contracts, most of UCD's players tend to agree longer-term deals to coincide with their degrees.
At the time, it probably was a bit of a risk," O'Neill says of the decision to move away from the model of accommodating non-student players. "But financially, when we looked at it, I said 'okay, we're going to be spending money on these external players to come in'. You think: 'What do they really give to the college?' There was a little bit of friction between external and scholarship players.
"And the culture of a dressing room has changed these days. Nowadays, if we're losing 2 or 3-0 at half-time, you won't find one player has pinned another against the dressing room by the throat. Those days are gone.
"We've found [the dressing room is] an awful lot more of a quieter place and the players themselves question you a lot more. If you're a bluffer or you're making things up, they see through it. Players these days are more inquisitive. They want to learn, but they want proper answers, not some quick bluff just to brush them aside.
"So the whole dynamic of a dressing room has completely changed. With that kind of [situation], we thought why not have everyone in and around the same culture and the same basis so that it would build a better team dynamic.
"We were 90% all-scholarship last year and we saw the benefits of it, and this year we're fully scholarship."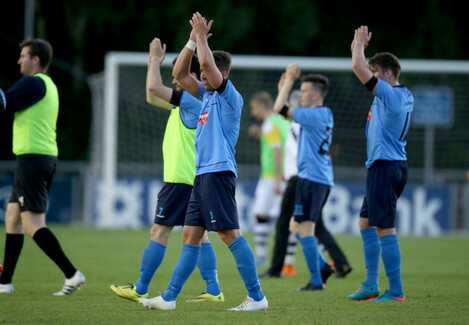 O'Neill has helped guide UCD to the top of the First Division. Source: Dan Sheridan/INPHO
While there are more successful sides in the League of Ireland, UCD have at least consistently been associated with playing attractive football down through the years, and O'Neill says this philosophy is unlikely to change under his watch.
"Players these days want to play football," he says. "It's the new coaching model that has come up through the FAI. It's what they've been taught in all their schoolboy clubs all the way up.
"So if I decided, I want to go direct, stick balls into the corner and squeeze up, the players would look at me as if I had 10 heads — they just wouldn't do it, it's not natural to them. So the style of play we promote is something I know the players enjoy doing themselves, it's something they buy into and want to do. And it's something they're goddamn good at doing too."
Yet for all this adventurous football, O'Neill admits to feeling a degree of frustration. UCD are currently confined to the First Division, which is sometimes derisively referred to as the 'graveyard' of Irish football, owing to the lack of support and coverage it receives.
It can be frustrating on so many different levels, because some of the players we have are really top-quality players. Some of the games we've had this year alone, if you're a spectator at them, you got value for money, because they've been really good, entertaining games.
"[The First Division] does have this classification around it that it's a 'graveyard,' but it's going to be a hard model to go and change — it really is.
"I don't think there's a quick fix for it, but there are good quality games in that division. It's just a pity that there aren't more people coming out to watch."
One notable exception with regard to UCD, however, was in 2015, when an O'Neill-managed side caught the Irish footballing public's imagination with a creditable Europa League run.
They were in the First Division at the time, but got into Europe after topping the Uefa Fair Play table. In the first round, they beat F91 Dudelange of Luxembourg on away goals, with O'Neill's son born shortly thereafter amid a chaotic few hours, before eventually bowing out 6-1 on aggregate in the next round against Slovakian side Slovan Bratislava.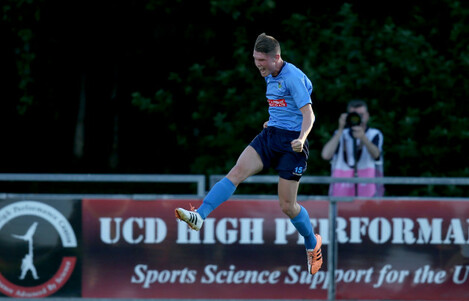 UCD's Ryan Swan celebrates scoring a goal in the Europa League in 2015. Source: Dan Sheridan/INPHO
"Financially, it was massive," O'Neill recalls. "It gave the club the ability to clear whatever debts they had, so it's nice now that we're debt-free.
"But also experience-wise and [in terms of] promotion for the club itself, it was something we probably won't come across again. To gain that experience and prove an awful lot of people wrong who said we were going to be an embarrassment to the league, we would be absolutely hammered, it was nice, but it was great the education the players took from it as well to play on that stage."
That experience showed what O'Neill and his side are capable of achieving, but the 41-year-old coach admits he is still somewhat limited by his current circumstances. In addition to his footballing exploits, he also has a job with Microsoft and consequently cannot devote his full attention to life at UCD.
I suppose the biggest challenge is probably time — I would love to be able to dedicate more time to it, because the players deserve the extra amount of time I could give to it.
"I remember doing part of an interview to get onto the pro badge and I was asked about my time in the Europa League and the time I put into it for those four weeks. The time, the dedication, the planning, the prep, the question then was asked: 'Could you not do that on a regular basis?' I could, but it would have to be full-time in footballing terms.
"I'd like to be able to give all of that time to the club every single week, but unfortunately, it's just not possible on a part-time basis."
Now a Uefa Pro licence holder, O'Neill credits this education, as well as previously working under experienced League of Ireland managers in Dermot Keely and Martin Russell, as a vital part of his development
[The course] was tough-going, because there was an awful lot of paper work and assessments and homework to be done at the end of every time we met up, but it was really enjoyable. The visits over to Swansea, Belgium, Uefa, it was an absolute fantastic experience and I picked up so many bits from doing that process that I've brought back to UCD that have paid dividends.
"The Swiss coach, Dany Ryser, talked about team building and his process was really insightful.
"We also had Doctor Seamus Kelly from UCD, who talked about diagnosing your team's culture.
"They're the bits that rang [true] with me, because when I'm dealing with such a young team, it's nice to know about all the other bits going on inside their heads outside of football."
The42 is on Instagram! Tap the button below on your phone to follow us!