KERRY TALISMAN Colm Cooper says he considers himself fortunate to come from Killarney as rural clubs in Kerry battle for their lives.
The Dr Crokes man was asked about the amalgamation of clubs throughout the country as some areas are badly hit by emigration.
"I'm coming from a town and numbers are invariably strong 99 per cent of the time. Of course I'm very fortunate to have that and I probably don't appreciate it all the time," he said at Croke Park.
"If you look at clubs now, Renard and places like that in South Kerry that might at times struggle to put out full 15s and things.
"From our own clubs, we'd be putting out two 15s every weekend because we have the numbers. It's very sad to see those clubs because they have very proud traditions and when it gets to the stage when they don't have the numbers to fulfil games and I know from talking to people down there they'd never like to see their club disbanded or go somewhere else because it's taken them so long to build it.
"They've a huge amount of pride in that. It's sad and I'm sure it's the same in different parts of the country as well where that's the case. Maybe not clubs in Dublin because of the volume of people up here. I'd hate to see clubs disbanding or going into amalgamations because I don't think that would be good."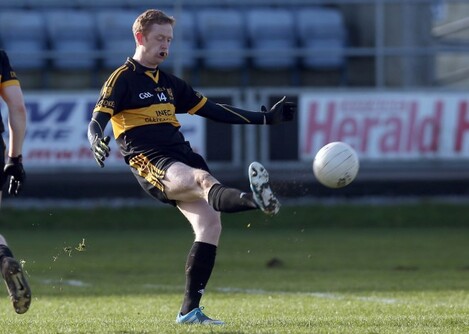 Source: Donall Farmer/INPHO
The injured Kingdom star continued: "We would have seen a bit of [amalgamation] in Kerry with underage teams where numbers aren't there, and for various reasons. The other side of it is that a lot of clubs have been going for about 50 or 100 years and they're very proud of being a standalone club and building it to a level. They might not be so keen on leaving that go and there's an immense amount of pride in people having their own club and what it stands for.
"My view on it is that clubs are very proud of what they've built,…. obviously I agree that there are a lot of clubs struggling but clubs comes in different cycles where you are strong for a few years and might not be as strong again for 20 years. Unfortunately that's just the way it is in the GAA right now."
Donal Óg Cusack last summer suggested a so-called 'Team Ulster' compete for the Liam MacCarthy Cup while this week Mayo's Aidan O'Shea talked about merged counties in the football championship.  Would Cooper agree with a new approach to boost smaller counties' hopes?
"I don't know, to be honest. I would find it very strange to see that happening and I don't know if I would agree to it either," he says. "It goes back to the counties being standalone… to be fair, there are counties who aren't in line to win an All-Ireland any time soon. There expectation might be to do well in a provincial championship rather than being in Croke Park in September. Whether amalgamating would improve it, I'm not completely convinced with that."
Be part
of the team
Access exclusive podcasts, interviews and analysis with a monthly or annual membership.
Become a Member