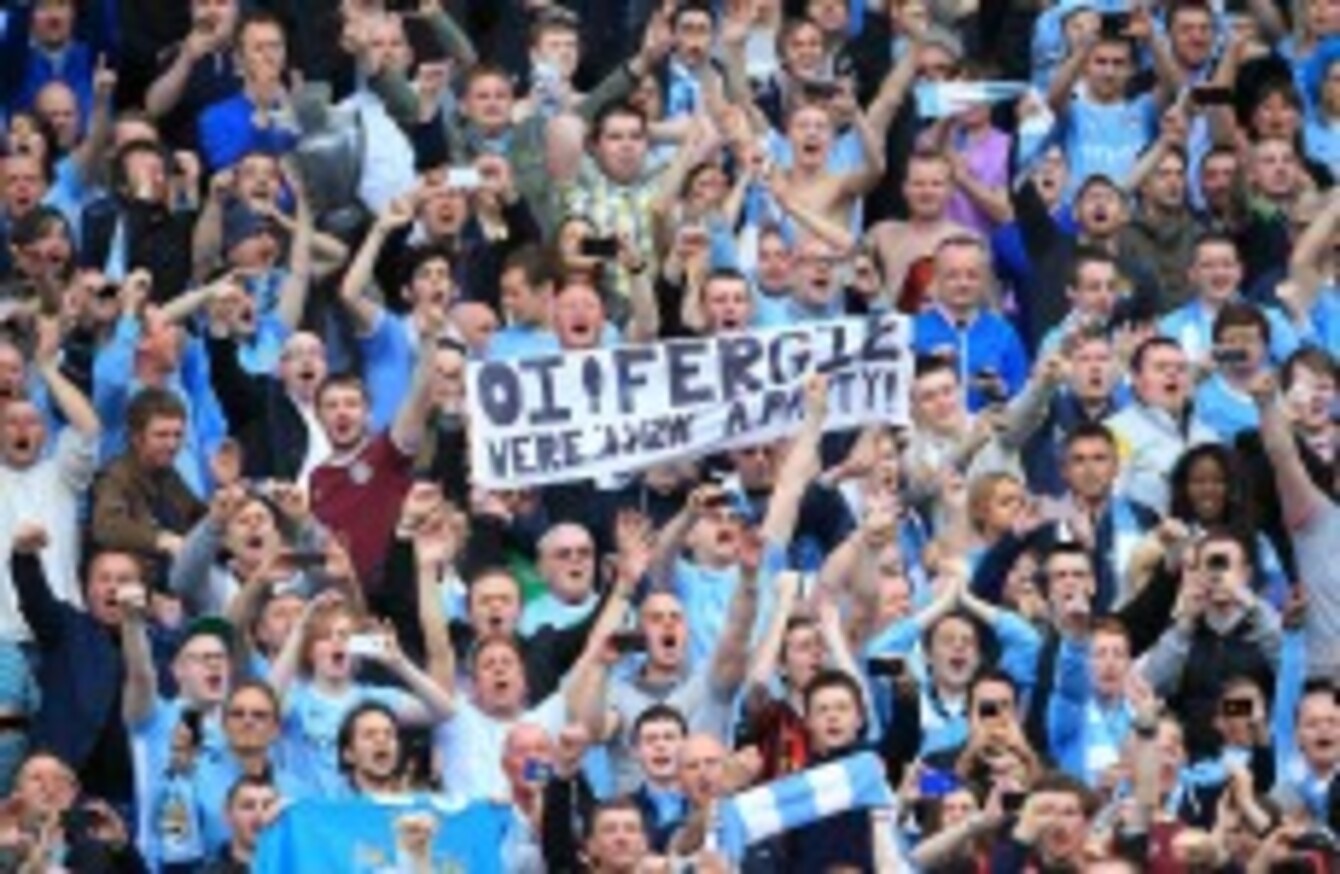 Man City fans taunt their neighbour Alex FErguson
Image: PA images
Man City fans taunt their neighbour Alex FErguson
Image: PA images
MANCHESTER CITY'S PLAYERS are champions of England — yes, that is a phrase we're all going to have to get accustomed to — because they believed in themselves like those at Manchester United used to.
Like the great teams that Alex Ferguson has produced in his quarter-century at United, City's players refused to accept that hope was lost, that they couldn't make the seemingly impossible possible.
Not only did they take a page out of Ferguson's never-say-die play-book to win the Premier League title yesterday, they rubbed salt in the wound by trumping one of the Scot's greatest triumphs, too.
"Football, bloody hell," Ferguson famously exclaimed after United conjured two goals out of nowhere in injury time to crush Bayern Munich in the 1999 Champions League final.
It was a moment that, for the people of Manchester, especially in those households that support the Reds, seemed like it could never be topped — one of football's most spellbinding dramas.
Well, this was even more astounding. Two goals in two minutes that marked the beginning of a new era in Manchester, making this more significant than 1999, too.
As shell-shocked City manager Roberto Mancini said in a phrase that, like Ferguson's 1999 quote, now deserves to be on a T-shirt: "The football is incredible."
Manchester City's manager Roberto Mancini kisses his wife Federica, Images: PA
The more than €1 billion that the Abu Dhabi owners of City have spent to finance this revolution — more of a hostile takeover, really — in the best and most engrossing league in world football was vital, of course.
Putting a stop, perhaps a full stop, to Ferguson's winning ways at United couldn't have been accomplished, at least not by City, any other way.
But, in the two minutes and six seconds that really counted yesterday, it was the courage and the belief of City's players and not the size of their paychecks that made the difference. Sure, the money helped to lure the likes of midfielder Yaya Toure and striker Sergio Aguero from sunny Barcelona and Madrid and it will help to keep them and others in the less hospitable north of England. And, yes, perhaps that does make them mercenaries — like so many others in football these days.
But they confounded the critics who opined that such an overpaid bunch of stars was unlikely to jell into an effective team and that they'd trip over their egos before winning a title.
"It's not us just coming here for money and all these stories that we've heard," said City captain Vincent Kompany. "We've dreamed of this all our lives, when we was kids and we had nothing, no money, nothing."
Although that last part has to be taken with a pinch of salt — it's hard to believe that Kompany longed to play for what was then poor and sorry City when he was growing up in Belgium — you get his point. Kompany, especially, played this season and again Sunday as though the blood in his veins has always run pure City blue. And he is not the only one.
With 91 minutes and 13 seconds played, City fans' hearts were breaking. They screamed, turned the air blue and stamped in frustration.
The last game of the season and City appeared to be throwing away the title. Horrible defending had allowed Queens Park Rangers to build a 2-1 lead. And to complete the nightmare scenario, United had beaten Sunderland 1-0 in its final game and looked to have one hand, perhaps both, on the trophy.
Be part
of the team
Access exclusive podcasts, interviews and analysis with a monthly or annual membership.
Become a Member
Then came the two minutes that no City fan, and no neutral who saw it, will forget. Two minutes that must have seemed even longer to the fans than the 44 years they waited since City's last championship. Two minutes that mean we'll no longer be able to shake our heads and snigger that City — "typical City," as its fans ruefully learned over the years to call the club — is the laughingstock of English football, forever destined to live in United's long shadow.
Manchester City's fans in the stands with flags for their captain Vincent Kompany.
Like many revolutions, this one started with a bang — when Edin Dzeko headed in David Silva's corner for the equalizer, with the clock reading 91:14.
Still, it wasn't enough. City needed the winner. Time was running out.
Then, on 93:20, Aguero coolly delivered it with a shot that sent City's Etihad Stadium into raptures.
Football, incredible. Anyone who hadn't chewed off their nails can't have been watching.
"You want to say it's the best moment of your life," said Kompany. "But if I'm honest, please, never again this way."
The sting for United will be made worse by the fact that it threw away the title with losses to Wigan and City and a draw with Everton in April.
Not only was that late stumble uncharacteristic of United under Ferguson, it could cause lasting damage. Because now the City juggernaut is rolling, it may be ever harder to stop next season.
As one fan's banner read: "Oi! Fergie, we're 'avin a party!"
Not only does City have seemingly endless funds — expect Mancini to strengthen his squad even further this summer — but his players' confidence and self-belief should only grow with this title and the way it was won.
"It was really important to start winning this championship," Mancini said. "Manchester City can have a big future now."
John Leicester, AP