LAST WEEK WE took a look at some of the life lesson's today's footballers could learn from the legendary Roy of the Rovers.
Well it turns out a lot of you liked the article and were quick to tweet and email some of  your own favourite cartoon footballers.
With that in mind, we decided to put together the five best players from our favourite comics for the next office 5-a-side and, well, it's a pretty tasty team.
Gordon Stewart – The Safest Hands in Soccer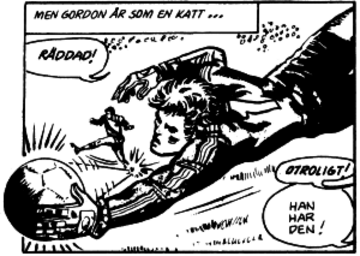 Image: Wikipedia
Yes, believe it or not, that's the only image of Gordon Stewart we could find on the whole of the internet and it's in German.
Stewart was an unfathomably good 'keeper capable of stopping anything the opposition could fire at him; he was the ying to Massimo Taibi's yang.
Stewart's luck appeared to stem from Fred, the toy skeleton he kept in his glove bag but, sadly, Fred was no help when the goalie died in a plane crash off the coast of Brazil in 1982.
Johnny Dexter - The Hard Man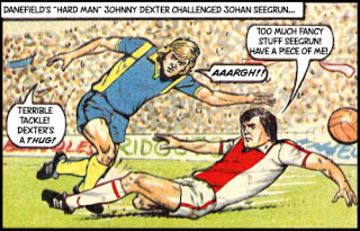 Image: Roy of the Rovers
Dexter was a hardman by any definition.
An unbreakable iron rod for Danefield United, his tough tackling and fiery temper means he wouldn't last 90 seconds in today's game.
In later years, Dexter would provide much needed cover for Roy Race's leaky Melchester Rovers defence.
Kevin Mouse – Mighty Mouse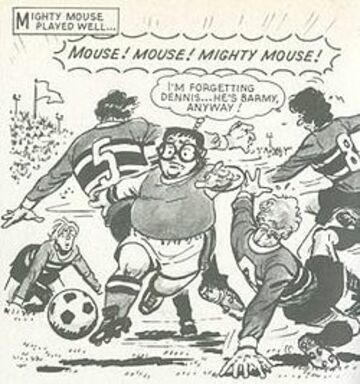 Image: Wikipedia
Not your typical footballer by any means, Kevin Mouse made Wayne Rooney look like Kate Moss.
A prodigious talent, Mouse had the ability to turn on a ha'penny and his shots swerved like he'd kicked a plastic orange Cup Champion football.
Undoubtedly the brains of the outfit, what made Mouse so special was the fact he was only a part time footballer who was also studying to be a doctor.
Billy Dane – Billy's Boots

Image: Lewstringer
The youngest member of the squad, Billy Dane was actually really, really bad at football.
However, after finding Dead Shot Keen's old boots in his Granny's attic, Dane turned into a wunderkind capable of footballing feats that make Messi look like Joe Allen.
Dane comes with a caveat though. He's forever losing those magic boots and we're not sure those studs are even allowed any more.
Hamish Balfour – Hot Shot Hamish

Image: International Hero
Standing at 6'10″, the Scottish giant possessed the balance of a ballerina and power of a pneumatic drill.
Alongside Mighty Kevin Mouse, the former caber tosser was almost impossible to stop when he put his mind to football.
His bare midriff isn't for everyone but his bravery – he once single-handedly held up an entire stand full of people to stop it collapsing – is unquestionable.
Roy Race – Roy of the Rovers

Image: The Inside Left
Every team needs a strong manager and there are few who've been through more than Race.
Surviving bombs, kidnapping and shootings, Race was the ultimate pro as both player and manager.
Any manager who can convince Spandau Ballet's Martin Kemp to sign for their football club must be a fine leader of men.
Join TheScore.ie's Premier League Fantasy Football League using this code: 800052-191374

http://fantasy.premierleague.com