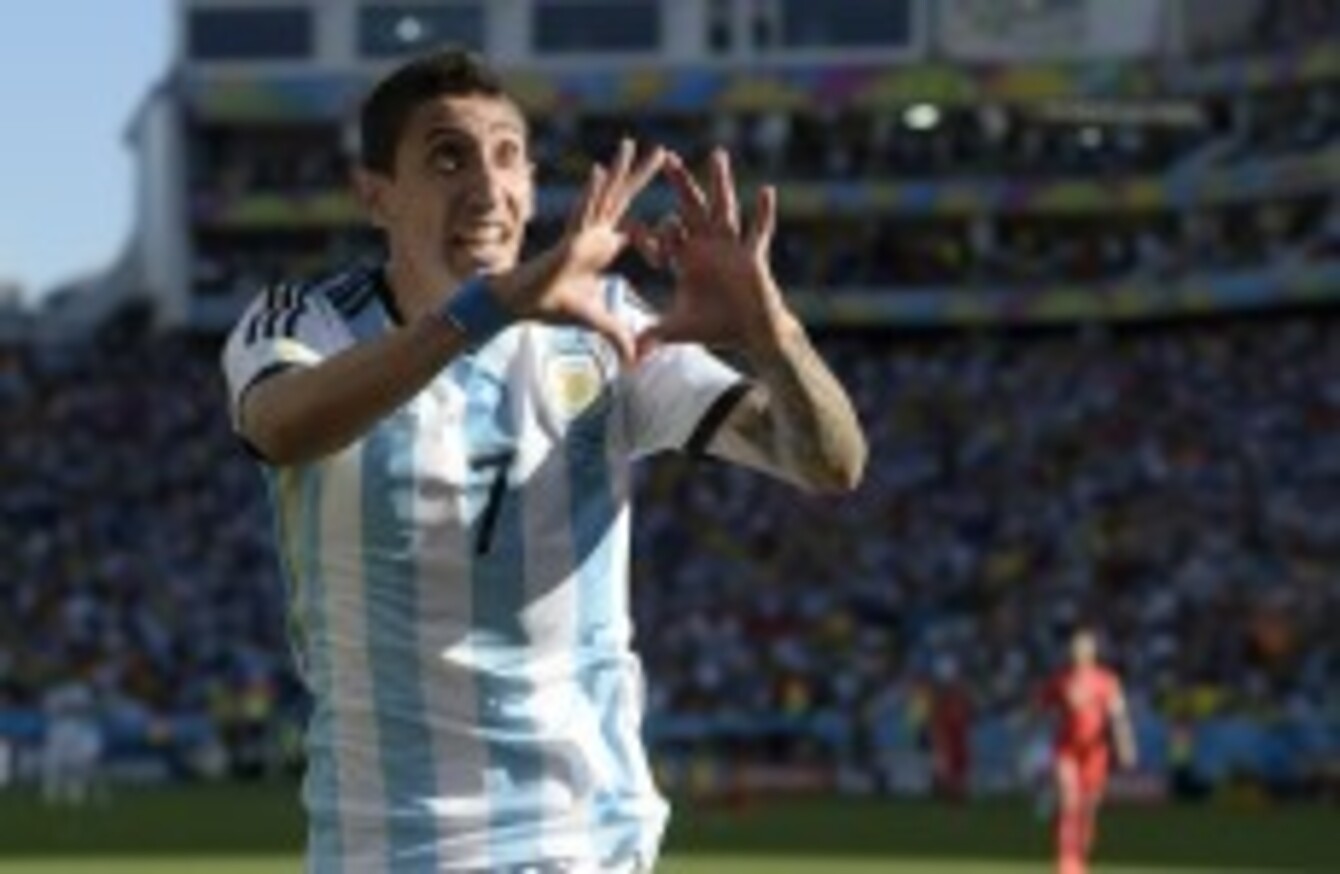 Argentine's Angel Di Maria.
Image: Manu Fernandez
Argentine's Angel Di Maria.
Image: Manu Fernandez
IN NO PARTICULAR order, here are the top ten…
With the GAA considering a 'silent sideline' plan to stop pushy parents shouting at children during games, we get the perspective of one of the young players: 
"I'm a player myself at u14 and to be honest I prefer people shouting at us because it can help me drive on and make sure that you don't make that mistake again but it's not just criticism most of the parents will also shout praise when you do the right things and if you have people roaring at u it helps you keep your concentration so dere is no need for silent games."
We've all wanted the ground to swallow us up during a particularly poor round of golf, just like Frenchman Raphael Jacquelin… and this reader: 
That's why I don't play golf anymore…the ball refuses to cooperate with me!
The Emre Can jokes were inevitable once the German midfielder signed for Liverpool this week:
But more importantly, can Can do the can can? Now, wheres me coat.
An Argentine commentator broke down in tears after Angel Di Maria's winner against Switzerland, and this is our favourite respond: 
After Eva Peron specifically asked him not to.
The former Ireland manager has been our favourite commentator of this World Cup too: 
A smack of the ball on the side of the mush.  Brian Kerr priceless
I tried to log on to my computer this morning but it wouldn't let me in.
I shouted to my wife, "Babe, have you changed the password on the PC?"
"Yes honey."
"What is it?"
"It's the date of our anniversary."
Bitch.
Chilean striker Mauricio Pinilla got a tattoo to remember his shot which hit the crossbar and this penalty: 
You could say the WC left it's mark on him….
We brought you six technique steps to doing the plank this week. And DJ Dangermouse responded with this: 
Pat Kennys favourite exercise.No wonder her looks so buff.
With the transfer window back open since 1 July, we asked who you would like to see your club sign: 
Messi , and the Mexican goalie, twill b a stretch, things are tight at Galway FC..
An alternative use for the new referee vanishing spray used at the World Cup. 
Could be used to mark out your own personal space on the luas