AS THE LOOSE ball falls into Conan Byrne's path, you can see, just before he strikes it straight and true and over the hapless Shane Supple, a little glance up. Nothing else was on, and he knew the Bohemians 'keeper tends to drift off his line.
Such was the power and force behind the strike, both Byrne's feet are off the ground as he watches it hit the back of the net, still soaring and gathering pace, from inside his own half. The effort was audacious, the execution masterful.
Byrne celebrates his stunning goal against Bohs last month. Source: Donall Farmer/INPHO
"I would always mess around after training trying it but it had never come off in a game," the St Pat's midfielder says. "My father used to tell me to always look up and have a go and there was nothing else on so I was delighted it came off."
Not only will it be remembered as one of the League of Ireland's finest goals, but it was one of sheer quality and substance; it doubled the visitors' lead and set them on their way to an important 4-0 Dublin derby victory; it was Byrne's first goal at Dalymount Park; and it was his 100th in the league.
"It's both my best and favourite goal," he admits, to little surprise. "It was such a big game for us as we didn't get off to the best of starts and that result, as well as the win over Shamrock Rovers, has now given us so much confidence."
Before the 2-1 victory over Rovers three weeks ago, Liam Buckley's Saints had made an inauspicious start to the Premier Division campaign, picking up just one point from their opening five games.
Silly mistakes had cost Pat's in several of those defeats but something suddenly clicked in those back-to-back Dublin derbies as their season burst into life.
Despite the deflating results during the opening weeks, particularly the home reversals to Bray and Finn Harps, Byrne, who is in his fifth season with the Saints, says there was always a belief within the group that fortunes would change.
"We had actually played well in those games," the Dubliner explains. "We have some great individual players who have that technical ability to create and score goals so we knew results were always going to come.
"The unfortunate thing about the League of Ireland is that the squad changes every year and we wouldn't have a great budget here. Once big clubs come calling, it's very hard to turn them down and that's just what happens.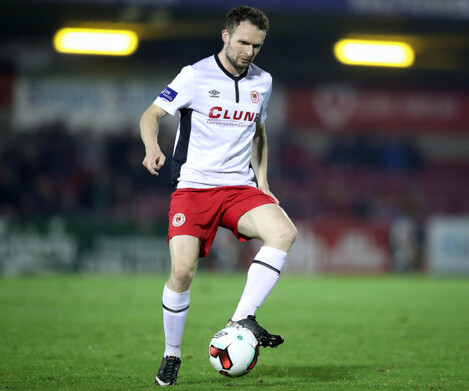 Byrne has played in all seven of the Saints' league games this term. Source: Ryan Byrne/INPHO
"We have to develop our own players and they get that experience of playing at the top-level. It's a learning curve for them so Liam has had to alter and change the plans and he'd done a tremendous job in doing that.
"There is so much talent here so the future is definitely bright for St Pat's but we also have to be realistic. Some fans and media think we should still be challenging for the title but our aim is Europe and while the slow start hasn't helped, that's still very much the aim."
Byrne has been around long enough to appreciate the financial constraints Buckley is now working under at Richmond Park. As is the case at many clubs, the budget isn't what it once was and the manager must build his squad around raw, but prodigiously, talented footballers; the likes of Josh and Alex O'Hanlon, Lee Desmond and Jonathan Lunney.
At 31, Byrne can consider himself as one of the elder statesmen in the group but his worth to the Saints remains undiminished. So often underrated, yet one of the league's most reliable and consistent performers.
Along with Ian Bermingham and goalkeeper Pat Jennings, the trio are the only survivors from the squad which last delivered the Premier Division title to Inchicore five years ago now.
Byrne, in what was his first season with Pat's, played a central role in the title-winning campaign as he finished as the top scorer after making the switch from Shelbourne during the 2013 off-season.
A lot has changed, naturally, since then, including the landscape both on and off the field, but his commitment to the club has remained steadfast.
As players came and went, and the likes of Greg Bolger, Killian Brennan and Ciaran Kilduff earned bigger contracts elsewhere, Byrne turned down offers from elsewhere to stay put. It was a big decision and a brave move but he's in the fortunate position where football is not now his primary source of income.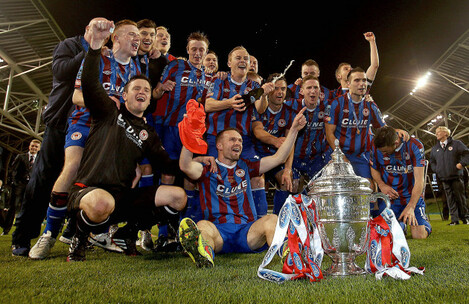 The St Pat's team after winning the 2015 FAI Cup. Source: Donall Farmer/INPHO
Having been all too familiar with the financial insecurities associated with being a footballer in Ireland for over a decade, Byrne returned to college and last year qualified as a primary school teacher.
"I can understand why players leave clubs but my decision this year didn't need to be based on money," he explains. "I stayed because I wanted to stay at the club and there was no financial incentive for me to leave even though there was better offers from other clubs.
"Every medal I've won in the League of Ireland, I've won under Liam Buckley. I love the club and everything here; the players, staff and there's just such a welcoming atmosphere.
"Why leave a club that every year I've been with I've won something? I couldn't see the justification in leaving."
As well as continuing on his full-time career with Pat's, Byrne now holds a full-time resource teacher role in Rush National School after graduating from Hibernia College last December.
The original plan was to pursue a career in teaching — something he always wanted to do — when his playing days were over but with a young family to provide for, circumstances in 2014 meant he enrolled in an online teaching course.
"Teaching was my first choice on my CAO but I didn't get the points in the Leaving Cert for teaching," Byrne continues.
"If I had have got into the course I wouldn't have become a footballer because then I went to UCD to study Sports Management and got a scholarship through that then. That's how my League of Ireland career started.
"I approached Liam in 2014 and told him that I had a young family and as a League of Ireland player I wasn't able to get a mortgage because of the insecurities of the profession. I wanted to settle down and have a house of my own. That was the reason I had to go back to college and he and the club were very supportive.
"Hibernia College were brilliant as they were very accommodating with my football and always helped work teacher practice times around it. I couldn't go to the Gaeltacht with my course because it was in the middle of a European campaign so I went with a different group during the off-season.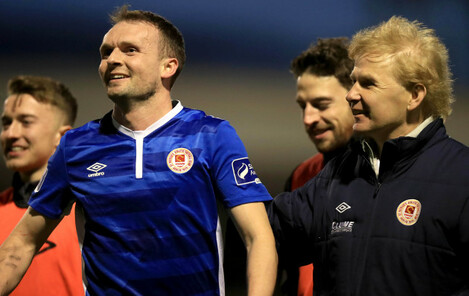 Byrne has worked with Liam Buckley at Sporting Fingal and Pat's Source: Donall Farmer/INPHO
"It was a two-year full-time course so those were tough times but it showed I was dedicated to it and committed to the course because at the end of the day that's what I wanted to do. I can't speak highly enough of both St Pat's and the college for allowing me to do it and then helping me through it."
After finishing his teaching placement in Rush, Byrne was then offered a position as maternity cover a few days later and he has been there ever since in his role as first class resource teacher.
"I love it out there," he adds. "I was so lucky to get in because it is difficult but I absolutely love the place. I work with children who have learning difficulties and help them out in my own little classroom with maths and English and anything else on the curriculum.
"It's completely different to football but I can't advise other players of the importance of education enough. There is a lot of lads who don't have a Leaving Cert and in this day and age it's very difficult to get a job or into a college course without that."
Byrne has always been fully aware of the need to up-skill and open up as many opportunities as possible for life after football, even if it's a challenge to juggle everything now.
"It's very difficult, I'm not going to lie," the former UCD, Sporting Fingal and Shels winger admits.
"I literally finish school at 2.50pm, get in the car, head to training and if my partner is working make sure the kids are organised and they're being looked after until I finish training. And then go out and perform on the training pitch as that's massive because if you don't perform there you don't perform in a game.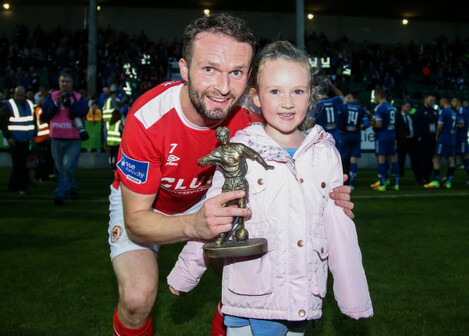 With his daughter Kayla. Source: Tommy Dickson/INPHO
"When I get home from training, I help the kids with their homework and then have a bit of me time but the two girls (six and three) brighten up my day, they're the apple of my eyes.
"It's great just knowing they're there anytime it's a bad day or I'm struggling with any sort of work that they're on hand to put a smile on your face very quickly. It's also great being able to use them as guinea pigs at home for my teaching!"
Byrne is enjoying life as a footballer and a teacher and while it's still early days in his dual-career, combining two of his passions has been a rewarding experience so far.
His move into full-time employment is the start of the next chapter of his life while the previous one begins to wind down and that's not to say he is planning on hanging up the boots just yet; it's just holding two jobs and having two young kids at home makes him a busy man.
"I don't know if I'd be able to do it for a number of players, having to do both full-time teaching and full-time football. I don't think it's fair on the people close to me, being away from home for so long but at the same time I want to play football at the highest level for as long as I can.
"I don't want to have any regrets if I call it a day early so the option may be to go and play part-time football in the league for a while but I'm not looking too far ahead.
"I'm enjoying it at the moment, we're playing well and I'm playing well personally so as long as that's the case I don't think anything should change."
The42 is on Instagram! Tap the button below on your phone to follow us!