CHRIS NOWINSKI SEEMED to have it all.
A graduate of Harvard, he signed a contract with World Wrestling Entertainment in 2002 before becoming their youngest ever hardcore champion.
However, he couldn't explain the constant feelings of nauseousness or dizzy spells.
Worst of all though, were the headaches.
"Everytime I exercised, I felt ill," the 34-year-old told TheScore.ie on Friday.
"I'd go to the gym, I'd feel sick. I'd perform at a show, I'd feel sick.
"I lied about my symptoms though, tried to shake it off, but eventually I sought help after my girlfriend found me sleep-walking in a hotel."
That's when Nowinski, then just 23, met with world renowned neurosurgeon Robert Cantu.
"He explained that everything I was experiencing,  seeing stars, headaches, they were symptoms of concussion.
"It opened my eyes to the fact that this was a very serious injury and that the brain is a very special part of your anatomy."

Nowinski during his WWE days.
Image: Chris Harvard
Luckily for Nowinski, after some initial confusion, the WWE were more progressive in their approach to dealing with concussions than some sporting organisations.
"At the start the WWE didn't fully appreciate the risk, they still gave me access to medical help, but didn't understand why I went from never having a problem to all this.
"The WWE is one of the leaders now, and are doing really well on implementing the proper procedures when it comes to head injuries."
It's troublesome how the NFL controls youth football
One organisation Nowinski has been critical of is the NFL.
While they talk a good game when it comes to concussions, and have done since the 1990s, Nowinski believes they're far too eager to put players who have suffered head injuries back in the game.
"For a while they became the leaders in raising awareness, saying and doing the right things, but now that 4,000 former players are suing them because of brain injuries they say they sustained while playing, they've become more conservative than they really should be."
However, while Nowinski is obviously sympathetic to the plight of former players, his real concern is the impacts that kids are taking every day in youth sport.
"For me it's troublesome that the NFL controls so much of how youth football is played. Even with [the Heads Up Football program] they run for kids, there are still more protections in place for professionals than there are for children."
The problem for the NFL is that they promote contact at all age groups, and younger children haven't developed enough to play the game properly.
Nowinski cites ice hockey as a sport which doesn't allow some types of contact below a certain age and has previously noted that even youth baseball has a pitch count to protect young players from injuring their elbows.
In football, there is no such 'hit count' for their brains.
What are they
really like?
Rare insights on sport's biggest names from the writers who know them best. Listen to Behind the Lines podcast.
Become a Member
YouTube: jflener14
An invisible killer
One of the reasons athletes, teams and fans don't treat concussions as seriously as other injuries is that they are invisible.
"You don't have pain nerves in your brain so you don't cry out in agony when you get a concussion the same way you would with a broken leg," says Nowinski.
"For that reason, in more than half the cases of concussion, no one will know you have one unless you speak up and, the fact is, in some cases athletes are willingly ignoring the information their body is providing them with so they can't be taken out of the game."
This leads to athletes suffering numerous concussions. In many cases the end result is Chronic Traumatic Encephalopathy (CTE), a progressive degenerative disease that causes sufferers to display symptoms of dementia.
If you want to see what CTE looks like, the images below from Boston University show, left to right, a healthy 65-year old's brain, the brain of former NFL linebacker John Grimsley and the brain of a 73-year old former world champion boxer.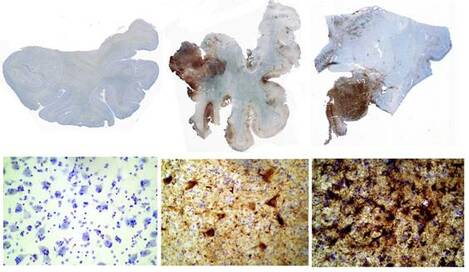 Image: Boston University
Grimsley died, aged just 45, in 2008.
Time for a change
In December, Boston University found a further 34 former professional football players with CTE and those numbers could keep rising because the disease doesn't really start to manifest until athletes are in their early to mid forties with their playing careers well behind them.
Is it a case of out of sight, out of mind?
"We certainly need some athletes to step forward. There was a big deal here in the States when (three-time Super Bowl winner) Ted Johnson stepped forward and documented the impact concussions have had on his life post-football.
"Unfortunately, we only really find out about CTE and its side effects after a player has died and their wife or family donate the brain to us for study."
The us Nowinski mentions is the Sports Legacy Institute, an organisation he co-founded to help promote awareness of the long term implications of head injuries in sport.
The ultimate goal of the SLI is to further develop CTE research and get more researchers around the world looking at sports-related head trauma.
"We also want to change sport, to make it so that everyone can still have the same enjoyment but without the neurological side effects."
Of course Nowinski and the SLI aren't trying to put an end to contact sports, far from it.
"If you're over 18, you can do what you want, especially if you're getting paid for it.
"How you choose to earn your living is your own business.
"For younger kids though, I hope we can alter sports so that brain trauma will be rare and accidental rather that something deliberate."
With a spokesperson as passionate and vocal as Nowinski at the forefront, it's difficult to imagine their campaign not being a success.