WHILE CONNACHT'S SUPERB performances under Pat Lam this season have brought hugely-increased media attention and thousands of new supporters to the province, there are many hardy souls who have been following for much longer.
Connacht's route to their first-ever Pro12 semi-final has been arduous and exciting in equal measures, and their current success has come as something of a surprise to those who have been in for the long haul.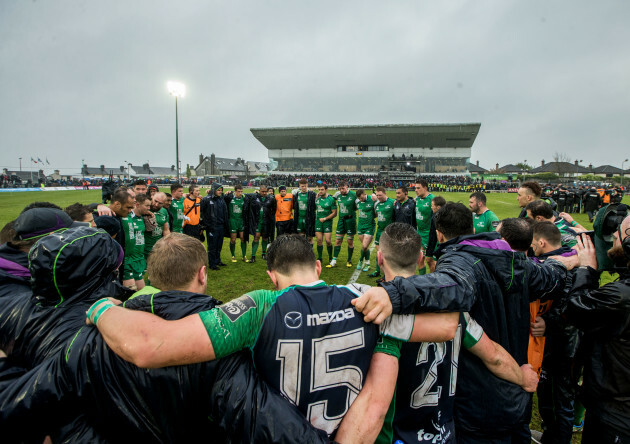 James Crombie / INPHO Connacht look to make more history this evening in Galway. James Crombie / INPHO / INPHO
Ahead of today's clash with Glasgow Warriors in the Sportsground, we hear from three people who belong in that boat ahead as they comb over the journey that has left Connacht on the brink of creating further history.

Mayo man Rob Murphy is a sports journalist based in Galway. He hosts the Craggy Island Rugby podcast, commentates and presents on Galway Bay FM, and created Knockon.ie, a superb resource for grassroots rugby before closing down last year. He also served as Connacht's media officer from 2004 until 2006.
Adopted Connacht woman Linley MacKenzie writes for the Galway Advertiser, the Irish Times and the Irish Examiner. She hails from the Manawatu region of New Zealand and originally came to settle in Ireland via Scotland.
Galway man Shane Sheridan is the president of the Connacht Clan, the province's official supporters club. The Connacht Clan run buses to away trips, organise speakers at the Clan Bar after home games, run a prestigious Hall of Fame, and much more.
"It feels like the culmination of something, although hopefully not the end," says Sheridan of the clash with Glasgow. "It's been a huge vindication of what the lads have done over the years. It's been a long road."
Beginnings
The Connacht Branch of the IRFU dates all the way back in 1885, although their journey to the Pro12 final begins with the advent of professionalism in rugby in 1995.
Prior to that, Connacht played in the inter-provincial championship and intermittently hosted touring sides.
Rob Murphy: "My first Connacht match was Fiji, I think it was 1985, when I was around five. All I remember is the Haka they did, it blew my mind.
"We come from Ballinrobe but my Dad was a big rugby man. He was a decent Gaelic footballer but rugby just appealed to him and he set up the club in the town with about eight other guys, a group of friends.
"We would have gone to Galwegians and Buccaneers games a good bit back then as well. Galwegians were getting 2,500 people at games and I'd say only 400 of them were genuine Galwegians fans. The rest were just supporting the biggest team in the province, for then."
Warren Gatland was the first Connacht coach of the professional era, joining for the 1996/97 season and helping the province into the quarter-finals of the Challenge Cup in his second year in charge.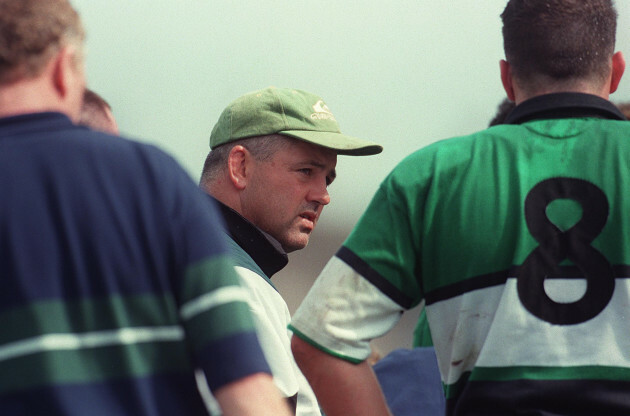 Gatland got Connacht moving in the pro era.
With current Connacht CEO Willie Ruane at fullback and academy manager Nigel Carolan a try-scoring wing in their team, the westerners beat Northampton – including Matt Dawson and Gregor Townsend – twice in the pool stages before losing to Agen in their first-ever knock-out game.
Linley MacKenzie: "Gatland came in on the cusp of professionalism and he brought that professional New Zealand way, even though the game wasn't really professional.
"He kicked it off and that was the first season with a European quarter-final. It was really Gatland who put Connacht on the map at that time."
RM: "Under Warren Gatland it was groundbreaking really."
Glenn Ross and Steph Nel followed Gatland into the Connacht hotseat and had some big wins, before Michael Bradley came in and led the province into the semi-finals of the Challenge Cup in the 2003/04 season.
Late in the second leg of that tie, Connacht led 45-42 on aggregate after a wonderful effort from the likes of Eric Elwood – now domestic rugby manager of the province – and current assistant coach Conor McPhillips.
A try by Will Greenwood, converted by Paul Burke, shattered the Sportsground.
RM: "The thing is that it has been good for Connacht before this season. Under Steph Nel, it was good.
"There were great days and the hopes of what we could achieve were very high. Leinster and Munster hadn't really shown their cards yet and even through to 2004 [under Michael Bradley] and that Harlequins game in the quarter-final of the Challenge Cup it was exciting.
"Talk to anyone involved on that team and they'll tell you that the try Will Greenwood got broke hearts."
Only the year before, Connacht had come close to being shut down by the IRFU, before the extremely well-documented march on Lansdowne Road saved the province from extinction. 
Bradley came on board as Nel's successor in 2003/04, and continued to ensure Connacht had a strong record in the Challenge Cup, but their efforts in the Celtic League became increasingly concerning as they regularly occupied the bottom half.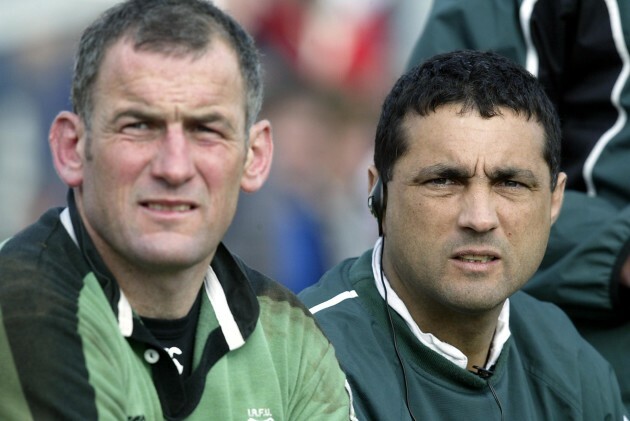 INPHO Bradley alongside Eric Elwood in 2005. INPHO
Connacht finished 10th in the league for six years in a row under Bradley and supporters had to become accustomed to losing.
Shane Sheridan: "We always supported the team and what the lads were doing, but we had so many years of being bottom of the table or next-to-bottom of the table. We had some huge losing streaks and things like that are hard to take.
"Confidence takes a battering both for the players and the supporters. You'd find that heads would be down on the pitch and in the stands. There were a couple of years where it was tough. You'd be hoping for a result some Friday night, but probably knowing things were against you."
LM: "After the march in 2003, there was a period where no one really knew what the future was for Connacht. We didn't know if we were a proper province or a development province. It seemed to be in limbo almost at that time.
"People were trying their best to be professional but it was difficult because there didn't seem to be that will on behalf of stakeholders to have Connacht as that fourth province."
Bradley did lead Connacht into two Challenge Cup semi-finals, the second of which in 2009/10 brought Toulon to the Sportsground, but ultimately ended up making way for Eric Elwood the following season.
RM: "Michael Bradley lost the services of John McKee [now the Fiji head coach] early in his reign and people probably don't realise how good he was as an assistant coach.
"He was missed and Bradley became forwards coach, which probably didn't work, even though he was a great coach and I think he'll show that again in the future. Those couple of seasons were the low points.
"We had a lot of overseas players, very few local players. There was not a lot of trust in the local talent."
SS: "'Targeting games' is a dirty phrase down here, but certainly under Bradley there were games that were winnable with the right team out and some that simply weren't, no matter who was out playing."
The appointment of Connacht legend Elwood was seen as a move in the right direction for the province, with some progress made in the Pro12.
James Crombie / INPHO Elwood remains a Connacht legend. James Crombie / INPHO / INPHO
Leinster's Heineken Cup success also meant that Connacht qualified for the top-tier European competition for the first time ever in the 2011/12 season, which also sparked the development of the Clan Terrace at the Sportsground.
SS: "We were actually looking back on pictures of the Sportsground there recently, before the Main Stand and the Clan Terrace were there, and it was just a pitch with some concrete steps. That was the extent of it.
"Simple things like the Clan Stand being built were huge for the supporters. We could see a big uptick with Eric, who is a legend down these parts.
"The first Heineken Cup under Eric was a sea change for the supporters. It didn't work out terribly well maybe, but there was a fantastic buzz around Galway and the province with that."
There was at least a first-ever Heineken Cup win for the western province as three Niall O'Connor penalties helped them to a 9-8 win over Harlequins in Galway.
The following season, Elwood's men managed two wins over Zebre and a home victory against Biarritz in the European competition. 
LM: "When Eric took over, the mindset changed. He was very demanding and he believed players should give more than 100%, just like himself.
"Eric demanded things of the IRFU. Himself and Dan McFarland had grown up playing in Connacht and had that vision of where they wanted to bring the province. The impetus came with those two in situ."
However, Elwood dealt Connacht a shock when announcing that he would step down at the end of that 2012/13 season, with the job consuming him at a time he had a young family.  
There was initial heartbreak for the province and their supporters – with CEO Gerry Kelly also having left the province in 2012 – but it did open the door for Pat Lam to arrive as the new head coach in 2013.
SS: "I remember the first time I met Pat was at the supporters' launch night down in the Sportsground. Pat came out and said a couple of words, then introduced the whole team.
James Crombie / INPHO Lam quickly bought into Connacht's vision. James Crombie / INPHO / INPHO
"He did this handshake with every member of the team. We were kind of thinking, 'who is this lad?' but it showed that he knew the lads so well. He had only been there a couple of months but you could see he had bought into what these players could do."
Lam's first season saw Connacht slip back to 10th in the Pro12, but it also brought a historic away win in the Heineken Cup.
The 16-14 victory over Toulouse, with Kieran Marmion scoring a try and Dan Parks kicking the rest of the points, was a marker of what the province could achieve in the future.
SS: "Things didn't change overnight under Pat. It took a while for his influence to be felt, but by God it's being felt now."
LM: "I think Toulouse has to be the high point of following Connacht really. Pat actually referred to that win this week; he said it had been a snapshot of what Connacht could do. It was a snapshot for the players of what Connacht could do.
"I was stunned by that win and I have to admit I actually cried. It really blew me away. It put out this image of Connacht in Europe; this team on the west coast of Ireland, the fourth province, who had beaten this team of aristocrats."
An improved Pro12 season followed in 2014/15 as Lam's methods began to bear fruit, Connacht ending the campaign in seventh – their best league finish in 10 years. 
That meant a Champions Cup qualification play-off with Gloucester, which proved to be a thrilling encounter. After the fixture went to extra time, there was heartbreak for Connacht as they lost 40-32 to Gloucester. However, it once again showed the progress under Lam.
While that improvement was coming on the pitch, the belief of Connacht supporters was growing as the became increasingly connected to the playing squad.
SS: "The community training camps have had a huge response. Westport, Galway and further afield – it's done an awful lot to get younger players, lads and girls, interested in playing rugby and then coming to the Sportsground to watch Connacht.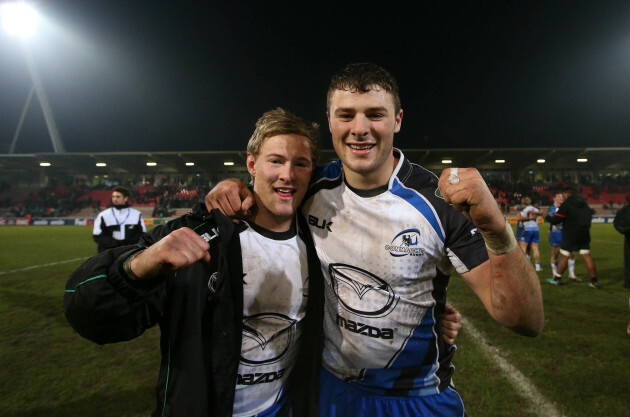 Billy Stickland / INPHO Academy products Marmion and Henshaw after a famous win in Toulouse. Billy Stickland / INPHO / INPHO
"One of the things we're really proud about is the academy system under Nigel. Take Kieran Marmion – he's not a Galway man, he's from Wales, but we view him as being one of our own because he's come through the system. Denis Buckley, Robbie, it's great."
"But we're not just blindly following the Connacht-born lads. Take someone like Swifty [Michael Swift], he was part of the set-up for years. He wasn't a Galway man when he started, but I'd say he's a Galway man now.
"Now you have Bundee [Aki], people like Matt Healy and Niyi [Adeolokun]. They were spotted, came down to Connacht and have thrived here. We view them as some of our own."
This season, as we know, has brought achievement after achievement for Connacht as that progress has continued.
From early in the campaign, there was a sense that something had changed.
LM: "The momentum they got from the first couple of wins was significant. Winning away to the Ospreys was a turning point, I found. You could feel the confidence growing within the crowd and at the Sportsground.
"There was a realisation that the work of the last few years under Pat, giving the youth their heads, and bringing in a couple of excellent coaches, was working. Dave Ellis and Andre Bell, the players will tell you, have put in huge amounts of work in developing them."
RM: "I thought it might take six years to get where we are now, I didn't expect it to accelerate so fast. I'm not sure that even they did. Pat probably did deep down, that within two years they could do this."
Last November, the win over Munster in Thomond Park – Connacht's first since 1986 – hammered the point home that the western province were now a major force to be reckoned with.
RM: "The best day following Connacht was beating Munster in Thomond Park. I always felt that for us to be relevant we had to be competitive with the other provinces. That's what was going to get the crowds in.
"You can see that this season now that we're competing with the other provinces, that's the biggest thing."
SS: "It's hard to describe how that win felt. We organised a bus down with 50 or 60 of us, then there were a couple of hundred of us on the terrace making some great noise. It was the way the lads played.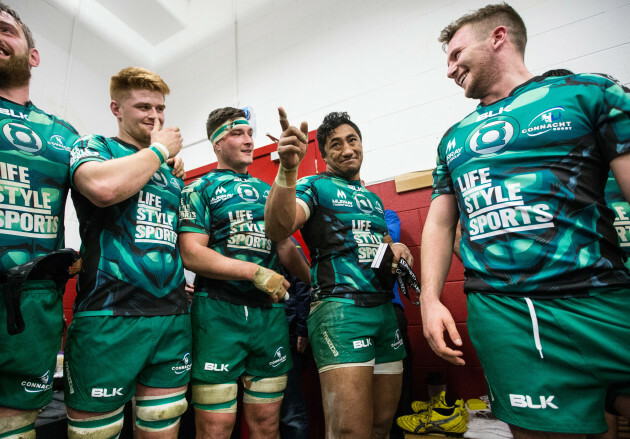 James Crombie / INPHO Winning in Thomond Park was huge for this Connacht group. James Crombie / INPHO / INPHO
"Everyone likes to win, but from Connacht you're sometimes used to putting in a brave performance and only getting a losing bonus point. It was the manner of that victory. It set the tone for a lot of the season to come.
"Belief was up hugely among the players, hugely amongst us."
Connacht's playing style has been repeatedly remarked upon this season, as their 2-4-2 shape in phase play has cut opposition apart and the clever strike moves concocted by Lam and McPhillips have tested defences.
RM: "That's been the most enjoyable part. It's really satisfying to see it coming to fruition and I don't think we could ever have believed that it could have given us such an advantage over teams with greater spending power and higher-quality players.
"There is a lot of satisfaction that Connacht are being talked about as a team that are playing Southern Hemisphere-type rugby. To commentate on, it's just brilliant because you want that flow, you want spark, those peaks and troughs. "
Indeed, the whole way media cover Connacht has been altered by their brilliant, groundbreaking season.
LM: "There were only so many ways you could talk about Connacht in the past of 'losing, disappointed, lost by a point, robbed by the ref, robbed in injury time.'
"This year it's actually about finding the new words to describe winning and victory. There's a whole lexicon of words out there that we've had to use to describe Connacht winning, rather than losing. That's been brilliant."
RM: "Grenoble [the Challenge Cup quarter-final] was one of the most enjoyable games I've ever done and I left that game as positive about a loss as for any team I've ever watched, ever.
"Because it just felt like it wasn't a loss in the bigger picture of what we're trying to achieve."
While this season is not yet over, there is real belief that Connacht are now here to stay as a genuine force in the Pro12 and, hopefully, in the Champions Cup as they make their return to the top table of European rugby.
RM: "It's not really ending even if the season ends [today] or in the final. We've replaced Robbie Henshaw well with Cian Kelleher it seems, as well as you could hope to replace him anyway.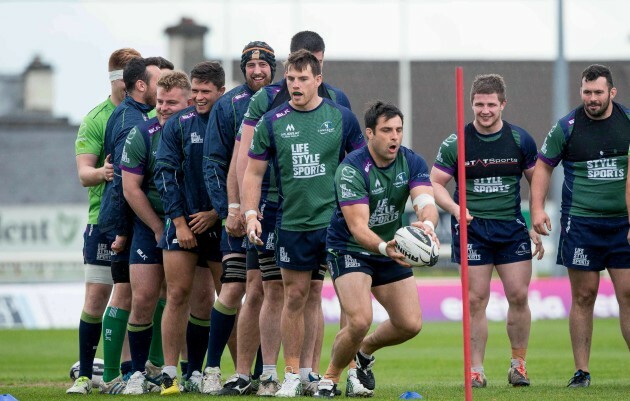 Morgan Treacy / INPHO Connacht want to keep their fans smiling. Morgan Treacy / INPHO / INPHO
"It's phenomenal how quickly people have moved on from that. I could actually see him coming back in the future and being welcomed back in."
LM: "There's no excuse now. The IRFU have given Connacht more money, the systems are in place. They have what the other provinces now, in terms of analysis facilities, training, all of that."
"The stadium isn't there just yet, but I don't think there's any excuse now."
SS: "As Pat says, it's all about the systems and we have those systems in place. We have the academy producing excellent players and the fact that we're doing well means we are attracting talent from elsewhere."
But before the exciting future comes today and the visit of Glasgow. Gregor Townsend's men were beaten 14-7 at the Sportsground only a fortnight ago, but arrive once again with a team packed full of Test quality.
SS: "It's play-off rugby, there are no easy games. Glasgow are going to have a chip on their shoulder but hopefully the Sportsground atmosphere can make a little bit of a difference."
LM: "I couldn't not back Connacht. They have earned it. They're up against a Glasgow team that knows what they have to do after the result here last time, but hopefully Pat has a few little moves.
"Psychologically, Connacht are a very young team that has grown up very quickly and that's going to be tested."
RM: "I see no reason to write Connacht off now. Any logical person, who looks at all they've achieved this year, you can't write them off. I have to believe they're going to win and I think they have a great shot at winning the competition now."
The42 is on Snapchat! Tap the button below on your phone to add!