Source: WSL Big Wave Awards/YouTube
YOU MAY NOT know the name Conor Maguire, but there's a chance you're familiar with his work because, if there's a video of a big wave being surfed in Ireland going viral, in all likelihood it's Maguire on the board.
Since 2015, the Bundoran native has been nominated for no fewer than six World Surf League Big Wave awards, becoming the youngest European athlete to ever be shortlisted.
In 2017, Maguire was further honoured at the Big Wave awards, finishing in the top five in the Tube Of The Year category.
All of which makes the 24-year-old hot property in European surfing circles, earning invites to the likes of the Punta de Galiea XXL Challenge and, in the coming weeks, La Vaca Gigante near Santander in Spain.
La Vaca was discovered by Oscar Gomez and Luis Garcia in 2006 and requires a unique set of conditions for the best waves to form. However, when they do, competitors face strong currents and a dangerous sea floor.
It's not for the faint-hearted.
But, as the video above shows, when you've conquered the barrel at Mullaghmore Head, perhaps the most famous big wave spot in Ireland, there's probably not much that keeps you awake a night.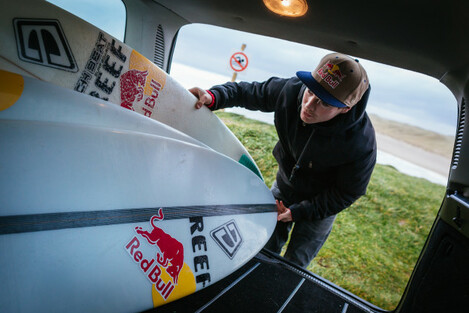 Maguire is a professional Red Bull athlete. Source: Szymon Lazewski
One thing that might, if Maguire didn't practise for it, is the length of time he spends under water after coming off his board.
However, as he told The42 recently, it forms a big part of his fitness regime.
"Pretty much every day I would go to the swimming pool, I try to do it every day but it doesn't always happen," he says.
"I try to do a few lengths of the pool and do a lot of under water stuff just for breath training. I'd do a sprint above water up to the top of the pool with one breath, then inhale and exhale before doing a length under water with one breath.
"I'd do that 10 times, then take a rest and do another two reps of 10.
It's actually really hard to know what the longest time I've held my breath for is, because it can feel like hours when you're under water. The most I've probably been under water when out surfing is about 40 seconds which, again, doesn't seem like a long time but, when it's a big wave, you exert a lot of energy and oxygen just fighting the wave and trying to get back to the surface.
"That's why it feels like you're under there for about five minutes," he laughs.
Maguire, who is currently working on a three-part series about surfing in Ireland, also says the gym is important for any professional surfer, but you won't find him near the weight machines.
"I do a little bit of work in the gym, no weights, just normal calisthenics like push-ups and sit-ups and squats and that kind of stuff. I don't do weights because they stiffen your body up a lot and the more limber you are for big waves the better.
"If something lands on you when you're out surfing, at least you can bend your body like a contortionist and get out of the way."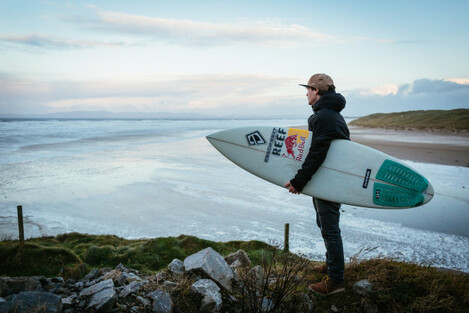 Source: Szymon Lazewski
Another method Maguire uses to tackle big waves is yoga, and not just because it keeps him supple on the board, but because it helps him when staring down the barrel of a 3.5 metre wave.
"I try to do yoga every day and, while it helps with making your body limber there are other benefits as well. It allows me to stay calm quite and, in general it's definitely something all surfers could benefit from, especially the breathing exercises.
SEE SPORT
DIFFERENTLY
Get closer to the stories that matter with exclusive analysis, insight and debate in The42 Membership.
Become a Member
"Balance — the standing up on the surfboard kind — is the other really important part of surfing fitness and you can use balance boards while you're working out to help improve it. I usually just surf as much as I can to help with my balance naturally."
You rarely see an overweight professional surfer, and Maguire is no different putting his physique down to a mostly plant-based diet — though he's not going to refuse meat if you offer it to him — and lots of smoothies.
However, the most important part of being a professional surfer is obvious, time spent on the board.
"It varies quite a lot," he says.
"But, on a good day, I'd surf three times, two hours at a time, if the conditions are really, really good.
Wave selection is very, very important, especially with big wave surfing. A lot of the time the waves all look amazing but they could end up hurting you quite badly if you choose the wrong one so making sure you go on the right wave is not just important for your enjoyment but for your safety too.
"For beginners, hours on the board is the best way to improve too but, if you're stuck in the city and struggling to get to the sea, then working out at home is a good way to keep on your toes, especially using a balance board or a skateboard.
"If you really love it though, you're going to get out and actually surf as often as possible."
Conor Maguire was speaking in his role as a Red Bull athlete. His three-part series looking at the surfing community in Ireland will be broadcast later this year. 
The42 has just published its first book, Behind The Lines, a collection of some of the year's best sports stories. Pick up your copy in Eason's, or order it here today (€10):